As the main restaurant within the renowned Oberoi Amarvilas in Agra, Bellevue is indeed a special venue. With a spectacular location, opposite the 17th-century Mughal mausoleum that is the Taj Mahal, diners certainly have a unique vista while they dine. The hotel was opened in 2001 and now, some 20 years later, the restaurant required renovation and refurbishment. Awarded the commission, Akshat Bhatt, principal architect and his team at Architecture Discipline, have created a timeless concept that balances heritage with contemporary design in classic proportion.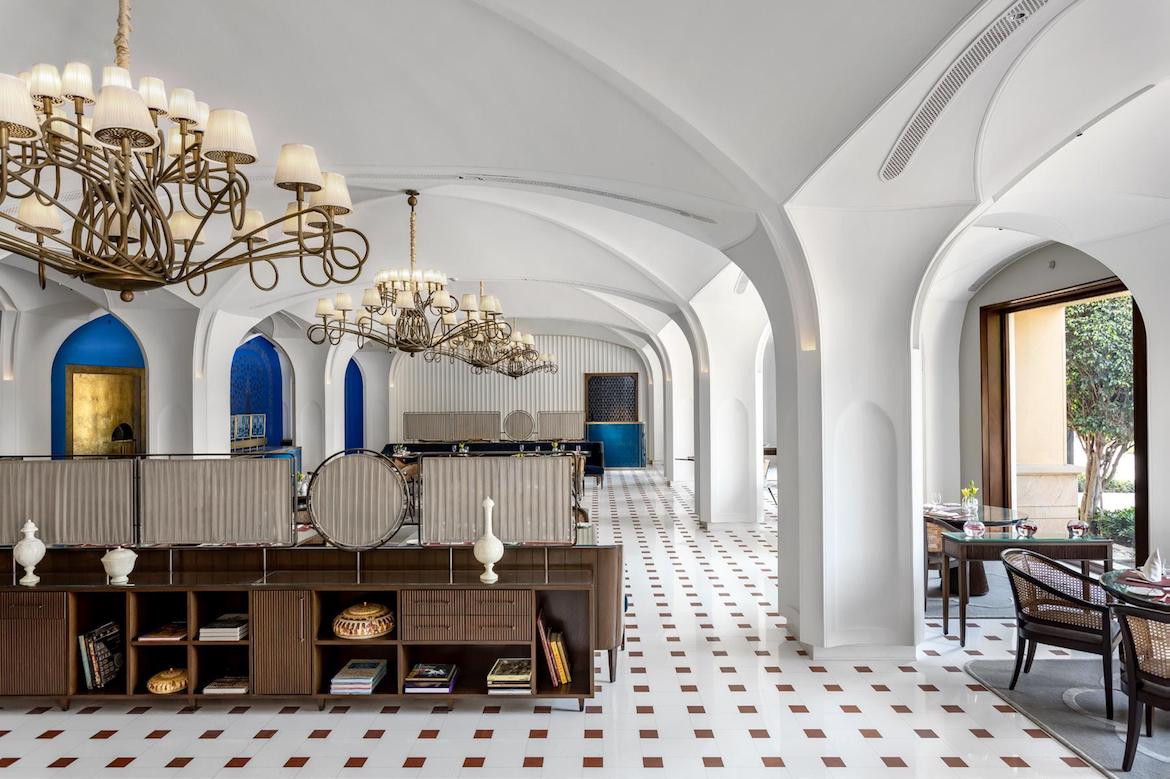 Bhatt commented on the project saying, "Our refurbishment of Bellevue adopts a language that is responsive to today's changing palates, with a decor scheme that is inspired by the elegance of the Taj. Filled with natural light during the day and the subtle glow of the chandeliers at night, the restaurant is a truly memorable space for its guests at all times of the day. Full-height windows and an alfresco dining area provide diners with stunning views of the Taj Mahal and the landscape of The Oberoi Amarvilas."
The restaurant encompasses a floorplate of some 325 square metres and the new interior incorporates the best from the original structure as well as stunning new ideas. As such, the Thassos marble and red sandstone flooring was retained and the introduction of a monolithic skin that envelopes the ceiling, walls and columns now creates a new dynamic that presents as a seamless design.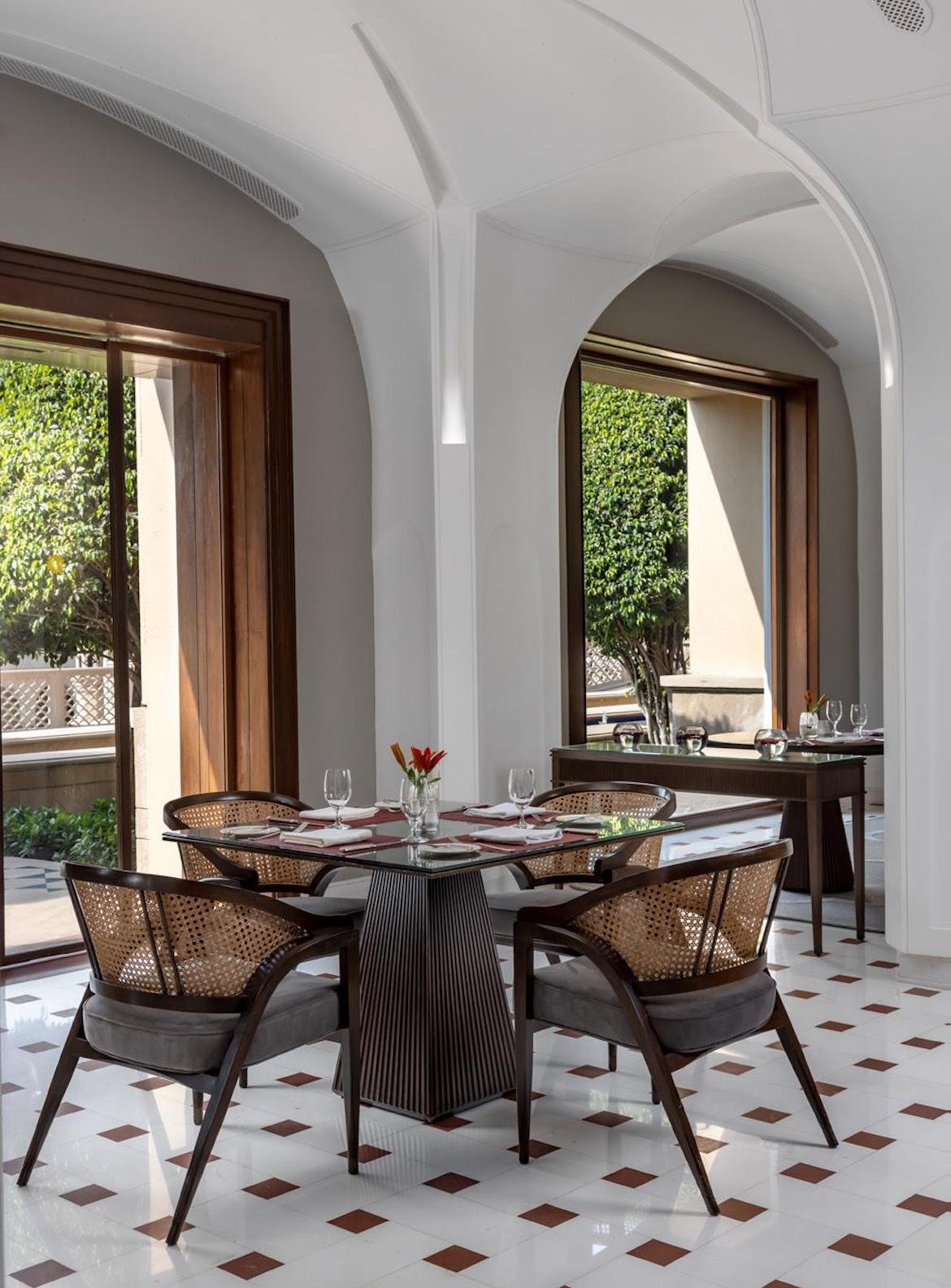 As the establishing element of the interior, the cross-vaulted ceiling, at 4.8 metres in height, merges into flared columns finished in white plaster and is a dramatic inclusion that was inspired from Mughal architecture. There are fluted wall panels, prefabricated coves and handcrafted relief work and together all these elements create an artistic and sculptural aesthetic.
Bhatt elaborated, "A challenge which arose during our design development was that of using the same material to create different spatial expressions: white plaster. This was achieved through cross-vaults, flared columns with subtle undulations, and ribbed wall profiles, all working in unison to modulate the scale of the space."
Lighting is both obvious and hidden with up-lights concealed at the springing point of the arches and recessed adjustable downlights positioned in the vault scallops. Art Nouveau-inspired aged brass chandeliers hang from the vaulted ceiling and create pools of light over tables to add to the magical ambience.
At one end of the space the view of the Taj Mahal is framed by floor to ceiling windows and opposite this, at the other end, is a royal blue wall embellished with a hand-painted gold leaf mural. Furniture is bespoke, with square and circular tables of French polished oak timber, Gio-Ponti inspired rattan chairs and teak banquettes upholstered in royal blue velvet.

​
Buffet counters and service stations have been designed as monolithic blocks of colour, clad in back-painted curved glass panels with laser-engraved motifs. At the main entrance is a teak credenza topped with a brass-framed pleated fabric partition that aids the acoustics and affords privacy. Mirrors have been strategically placed to reflect the space and add dimension to the area.
An alfresco space adjoins the restaurant and the combination of tables with antique brass frames, teal upholstery on chairs and Mughal-styled canopies strikes just the right note for both design and dining.
While Bellevue is another successfully completed project for Bhatt and his team, the practice works across India on a wide variety of commissions. Architecture Discipline is a multi-disciplinary architecture practice based in New Delhi, India and was established in 2007 by Bhatt. The studio is respected for its work that spans the range of residential, retail, commercial and large-scale public projects. Critical to the design process of every project is an understanding of regionalism, coupled with a contemporary vision and Bellevue is living proof of this idea.
Bellevue is a resounding success in form and function but also as a design that is sympathetic to its surrounds and responsive to its history. As a design for a modern restaurant, it is superb and as a complement to the hotel in which it is situated, it is perfectly placed. This is a special restaurant where one can relax and enjoy all that is on offer, while also pondering love and architecture, courtesy of the Taj Mahal.

Akshat Bhatt was an Ambassador for the 2021 INDE.Awards.
Photography by Jeetin Sharma
---