Nestled in the quiet village of Lung Tin Tsuen on the outskirts of Hong Kong, Atrium House is a residential clubhouse that celebrates its location through a culturally-rich design, which encapsulates Chinese architectural traditions.
Hong Kong multi-disciplinary design studio via. was commissioned to design the plans for the ground floor, including the expansive outdoor area of Atrium House.
"The nature of the site led us to think about the many possibilities and how traditional courtyard houses could inform our spatial planning in a contemporary urban context," says via. founder and principal Frank Leung.
Because of the island's high-density population, a residence that provides ample living and recreation space is particularly desirable, making clubhouses popular in Hong Kong's newer properties. Atrium House provides both abundant recreation in a resort-like style centred around a prominent courtyard, and coveted views of rolling mountains in the distance – a rare feature for Hong Kong.
The entrance to Atrium House lies across a floating bridge, and large timber gates mark the entrance to the clubhouse, framed by staggered blue bricks. These traditionally-proportioned bricks feature across the property, a reference to the blue-brick houses that became prominent in Lung Tin Tsuen village in the 1930s.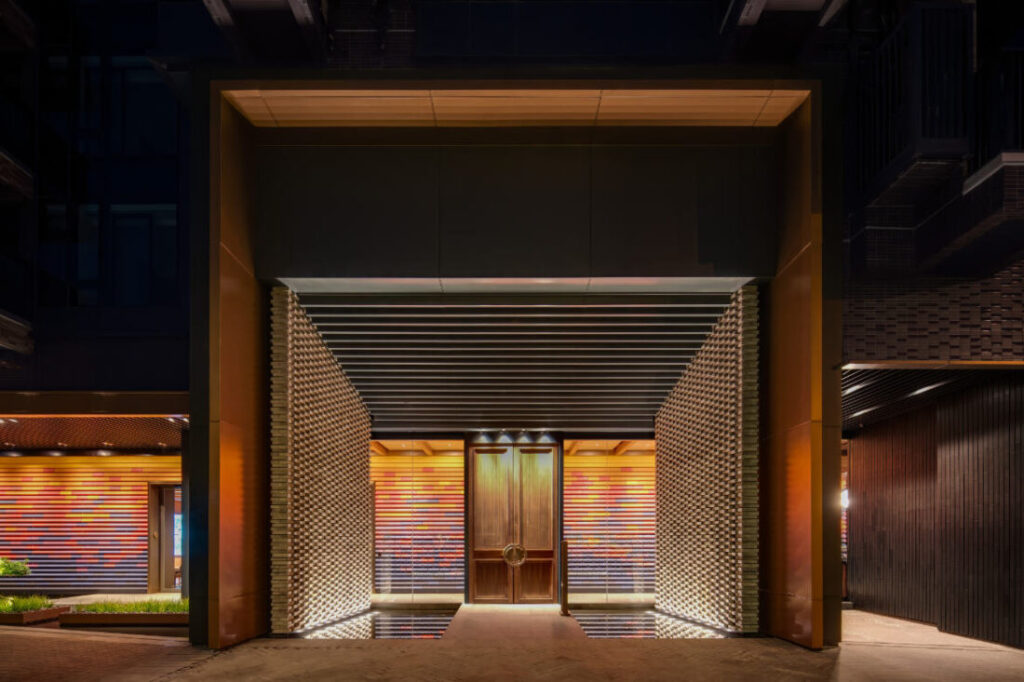 "We were interested in building upon the architectural language to create a new, distinctive expression on the materiality," says Leung.
To achieve this, local heritage experts were employed to assist in the brick construction and bricklaying. Additionally, bespoke bricks were designed to achieve a unique curvature of the courtyard pavilions.
Upon entry, a sculptural shadow wall (a traditional Chinese wall designed to protect the inside from the outside) is composed of hundreds of metal plates in a sunrise-hued gradient.
"Our aesthetic narrative was inspired by the concept of "Light Moments". Taking the changes of light in a day, colours of dawn, day, dusk and night are subtly embedded into interior spaces as a way to distinguish different functional zones, while also giving a sense of journey as one goes deeper into the site," says Leung.
Some of the metal tiles, which purposefully resemble glazed roof tiles from ancient Chinese homes, double as mailboxes for the units above.
"We saw the opportunity of building a shared community that is rooted in the vernacular way of life," says Leung.
To achieve this, a series of brick pavilions were developed to reflect the area's context and heritage. The single-storey pavilions establish a network of narrow paths that are reminiscent of ancient hutongs, the narrow alleyways common in large Chinese cities and they each draw on traditional elements of symmetry and order with repetitive structure and materiality.
The pavilions surround a pool and greenery, swathing them in natural light and allowing plentiful ventilation. Each one houses social and cultural spaces, including chess and calligraphy rooms, a banquet dining room and kitchen, a children's area, and a gym. A tea pavilion that features a commissioned jade-coloured ceramic coffee table and bespoke lighting and rugs, is angled west to make the most of sunset mountain views.
Atrium House was designed by via. alongside AGC Design, QUAD Studio and Sirius Lighting Office for Hong Kong property developer New World Development.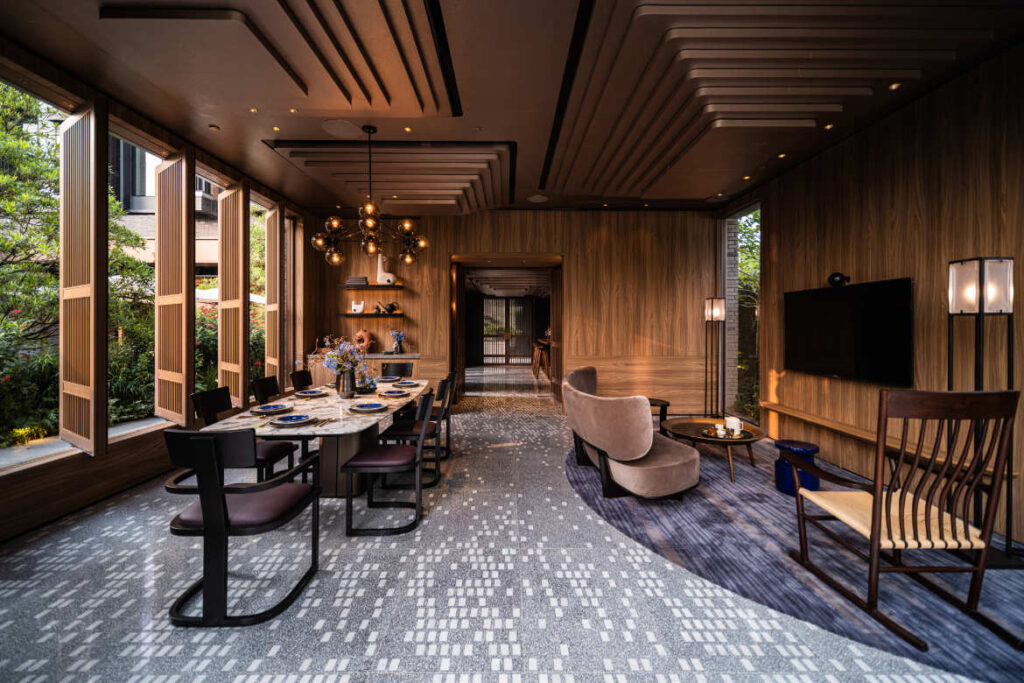 ---