When the client, a family of four, moved from a quiet condominium a single residence, they still desired a high level of privacy and a serene atmosphere. They engaged Archimontage to design their new home that provides seclusion from the street while still maintaining openness and transparency throughout the house.
The house is in Sukhumvit Soi 91, where the Bangkok business area meets the eastern suburbs. A six-car garage runs parallel with the street to provide a barrier between the public and private realm, and the house is configured around a central outdoor area with a lap pool and paving.
Timber screens extend beyond the structure of the house to create privacy and a sense of enclosure without exerting a solid face to the street. Instead, there is a feeling of transparency, warmth, and they can be opened for light and ventilation.
"Since the house is located in a neighbourhood surrounded by high-rise buildings, it is important to obscure visibility and create a new perspective by using a translucent wood-lath screen as a barrier to define the territory between the house and the outside," says Cherngchai Riawruangsangkul, director of Archimontage Design Fields Sophisticated.
Downstairs, the kitchen, dining and living area looks to the swimming pool with the rear of the garage providing a dark backdrop. There is one bedroom downstairs and a two-bedroom apartment for staff next to the garage.
Upstairs, the roof of the garage provides an outdoor, multifunctional space for various activities. Three bedrooms, a family room, gym and shrine are connected by a long glass-lined corridor allowing for views throughout the house. A void over the dining area creates a connection between the floors and brings additional natural light into the downstairs living area.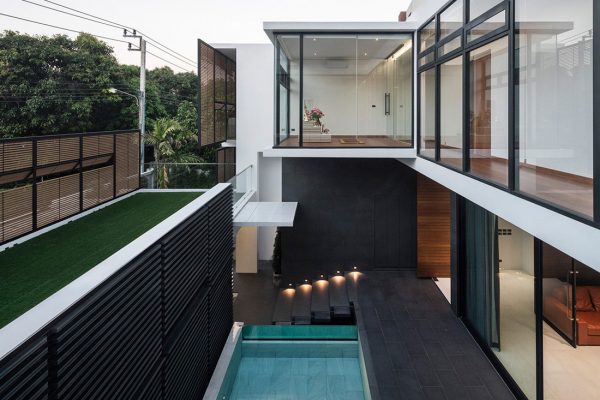 A light material palette inside and darker palette outside creates a mood of harmony and calmness, and the contrasting white structure and black window frames articulate the boxy, rectilinear volumes that complement the neighbouring buildings. "What I am most proud of in designing this house is a real sense of privacy it has generated and the client's full acceptance of construction materials," says Cherngchai.
Photography by Chalermwat Wongchompoo
---