Whether you've watched the highly acclaimed Apple TV+ series, Severance, or are just now hearing about it, the sci-fi series paints office life as hell with a labyrinthine office design that is inhospitable yet intriguing. Though the interior of this project (pictured here) is anything but uninviting, it shares common traits with Severance set design: sparsely furnished and peculiar in design, which sparks imagination and beckons one to explore. Is this a restaurant or bar, a capsule hotel or an office? Unless you know the brand and what it stands for it's difficult to tell and that's the genius of the design.
Blurring the lines between design genre, this project is the flagship experience store JMGO SPACE ONE. Located in Xintiandi, in the middle of Shanghai, China, the 200-square metre premise of JMGO, a tech company specialising in projectors, has been designed to offer a limitless customer experience that makes the usual shopping routine seem mundane.
As with every design AIM Architecture undertakes, this project is both surprising and inspiring and, in this case, shakes up the traditional idea of retail to say the least. Utilising the idea of a projector and its capabilities, the interior has become a canvas for presenting the unexpected, re-defining boundaries and altering perceptions.
Entry is through an opening shaped as a lens and the door is an aperture that reveals little of what lies behind. The store comprises two levels, the ground floor is the store proper with silver pods that showcase possible use of the products. There are six capsules constructed as vignettes that reveal different scenes from a home – a bedroom, dining room, living room, office, fitness area and game room. A centrepiece table displays product and a mirrored ceiling enhances the height and space.
The second-floor area presents more as a photo studio, and rounded corners merge boundaries between walls and ceilings. A large grid track on the ceiling supports display panels and these can be reconfigured according to a variety of exhibition requirements.
JMGO is not your typical store by any means, and the futuristic interior is en pointe to represent the product and showcase its capabilities. The interior design encourages customers to suspend thoughts of the everyday. Once inside, the product works its magic and that's what good retail design is all about.
AIM Architecture was established in 2005 by Wendy Saunders and Vincent de Graaf. The practice works across a range of sectors that include retail, hospitality, commercial, residential, cultural and planning. The studio delights in bringing the unexpected to all its commissions and each project presents a new take on the usual – whether architecture, interiors or a combination of the two. With a team of some 40 people from 10 countries, the AIM Architecture design narrative is both varied and creative but always outstanding.
JMGO is yet another exceptional retail interior by AIM Architecture that takes design and the experiential to a whole new level of interpretation.
Photography by Wen Studio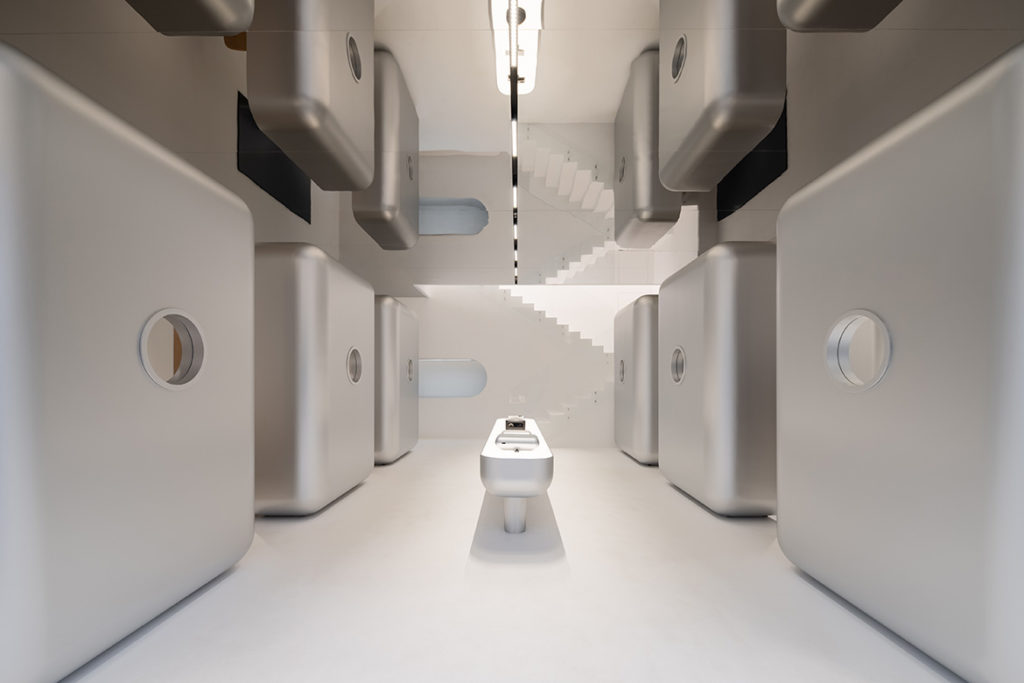 .
JMGO SPACE ONE
Client: JMGO
Location: Shanghai, China
Interior Design and Facade Design: AIM Architecture
Design Principals: Wendy Saunders, Vincent de Graaf
Interior Team: Baoer Wang, Weisha Dai
FFE Team: Lili Cheng, Weisha Dai
VM: Victor Mongin
Contractor: Shanghai Hengpin Design Decoration Co, Ltd
Completion Date: 2022
Total Floor Area: 200sqm
---