The 'form follows function' philosophy of Modernist architecture dictates that building design should be simple and clear, with pure materiality and an expression of structural elements rather than applied ornamentation as the source of visual delight.
The approach is well embraced by architects ONG&ONG in Singapore, who find that clean lines sit well within the island's lushness. The movement's tendency towards open plan living and large windows are also appropriate in creating seamless indoor-outdoor connections that facilitate cross ventilation and natural illumination.
ONG&ONG's renovation of the 80ADR House captures all of these features. The terrace house's original Modernist architecture served as inspiration, says Diego Molina, a director at ONG&ONG.
Rather than demolishing to build higher, the owner also requested to retain the intimate, low-rise scale of the house. As a result, the two-storey structure at the front was kept, while a third storey and roof terrace were added behind to accommodate spatial requirements.
The architects sensitively expanded upon the Modernist language, harmoniously linking old and new. Materials reflective of the era are used but in a contemporary manner. The architecture heralds this approach with an unadorned steel structure and timber cladding of the roof overhang and car porch.
Inside, a screen of concrete breezeblocks – a material common in Modernist tropical homes – rises up the central air-well, engaging in dialogue with the stainless-steel mesh and bronze staircase.
Cement in the dining room, herringbone-patterned English oak timber for the living room, and hexagon-cut marble in the master bathroom and mosaic flooring on balconies all juxtapose to create a surprising, tactile experience underfoot.
Furniture from the era – George Nelson pendant lamps and Eames furniture – complement the spatial design as they inject a geometric punch into the spaces.
Meanwhile, the house's functionality was enhanced to accommodate the new homeowners. "The floor plans are clean and simple, allowing for sectional spatial design to showcase the features of the house," says Diego.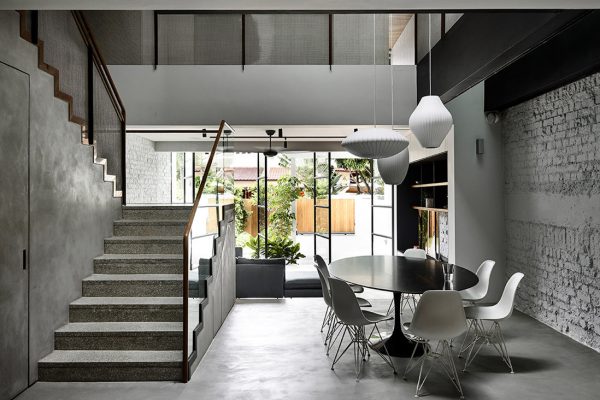 The vertical porosity of the air well was made possible by removing the centre of the second storey, which is now linked front and back with a glass bridge.
Adhering to the Modernist-era language, passive elements were utilised to create an airy interior, highlights Maria Arango, another ONG&ONG director who jointly led the project.
The skylight injects plenty of natural light and ventilation while allowing rising heat to be released from the double- and triple-volume air well, and roof overhangs and balconies mitigate the tropical climate.
The connection to nature is not just visual. For instance, large, full-height glass doors extend the living room into the front garden and a black metal spiral staircase climbs from the master bedroom balcony to the roof terrace. For ONG&ONG, good house design considers a holistic experience for occupants to form memorable experiences.
Photography by Derek Swalwell
Dissection Information

Bathroom washbasins and bathtubs from Apaiser
WC from Villeroy & Boch
Sanitary fittings from CEA Design and Hansgrohe
Kitchen cabinets custom made by Bi&L Collections Pte Ltd
Kitchen appliances by Fisher & Paykel
Landscaping by Nyee Phoe Group
Kitchen mosaic tiles by Rice Fields Pte Ltd
Kitchen cement flooring by Monju
Kitchen cabinetry by KHL Interior and Construction Pte Ltd
Sockets and switches from JUNG
Decorative lighting fixtures from George Nelson
---