In this Top 10 roundup, we've put together a list of the spaces where we spent most of our time outside of homes – schools and offices. From formal and alternative schools to some of the most progressive workplaces in the region, here are our 10 most-read working and learning spaces in 2018!
#10
A collaboration between the Stamford American International School and the Australian International School, the 54,000 sqm Early Learning Village provides a spectrum of lively learning environments.
#09
Through these offices in Shanghai, Hangzhou and Hong Kong, M Moser presents three approaches that cut on the edge of workplace innovation.
#08
Ad agencies are often the first to pick up on trends. J. Walter Thompson's new Bangkok office is a tribute to adapting to the market.
#07
CHANG Architects designed for sensory engagement as a source of knowledge at this kids' activity centre.
#06
How should one design an environment for learning that is both comfortable and inspirational? Plan Architect offers a lesson in modernising the vernacular with several distinctive structures that sit in harmonious conversation with one another.
#05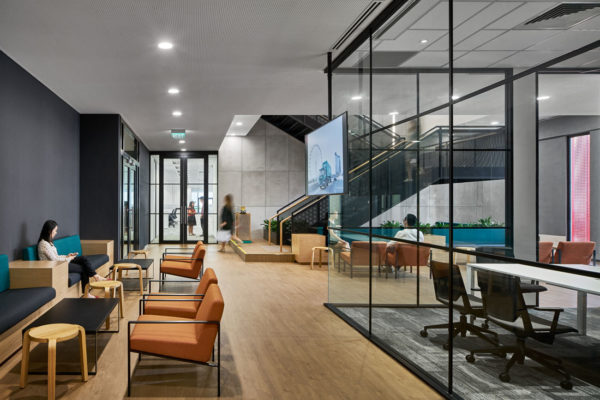 Honest, open and warm, Geyer's striking seven-storey office for Toll Global Logistics in Tuas steers clear from the opulence in favour of a variety of comfortable work settings that promote wellness.
#05
Urban in organisation and connective in intent, Uniqlo City in Tokyo is an ambitious flagship for change designed by American studio Allied Works Architecture (AWA) for Uniqlo's parent company Fast Retailing.
#03
Can a coworking space inspire you to be the best, most productive version of yourself? That's the vision coworking operator The Work Project had for its new HASSELL-designed space.
#02
Housing around 1,000 employees, Prudential's new office at Marina One is a tech-enabled workspace that provides opportunities for collaborations and experiences for both workers and clients.
#01
Freight Architects offer new possibilities for government childcare centres in Singapore. Is this INDE.Awards 2018 Shortlisted project the start of another chapter in Singapore's 'city in a garden' story?
Lookout for more of our 2018 Top 10 roundups!
---