'Subconscious sitting' is a fascinating philosophy that has been the driving force behind many innovations in workplace design. It refers to both the posture of the body and the ways that supportive design can influence movement.
Zenith believe that designing ergonomic product solutions means understanding the thousands of conscious and subconscious movements that a person makes throughout the day. Furniture needs to respond to – and facilitate – these movements intuitively, invisibly, and with great flexibility.
To further explore this concept, Zenith engaged the research-led design studio Formway to study these movements for thousands of hours in a range of different workplace contexts to really understand the diverse needs of workers today. The result? A highly evolved task chair engineered to combine high performance ergonomics with sustainability and aesthetics.
Enter Denn, the intelligent chair designed with intuitive functionality. Denn is Zenith's very first Task chair and it has already won a gold Good Design Award (2022). The product of tireless research and careful evolution, Denn is one of the first office chairs to meaningfully engage with the shift in market expectations for office furniture.
"Our vision with Denn is to create an innovative task chair that delivers leading-edge technology in harmony with an elegant aesthetic," articulates Matt Vescovo, Brand Director at Zenith.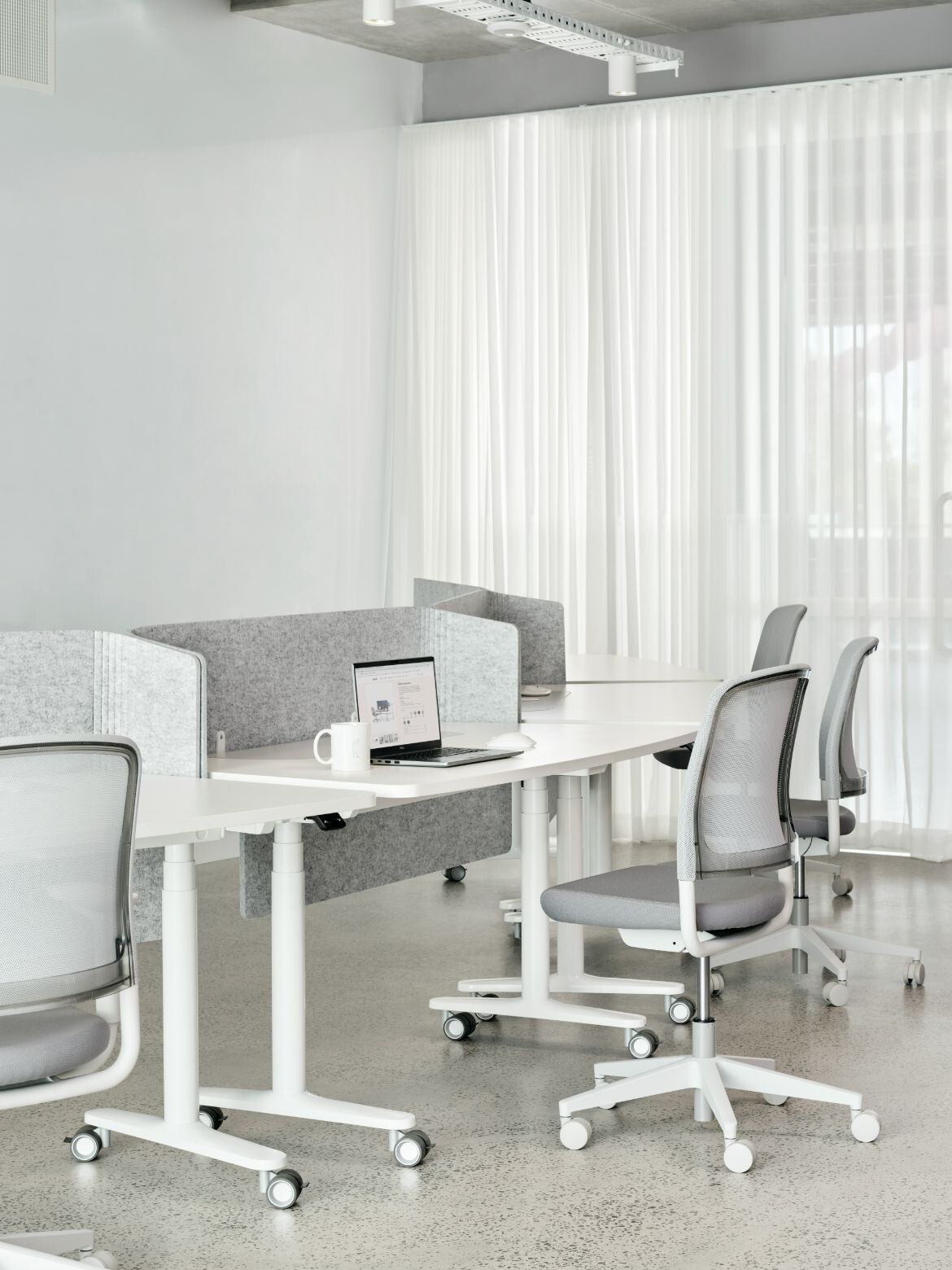 Research shows that 49% of all seated time is spent sitting facing forward. To accommodate, Denn moves 8 degrees forward while giving constant under thigh support.
Its patent pending automated mechanism provides support throughout full range of motion, adjusting intuitively to the body's positioning. This is all connected to a 'fidget to focus' philosophy which recognises how repetitive movements such as subtle rocking motions can actually help to offload cognitive overwhelm and boost productivity.
In addition to these (and other) market leading features, the Denn chair manages to strike a delicate balance between elegant aesthetics and robust sustainability to provide the ideal support for thriving professional environments. Denn transforms upcycled low-grade waste materials into stylish, high-performance seating – utilizing 55.9% total weight in post-consumer and post-industrial recycled content.
Formway's Project Director Chris Bisman explains that "by enabling organisations to create working environments that support the long-term health and wellbeing of their people, we're ensuring the sustainability of the organisation, while also doing the best for our planet."
Available in seven statement colours with a vast range of saturations, finishes and transparencies, Denn is exceptionally versatile and guaranteed to enhance the modern office with a sense of sophisticated flair.
Denn is available now through Zenith, and will be launched with industry events in all Zenith showrooms from July.
Learn more about the remarkable research-driven innovations which characterise Denn, via Dennchair.com.
Zenith
zenithinteriors.com
Photography Haydn Cattach
We think you might also like this story on Precinct range by Zenith.
---