Communicating the essence of a brand – as well as showcasing its products – in a dense trade fair environment is both a deep challenge and a considerable opportunity. The challenge is not just to capture attention, but to resonate and affect. And such an encounter will be more powerful still if it draws out a mental response as well as sensory and emotional responses.
Lighting brands are at a great advantage in this respect given the principal ingredient in their repertoire: light. And while they have been the purveyors of some of the most memorable environments at recent trade fairs, there are few lighting brands that truly build on their opportunity to deeply affect one's fair-going experience with a meaningful design encounter of the brand's essential qualities.
Humans, Light, Rhythm.
Just three words were chosen by Louis Poulsen to describe the brand's recent displays at the Light + Building exhibition in Frankfurt. But these terms were thoughtfully selected, capturing the key aspects not only of the brand's portfolio of products but of life in urban environments. The intent behind the design of the stands was to encourage people to reflect on just how much light affects everyday experiences by exploring the role of light in a diverse spectrum of 'urban' environments. Resonating throughout the display in parallel (through Louis Poulsen's products – including new releases) was a sense of the brand's own powerful DNA: design to shape light.
Louis Poulsen partnered with a Danish architecture firm whose innovative approach to lighting resonates closely with its own. Henning Larsen (who established his eponymous firm in 1959) is known for making light the essence of his architecture. Says Signe Blomquist, the Design Lead and Project Manager at Henning Larsen:
"Our architectural process is rooted in the question of how we can shape rooms and space with light."
At Light + Building, the firm developed an environment akin to a mini city, with cubic 'buildings' establishing a sense of homes, streets, workplaces and city parks. The flow of light through the mini city was partially controlled by perforated steel walls that filtered it into changing patterns. The idea was to mimic the dynamic effect of city windows at night, and to offer a vision of ideal urban spaces where thoughtful illumination can enhance life and make people feel good.
Alongside popular products from the Louis Poulsen catalogue, previews of three new editions were presented. After the success of his cylindrical Flindt Bollard, designer Christian Flindt has created Flindt Wall – a circular indoor and outdoor fixture that offers subtle luminance. An opening at the top directs light from two LED sources down the front of the fixture to create a subtle ring of reflected light. Indirect light in the shape of a half moon is distributed backwards to create a visually engaging form of illumination.
Flindt also designed LP Xperi – a ribbed aluminium street light with a futuristic aesthetic. As with all Louis Poulsen products, the form is intricately tied to the function. In this case, the ribs serve as reflectors that illuminate the space beneath them while being gentle on the eyes.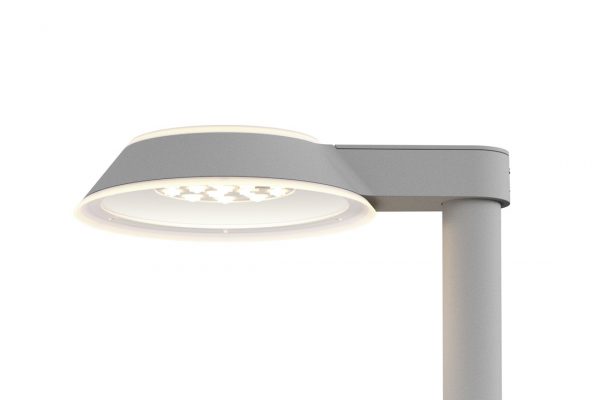 Also unveiled was Homann Park ­– a cone-shaped lamp for paths and parks by Danish designer Alfred Homann. The self-illuminating fixture provides direct downward illumination that emphasises the shape of the luminaire while enhancing ambience and comfort. It will also be available in a version with glowing rings at the bottom and top of the cone, and with integrated drivers and electronics it is ready for wireless connectivity.
Look out for the release of these new products in autumn 2018.
---