Oil is the most polluting industry in the world. Can you guess which industry holds the (dis)honourable title of the runner-up?
If you guessed fashion, you are correct. If you're shocked by this fact, you're not alone. With a truckload of clothing wasted every second across the world, the fashion industry is also a massive contributor to landfill. This pressing issue of textile waste prompted Kvadrat to partner with Really (which it partly owns) last year.
Really is a brand that upcycles end-of-life textiles to create new materials for a closed-loop system that challenges the architecture and design industries to rethink the use of resources. Following up Really's really successful inaugural presentation last year, which showcased 12 benches made with solid textile boards (designed by Max Lamb), this year Kvadrat and Really invited seven designers for an exhibition for the Fuorisalone.
The magnificent seven were Benjamin Hubert|LAYER, Christien Meindertsma, Claesson Koivisto Rune, Front, Jo Nagasaka, Jonathan Olivares and Raw-Edges Design Studio. Curated by Jane Withers and Njusja de Gier, the exhibition aimed to demonstrate the potential of Really's two commercially marketed products: the Solid Textile Board and the Acoustic Textile Felt.
The exhibition also served as a platform for the designers to explore the changing narrative of textile resources and the opportunities that emerge from the shift to a circular economy where the end-of-life will become the start of a new one.
The two Really products reflect the available waste stream and current upcycling technologies. The cotton used for the products is sourced from industrial laundries and the clothing industry, the wool from Kvadrat's own production chain, and the denim from the fashion production industry.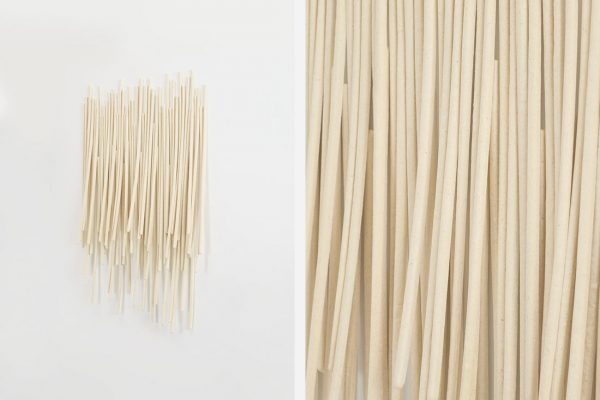 The exhibition received rave reviews, and the exhibits were lauded for their materials, design and aesthetics. Among the exhibits are the Fine Cut table and wall console by Raw-Edges Design Studio.
The collection is made using Really product Solid Textile Board in Cotton Blue, which is composed of a white cotton core sandwiched between two layers of indigo denim.
Studio founders Yael Mer and Shay Alkalay took the design of the board as a starting point for their design. The Fine Cut collection was made by laminating several layers of the board together and then carving into the layers to reveal a new pattern.
"It's fascinating that although it's a solid board, its textile properties are still present. You touch it and it's a textile. You can't really ignore that," said Alkalay in an interview with Kvadrat. "Even the visual sensation, there is something very warm with it," added Mer.
The brands already have a plan in place, as revealed by Kvadrat CEO Anders Byriel and Really Director and co-founder Wickie Meier Engström in the exhibition catalogue's preface: "Our next development phase will focus on used textiles from fast fashion, as well as partnering with manufacturers to introduce take-back systems that mean these materials can be kept in a closed loop."
---