In a phased roll-out, Miele presents its new Generation 7000 built-in kitchen appliances. Four design lines and three colour schemes offer aesthetic flexibility, while wifi connectivity with a mobile app interface allows for smart home convenience.
Generation 7000's four design lines, while all championing simplicity and modernity, also offer diversity in line with the demands of users. And they've been recognised seven times in the 2019 Red Dot Awards for Product Design.
Miele has released an aspirational series of product photographs with floral settings created by artist Azuma Makoto. His installations reflect glacier, desert, lake and rainforest settings.
PureLine has a classic modern appearance with a low-key stainless-steel handle and a glass front in obsidian black.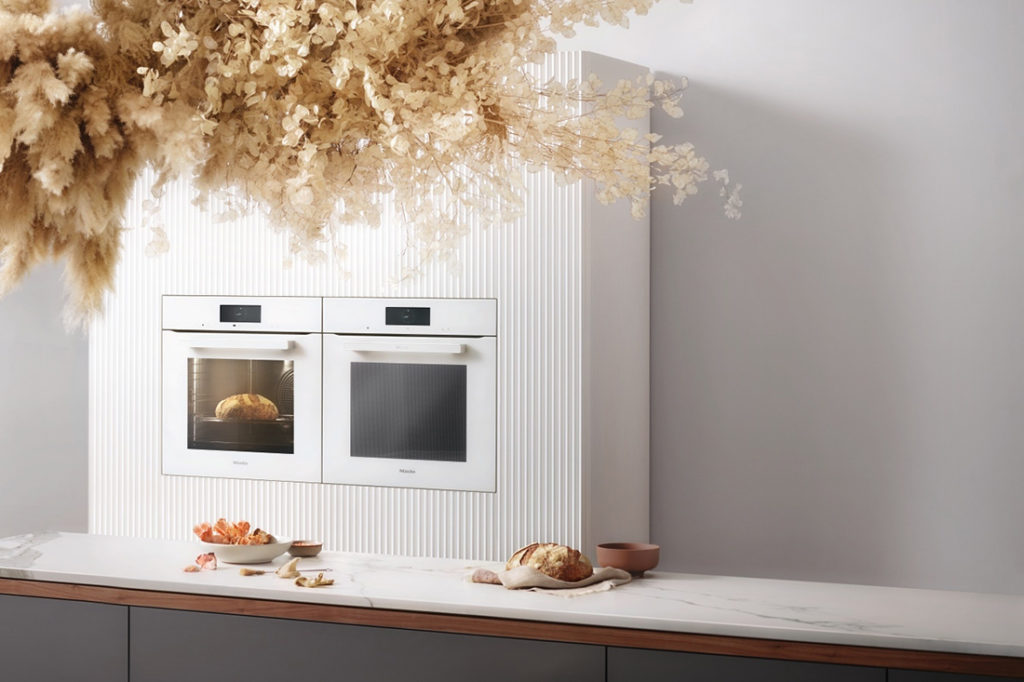 VitroLine offers a monochromatic design – including the handle.
ArtLine moves away from classic designs with a handleless offering. Both VitroLine and ArtLine, wit htheir all-glass fronts, are available in graphite grey, brilliant white and obsidian black.
ContourLine, as its name suggests, has a striking stainless-steel frame that presents the appliance like a showcase.
Most new models in Generation 7000 are equipped with new wifi functions. The Miele@mobile app allows for the control of cooking programs, temperature and time via smartphone or tablet. The app also offers over 1,200 recipes with pre-set settings.
Intuitive controls and displays are consistent across all devices. Intuitive handling is supported by Miele's MotionReact feature, which pre-empts the user's next move. Cookings gets even easier with features such as TasteControl, which prevents overcooking, and FoodView – a camera that relays food images in HD to connected mobile devices. Says Miele, this is the world's first in-oven camera, and it can withstand temperatures up to 440 degrees Celsius.
Generation 7000's steam oven is integrated with a microwave to provide for quicker cooking. And a Full Surface Induction hob uses intelligent pan recognition so up to six pots, pans or casserole dishes can be placed anywhere on the hob unit or cooking. If a pan is repositioned, the corresponding cooking control travels with it.
The new Generation 7000 dishwasher offers the improvement of PowerDisk, which enables automatic powder dispensation and auto start with app-based control.
Launch dates for ContourLine, obsidian black and the Generation 7000 dishwasher are to be confirmed.
---