Meridiani's presentation at Salone del Mobile this year looked familiar. Not because you've seen something similar. but because the overall ambience felt familiar, lived-in, like you're visiting a good friend's house, a good friend with a good taste.
New furniture collections with lacquered finish in dark red (Cherry) and dark blue (Navy), popped out inside rooms dominated by shades of grey and natural timber. The result was warm and elegant with a touch of playfulness.
Designed by the brand's art director Andrea Parisio, Meridiani's 2019 collection brings together limited edition pieces with complex manufacturing process and elaborate details and simple, immediately recognisable pieces. Together they surprise and delight without alienating their users, offering curved lines and deep shades that pay homage to the retro '60s furniture, but realised in proportions that are suitable for our contemporary spaces.
Example of the first category is the Zeno dining table, a three-legged table with a strong retro vibe and a deceptively simple look.
Zeno features an ingenious tubular steel structure that appears like it gently cradles its 60-millimetre-thick circular top. The supporting structure is finished with circular timber tops, a delightful contrast to the table's uniform glossy lacquered surface.
Examples of the latter category are Joseph and Josephine.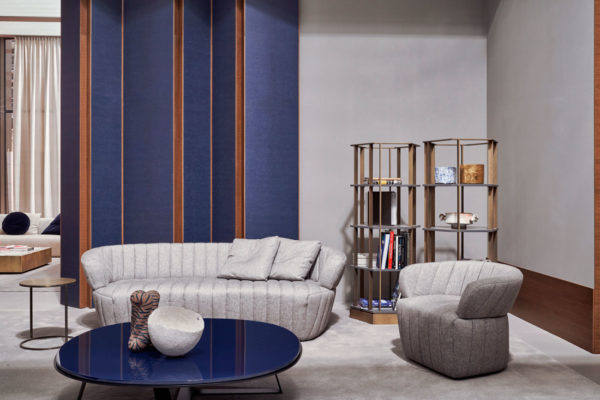 Joseph is a classic kidney bean sofa with a generously deep seat, low height and a curving backrest that invites one to put one's legs up and recline. Suitable both as the centrepiece of the room or playing a supporting role to the room's furniture ensemble, Joseph is available in two variants: with smooth or quilted upholstery.
Complementing the sofa collection is Josephine, a small armchair with a hidden swivel base that shares Joseph's aesthetic.
And rounding off the 2019 offering is Verner, a free-standing storage system featuring various curving and linear modules, as well as end units, to tailor the best configuration for users.
Verner's customisation is virtually limitless. The system is available in a wide range of finishes, including three fabric collections, four new lacquer colours, two mirror finishes and an original metal finish.
In Singapore, Meridiani is available from Marquis.
---