The 60th Salone del Mobile was a noteworthy occasion as it marked the return of many international design talents to Milan. For Lapalma, this year's instalment was so much more as they were recognised for their 40 years of participation in the prestigious event, which was a fantastic accomplishment for the renowned Italian furniture brand.
In addition to celebrating their award, Lapalma presented an exciting look at its latest products, created as the result of ongoing research fusing creativity with craftsmanship. Through ten fluid and informal spaces, the brand showcased furnishing options designed to support the constantly evolving experiences of contemporary living.
Launching through Zenith, the leading provider of high-performance furniture and workspace solutions in the Asia Pacific region, Lapalma's new collection provides a well-balanced framework intended to bring people together and strengthen their connections, improving their daily lives and interpersonal relationships.
GLOVE stool
True to its name, the GLOVE is an upholstered stool that fits like a glove. Designed by Francesco Rota, GLOVE features a high backrest and comfortable padding that surrounds the entire wide seat. The seat's all-encompassing profile accommodates any person who sits on it resulting in an elegant solution for every moment of relaxation.
EDIT armchair
Versatile and sustainable, the EDIT armchair is a contemporary reinterpretation of a modernist classic. Italian lines are used to complement the Nordic minimalism of designers Anderssen & Voll, from the protective backrest to the shell that envelopes the user in a sea of softness. Composed of only a few essential components, each of which is recyclable, this armchair is ideal for the fluid spaces that now merge the office with the home.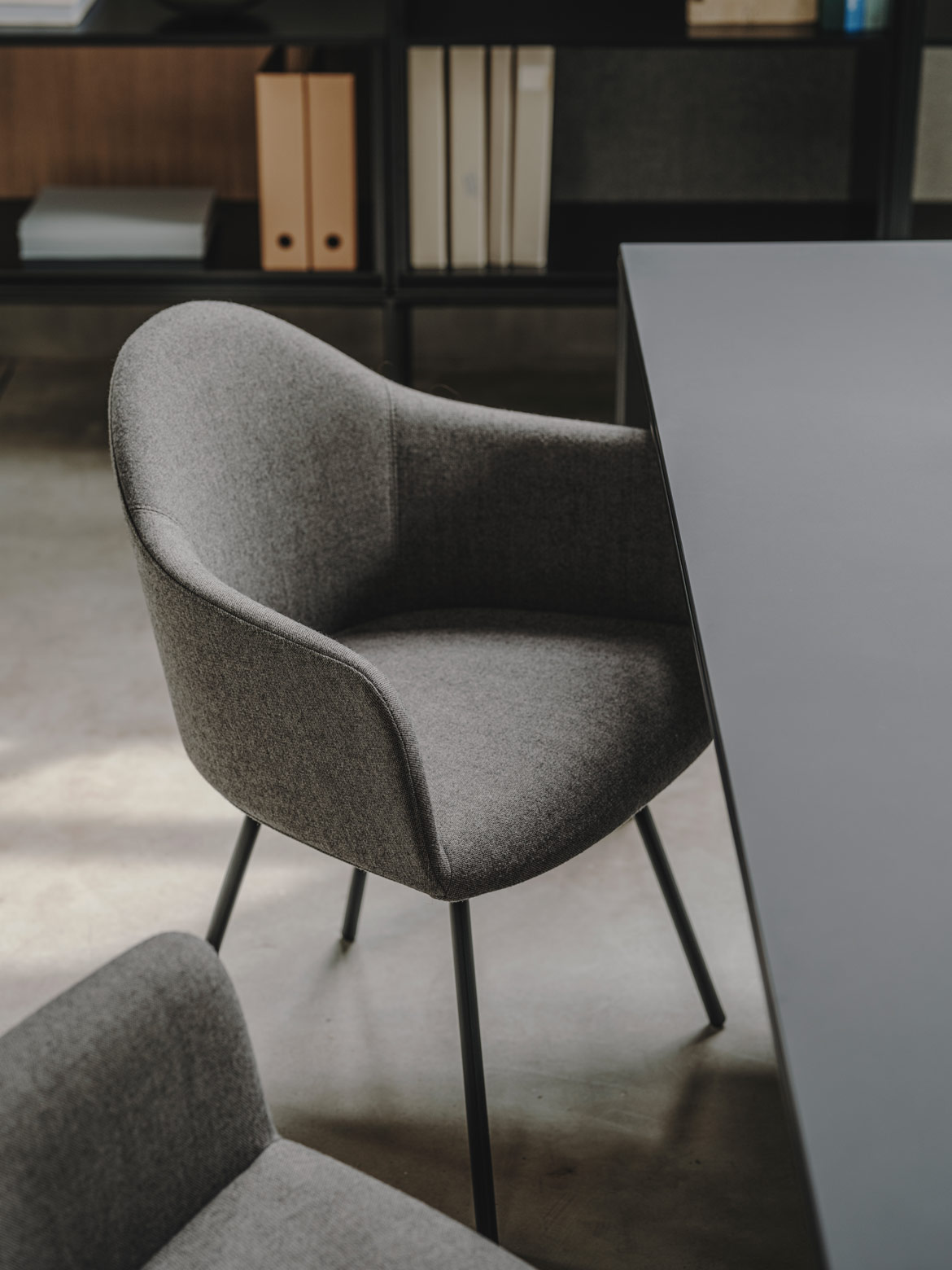 FOIL armchair
FOIL, the new armchair designed by Francesco Rota, is a fusion of opposites. Relaxing yet stable, the generous padded seat offers sheer comfort while the four-slanted spoke base on castors, supportive backrest and highly elegant line of the armrests create a bold yet elegant profile. Not only does it look good, but FOIL allows easy recycling of its separate components, making it a truly future-facing furniture solution.
WING TIP lounge chair
The WING TIP lounge chair is another addition by Anderssen & Voll. With its elegant lines and swallow-wing armrests that evoke the sky and lightness, WING TIP is an original design that is ideal for waiting rooms and relaxation areas. Continuing the collection's theme of sustainability, WING TIP's shell is made of a single recyclable material.
JAZZ bookcase
Last but not least is the JAZZ bookcase, designed by Giuseppe Bavuso, the new art director at Lapalma. Inspired by the spontaneity that is a distinctive feature of the most outstanding jazz performances, this bookcase stems from a deep base, of different lengths, from which supporting elements emerge and which, in turn, interlock with other surfaces and replicate an imaginary stave. Consisting of die-cast aluminium uprights, wood agglomerate shelves and concealed steel joints, this piece is also completely recyclable.
View all of Lapalma's collection by visiting the Zenith website here.
---