Having something designed by the late Italian design legend Gio Ponti, celebrated Israeli designer Ron Gilad and one of the most famous architecture firm in the world Foster + Partners in your house is a stuff of dreams for any proud design aficionados. Bringing that dream to reality has never been easier thanks to Molteni&C. The Italian brand's 2018 collection includes pieces designed by world's most celebrated design personalities.
Speaking about design personalities, this year Molteni&C launched its first ever digital campaign. #HouseOfMolteni presents 12 stories for 12 months. The 12 protagonists are international trendsetters and influencers with a discerning taste for modern contemporary furniture. Told with video interviews and stylised photographs, each story captures the lifestyle of the influencer at home and shows how Molteni&C suits different settings and personalities.
#HouseOfMolteni Series 9, for example, takes us inside the home of artist and designer Emily Kantz in Portland, Oregon, United States. Kantz is the founder of design company Modern Macrame who spends her time travelling the world teaching macrame art, art directing photo shoots, hosting events and collaborating on various interior and product design projects. And her house brought together Molteni&C products designed by Gio Ponti, Ron Gilad and Foster + Partners under one roof.
"As a creative person, I question my point of view endlessly with the hope of finding intriguing new angles," says designer Ron Gilad. In Panna Cotta, his latest creation for Molteni&C, this intriguing new angle is expressed through the juxtaposition of heavy materials – marble and iron – and the delicate form characterised by thin lines and rounded edges. The family of small tables features a slight wave on its top – a playful wink to the mouth-watering wobble of the famous Italian dessert that inspired its design.
"We believe that the quality of our surroundings has a direct influence on the quality of our lives," says the team at Foster + Partners. And having the ability to control our surrounding certainly improves one's quality of life.
One of the most innovative architecture and design studios in the world, Foster + Partners has created a small, versatile table for Molteni&C's 2018 collection. The Vicino table features a slim steel frame with a hidden mechanism that enables users to move the table's two trays (available in wood or marble) around to adjust them to their needs. Consider your need for a stylish flat lay background for Instagram posts solved.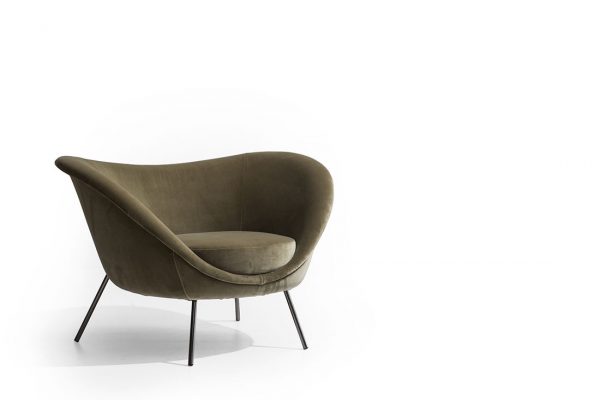 Great designs outlive the designers. This applies to most of the legendary Italian architect and designer Gio Ponti's works. Take the armchair D.154.2 for example. The armchair was commissioned for the Planchart Villa in Caracas, Venezuela, which was built between 1953-1957.
"I dedicated myself heart and soul to designing Villa Planchart, and in it, I was at liberty to express my own approach to architecture, both outside and inside," Ponti famously said about the project. D.154.2 was one of the results. Molteni&C celebrates this labour of love by updating D.154.2 with the latest technologies in material and manufacturing while maintaining its iconic shape.
In Singapore, Molteni&C is available exclusively from P5.
---