In the past 18 months, our whole outlook on where and how we work has undergone an elemental shift. The office place is no longer simply devoted to production, but is now an environment of flexibility, personalisation and conscious wellbeing. Also with a portion of the population continuing to work from home, the home studio needs to be uniquely equipped to support a seamless transition from work to home and family life – no matter the time of day.
From a design perspective, this new hybrid style of working throws up numerous opportunities and possible eventualities. And demands a whole new set of flexible furniture solutions that can stand up to these rapid transitions between work/home settings.
Enter, Capisco Puls
One task chair that embodies the essence of this flexible, hybrid style working is HÅG's Capisco Puls. There is an 'ultimateness' to this task chair – the way it ergonomically manoeuvres with the body and adapts to its setting – whether that is home, office, or even a third space.
And it never gets old. Manufacturer, HÅG, is one of those brands that is synonymous with being ahead of the curve. And its Capisco Puls is no exception.
From its chameleon-like ability to 'dress' for any situation – it's now available in a diverse range of upholstery options including eight new modern colourways; right down to its detail-oriented approach – there's the edition of an elegantly visible seam that accentuates the cushioned seat base and back.
Conscious design qualities
Sustainability is these days a given and like any world-class design solution HÅG has put this front and centre with Capisco Puls. The office chair has been named Best Recycled Plastic Product in Europe by EPRO (European Association of Plastics Recycling & Recovery).
The award recognises and celebrates the product's superior adherence to one of the world's toughest and most recognised environmental requirements, which looks at minimal use of chemicals, and high share of recycled materials through all phases of the product's life cycle.
Capisco Puls also earned the renowned Nordic Swan Ecolabel. Its sustainability credentials and innovative recyclable material composition, measuring at 99 per cent recyclable material at end of product life, sees Capisco Puls set the benchmark high.
The task chair also boasts a cradle-to-gate measurement of 39.4 kilograms of carbon dioxide.
Ergonomic to a 'T'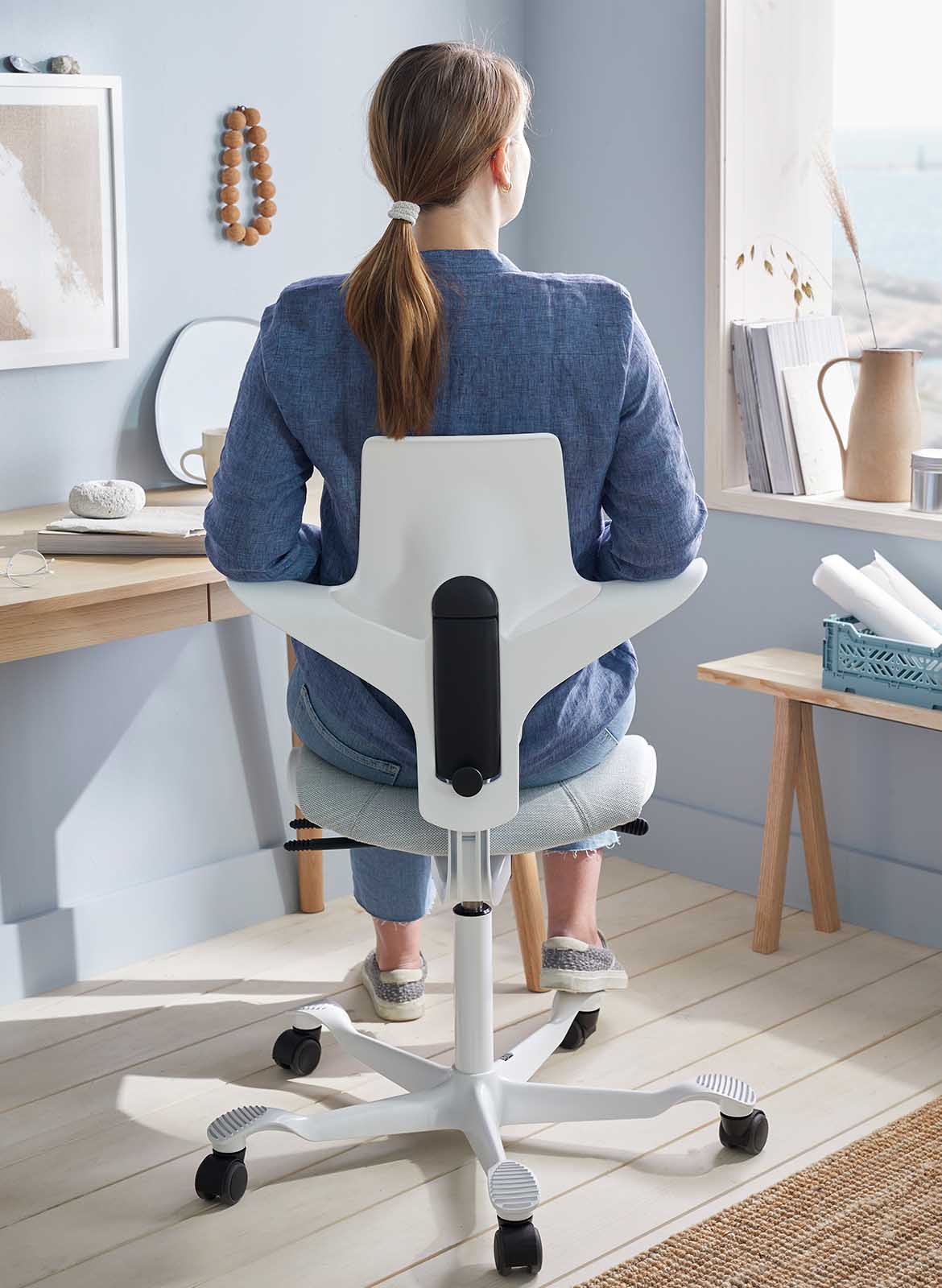 Central to Capisco Puls' design purpose – and continuing relevance within rapidly evolving workplace scenarios – is its impressive ergonomic capabilities. The chair embodies a philosophy of 'Your next posture is your best posture', offering users a range of seating options, to support an endless array of postures.
Its distinctive design, inspired by a horseback rider's posture, invites the user to rest upon the saddle-style seat in the traditional manner, and break out into other postures – sitting sideways, tilting forwards and also tilting backwards. The seat can also be adjusted to standing position.
An inspired take on work-life
HÅG falls within the Flokk house of brand, supporting Flokk's vision to 'Inspire great work' through furniture pieces that improve people's well-being and performance. It is here that global industry-leading products such as Capisco Puls come into play.
Originally founded as Scandinavian Business Seating in 2007, Flokk has long upheld traditions of human-centred design within furniture design, with HÅG as one of its founder brands that furthers Flokk's vision as a mindful inventor, designer and manufacturer of furniture.
As the company gained new brands, outgrowing its Scandinavian roots with Swiss brand Giroflex, Poland based Profim, and 9to5 Seating in the US, a new name was needed to reflect the growing stature and international appeal of the organisation. The name, which means flock in Norwegian, aptly describes the company's trajectory – its operation as a house of brands that creates inspiring, sustainable and friendly workplaces through its thoughtful seating solutions.

---