Made from a creative process that blurs the lines between art and design, Fritz Hansen's Series 7 chair is a globally iconic and incredibly versatile piece. Its nine layers of pressure moulded veneer result in a chair with unique qualities and materiality. With a sculptural silhouette that unites functionality and aesthetics, the Series 7 chair in Essential Leather brings a distinct presence and purpose to every space.
Founded in Copenhagen in 1872, Fritz Hansen is an exclusive brand that specialises in crafting timeless design. Characterised by its teamwork with leading architects and designers, Fritz Hansen is a global favourite for elegant, contemporary and high quality furniture. The Series 7 chair, designed by the renowned Arne Jacobsen in 1955, is the most successful design within Fritz Hansen's chair collection, with its availability in Essential Leather furthering its contemporary iconism.
Through intuitive searches beyond the confinements of design, technology and material, Arne Jacobsen has transformed the landscape of Danish design. Seen as the climax of veneering technology, the Series 7 collection is an extended vision of Jacobsen's 1952 Ant Chair.
Beginning as intricate, hand-painted watercolour renders, Jacobsen's pieces are always expressive and meticulous in their vision. This consideration to detail is translated into the manufacturing process; quality craftsmanship is evident — from every layer of moulded veneer to the upholstered leather — permitting the distinct strength, flexibility and durability of the slender Series 7 chair.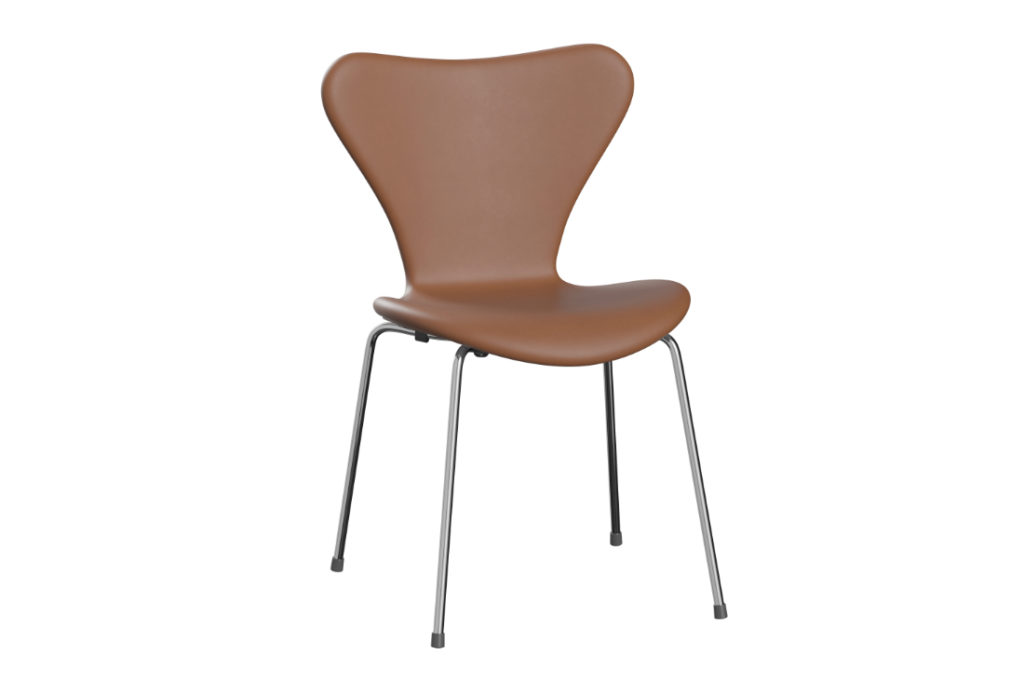 The shell is crafted from multiple layers of laminated, pressure moulded veneer — seven layers of inner beech are encompassed by two outer layers, available in ten different natural veneers. Foam in the padding and seat cushion ensure optimal comfort, clean design and functionality.
Among the range of textiles for upholstery, is the sleek, sophisticated and indulgent Essential Leather. This material represents the essence of the Series 7 collection as it truly unites form and functionality. Available in five rich colourways – Black, Walnut, Light Grey, Lava and Stone – the chair upholstered in Essential Leather creates a distinct aesthetic quality that is smooth and comfortable in its utility.
Clean, minimalist design is further evident in the base of the Series 7 chair. Made of chromed steel or powder-coated steel, the bases are mounted to an indiscernible circular disc beneath the seat. From the curved, stackable legs of 3107 to the height-adjustable swivel base and twin-wheeled castors of 3217, the extensive range of base designs permits versatility and customisation in the home or office.
The final form of Fritz Hansen's globally successful Series 7 chair has an elegant, minimalist silhouette. And its availability in smooth, comfortable and indulgent Essential Leather gives it a timeless character and sophisticated presence in any space.
In Singapore, Fritz Hansen is distributed by W. Atelier
Purchase Fritz Hansen's Series 7 chair in Essential Leather here.
---