The notion of flexible and decentralised work that places the individual at its heart is now widely – and mostly enthusiastically – embraced as the new normal. The more rigid working routine has given way to the dynamic, pick-and-mix work habits, and it's become abundantly clear that there is no going back to the constraints of the pre-pandemic office. But where is it all headed? That's what we asked Bradhly Le, Director of Davenport Campbell & Partners who have been spearheading innovative design since 1977 and created trailblazing workspaces for commercial giants like CBA, Lendlease, KPMG, Telstra and Mirvac.
Bradhly talks about the cross-sectoral and supercharged character of the emerging workplace, and how simple, nimble and flexible designs – like Herman Miller's Passport table – fit in with the changing nature of work.
Flexible work and human capital
"Hybrid working is here to stay, and is a paradigm shift that most traditional workplaces are quickly adopting," Bradhly says. He adds that the organisations that embrace a hybrid approach have discovered that what really matters is their human capital. "Granting employees the agency to work flexibly within clear company parameters is yielding some brilliant results, and this is one of the key ingredients to retaining and attracting the best talent," he explains.
This shift means that the physical office is changing, too – and it's more relevant than ever. "The office is becoming even more essential in providing enhanced layered experiences – a place to belong, connect to company brand and values, collaborate, immerse in culture, invite inclusivity, foster mentorship, and all of that great stuff we embrace as human beings, as well as being able to be productive when at work," Bradhly says.
Super-charged, vibrant and delightful
What does this notion mean in practice? "The modern workspaces we are designing for our clients are now super-charged, energised, slightly unexpected, and are conceived as a blend of cross sectoral approaches mixing hospitality, workplace and residential, but more importantly, they need to be magnetic so that employees feel the real value in actually going into the office," Bradhly shares.
This desire to design and optimise the space for – and around – the people comes hand in hand with the reduction of the footprint of the office buildings. This is perhaps not at all surprising taking into consideration the fact that due to the nature of hybrid work, as Bradhly points out, workplace capacities are fluctuating, signalling the need for organisations to fine-tune their operating rhythm to facilitate an evolving occupancy of up to 40-60 percent.
"We have been working with many clients to take full advantage of their underutilised spaces by developing workplace pilots," Bradhly points out. "These spaces are highly experimental, designed as test and learn environments, with an aim to rediscover the status quo, collect useful data, and ascertain what's working and what isn't – and ultimately what the future workplace habitats for them could look like."
All of that is underscored by the crucial notion of sustainability. "I truly believe that beautiful and timelessly crafted workplaces are more resilient to change, and with some elasticity in the design, this will enable future flexibility, adaptability and will ensure that workplaces will remain relatively intact for the life of the lease, and this is a great environmental story," Bradhly says.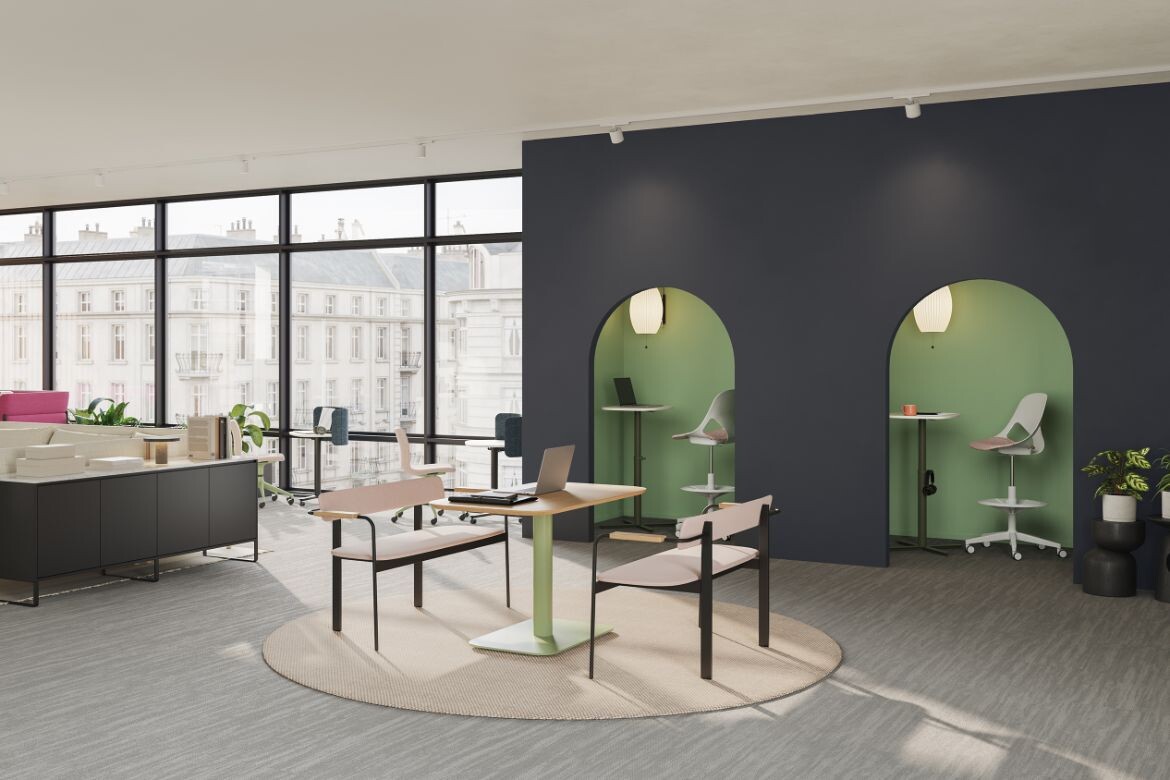 Delightful simplicity
It is against this intricate backdrop, that Herman Miller released its latest iteration of a work table. The brand has always been at the forefront of workplace design, assisting architects and designers across the globe with invaluable expertise and ergonomically-led, future-centric product ranges that bridge the gap between the contemporary context and emerging insights. Passport, a delightfully intuitive, mobile and height-adjustable table, is no different, and it fits in perfectly with the shifting demands of the modern workplace.
"Agility and elasticity are important and creating an office terrain that is inhospitable to waste and can adapt to shifts in functional requirements is an important ingredient to the modern workplace," Bradhly says. "Intuition and ergonomics play an important role in the office landscape and, let's face it, if the work setting is not fit for purpose or not easy to use then people just won't use it."
Bradhly adds that nine times out of ten, teams prefer a work setting that includes a table over one that does not, however, more often than not, the table heights are inadequate for the seat or the other way around. Passport's simple lever mechanism which enables the user to smoothly adjust their table for a range of heights – as well as from sitting to standing – addresses this pivotal issue. "The table's intuitive design, transformative nature and versatility will no doubt be an important kit that will benefit a variety of diverse and collaborative experiences," Bradhly adds.
The ability to adjust the table up and down is matched by its nimble nature. The Passport's lightweight, single-column silhouette can be moved around with ease, and its surface has been strategically designed to accommodate a range of workplace essentials, and fit into any space.
"Mobility and adjustability are innate to the way we operate as humans and something that we strive to design into workplaces," Bradhly explains. "There are elements that anchor the workspace such as orientation devices, architectural forms, lighting, and there are free range elements that need to move whether it's the people, the teams and even the furniture."
Empowered by mobility
Bradhly adds that we are often debilitated by our need to tether furniture into power, data, and AV, and our reliance on facilities teams to set up our spaces. "This is now becoming a thing of the past and teams are empowered to take full advantage of furniture systems to create their ideal space," he explains. "Passport will be highly useful in this instance due to its mobile and adaptive nature and can work with a variety of diverse settings and team needs."
These qualities feel particularly relevant when it comes to optimising existing floor plans, creating impromptu work set-ups or experimental spaces – as well accommodating a broad range of employees with different postures, preferences and work habits."Passport is a work point, a standing drop-in bench, a laptop table or even a coffee table so all these configurations will be useful in the office environment or at home," Bradhly explains. "Equitability and access are key components in workplace design, so I can see Passport's height adjust function being useful to diverse user profiles."
Embracing diversity
This last point is especially important. "As designers we are frequently called on to create solutions for a diverse spectrum of users and are often limited by available products on the market or are constrained by time to develop custom furniture to cater for differing needs," Bradhly explains. "Sit-to-stand settings are often requested by our clients and most of the products available either require power, are heavy – or not sturdy. Given the robust construction of Passport, I can see it being used in standup huddle spaces or sit down if the user prefers. It can also be a focus work point if users want to shift the table to a quieter part of the office to do concentrative work."
However, the work environment isn't the only context Passport's nimble character is bound to enrich. "I can see some real benefit in the product being used in tertiary education," Bradhly points out. "Students in learning environments are notorious for hacking their environments to create their ideal informal collaborative spaces and a product such as Passport will be highly valued."
While Passport's simple, intuitive and untethered design might feel like going back to basics, the versatile nature of this positively unassuming table not only nudges the trajectory of workplace design forward, but signals – and not only because of its height-adjustable mechanism – that in the modern workplace there is also a way up.
To learn more about the Herman Miller Passport chair please click here
To learn more about Herman Miller please click here
---