Panthella 320 joins the famous family of lamps including Panthella Floor, Panthella Table, Panthella Mini and Panthella Portable. The signature exaggerated mushroom shade of the new addition has a diameter of 32 centimetres. This compact size positions Panthella 320 right in between the original table lamp and Panthella Mini, making it a perfect choice for a vast spectrum of interiors – both residential and commercial. The iconic middle-sized silhouette can inject a tender, dreamy glow into a child's nursery – or help create a charming ambience in a small bar or a hotel lobby.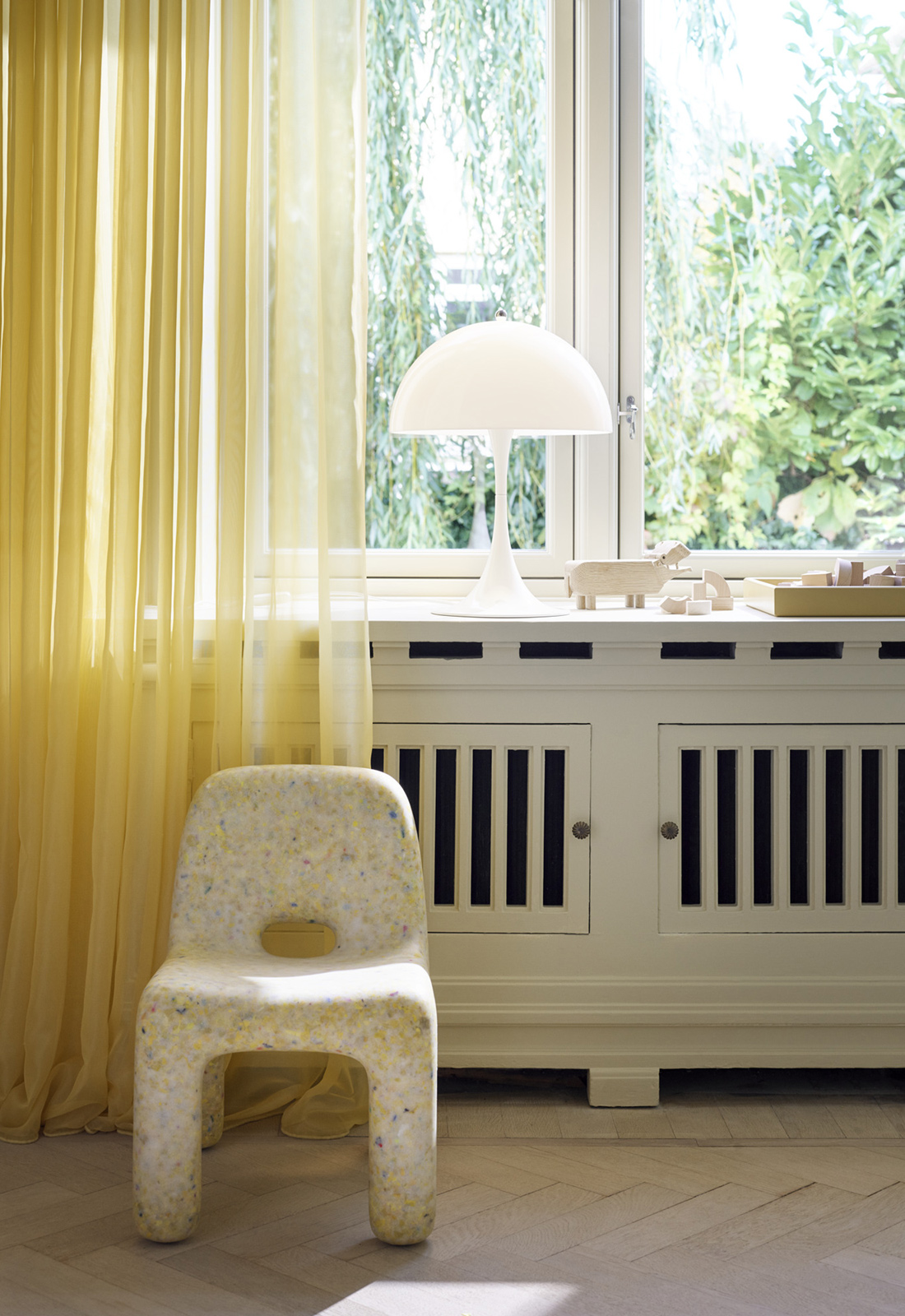 In typical Panthella fashion, the new table lamp's organic yet joyful shape goes hand in hand with faultless functionality – embodying Panton's staple functional design approach. The lighting fixture provides signature soft, comfortable and glare-free illumination that differs depending on the shade selected. The softer, opal acrylic version of the lamp with a translucent shade produces diffused light, accompanied by the downward reflection from within the shade and the trumpet-like stem. Providing an exciting variation, the metallic shade creates a more focussed downward facing light, while still creating a pleasant illumination as the inside of the shade is painted white. In this case, the stem also reflects the light outwards, generating a beautiful, playful glow – and adding warmth to any space, particularly when combined with the new brass finish.
The new colour and finish option is available alongside the classic opal acrylic, and the high lustre plated chrome, certainly adding a distinctive new look. The glossy surface reflects the light off the lamp itself and enters into a playful and visually engaging dialogue with the surroundings as it projects the warped image of the interior off its rounded shade and elongated base.
Panthella 320 isn't the only model available in brass. With a nifty 25 centimetre diameter, the compact Panthella Mini can bring the warm shine of the brass to tighter spaces like window sills, shelves, tables or other surfaces where space might be limited.
Designed to shape the surroundings and create captivating spaces, the glare-free illumination and iconic geometric lines of the Panthella family have been bringing charm and unique, sculpting quality to interiors worldwide for over 50 years. Building on Panton's legendary legacy it seems acutely fitting for Louis Poulsen to celebrate Panthella's 50th anniversary by introducing a new, convenient size and another finish option to offer more choice to the contemporary customer – and further increase the usability of the very original 1971 design.
---