Deriving its name from the fusion of two German keywords – 'Alu' (aluminium) and 'stil' (style), Alustil strives to transform aluminium kitchen cabinets into spectacular pieces of art. Separating itself from contemporary kitchen brands, Alustil believes it is truly the brand of tomorrow, today, and seeks to create a lifestyle with an essence of its own.
The brand's forward-thinking concept, TIMELESS, has been crafted in conjunction with Chris Bosse, an Australian based, German architect, well known for his efforts in creating the Beijing National Aquatics Centre for the 2008 Summer Olympics. The result of this new collaboration with Bosse is a contemporary kitchen setting that transcends time, reflecting the brand's dedication to design, quality and craftsmanship.
Bosse says Alustil is a true pioneer in kitchen cabinetry, and the use of aluminium is one that is both unique and futuristic. "The Alustil kitchen is a revolutionary business model, a game-changer. Ninety-nine per cent of all kitchens in the world are made the exact same way, out of particleboard and MDF, and then assembled traditionally. However elaborate the production line may be, the product is antiquated."
"We want to bring design and architecture and interiors into the future along with the contemporary world that surrounds us. Our design is for everybody who believes in design in tune with nature and technology, and live in the now."
TIMELESS, which won Gold in the 2021 A'Design Award truly fits the bill. Its modern outlook punctuated by vertical lines add distinctive contrast to the continuous plane of kitchen elements – cabinetry and appliances. Sleek yet dynamic, it can be colourful too. Lava green, a signature in most of Bosse's design can be added to the kitchen as coloured edges for a unique focal point.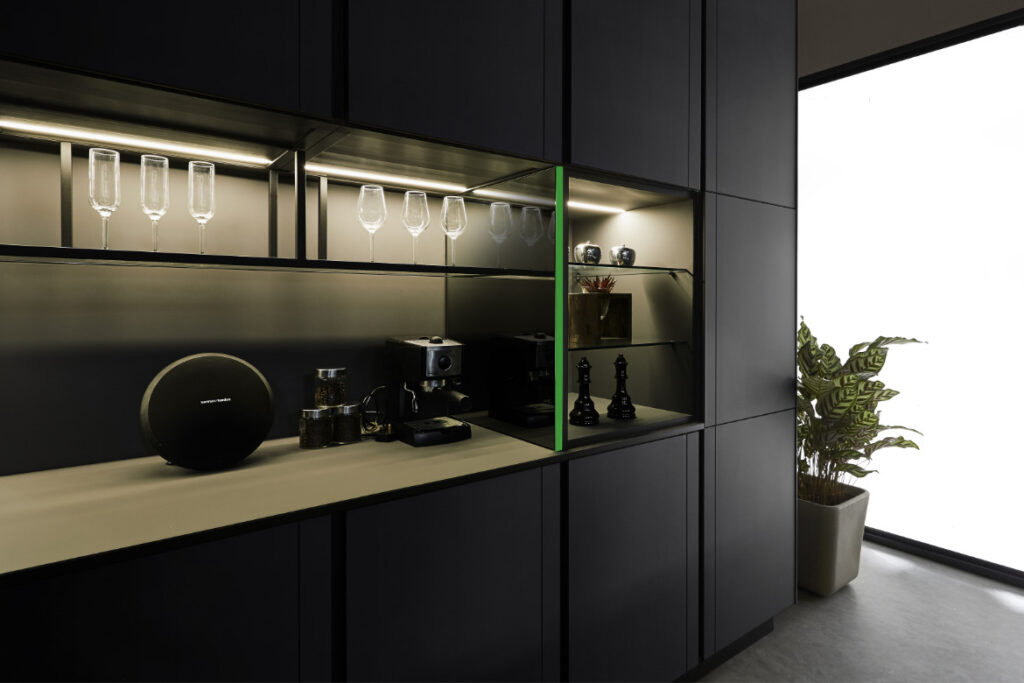 Thanks to new technology, aluminium has evolved into an excellent material that can be used to create amazing kitchen cabinetry that ensures high performance and stunning aesthetics. TIMELESS features Alustil's very own patented base cabinet (Huracan carcase system made of solid extruded aluminium), adjustable shelf heights and edgeless inner corners, which make for easy cleaning.
Many of the features seen within an aluminium Alustil kitchen typically aren't available within standard kitchen designs, and this allows for complete customisation in a modern context. The brand says the evolution of kitchen space has allowed for it to be bold in its design process.
"The kitchen has become the heart of the home, not just a place for food preparation but now serves as the communication hub of the family and mini working space," says Bosse. "A compact but more functional and productive kitchen with technology advancement are the key features for future kitchen design."
---