Archifest 2018 opens today and it is bigger than ever.
The anchor venue of the festival is the Archifest Pavilion located at the Marina Bay Sands Event Plaza. Designed by Kite Studio Architecture, the Pavilion is a fluid, multi-purpose open space inspired by one of the most iconic – if often overlooked – Singapore spaces, the HDB void deck. Read more about the pavilion here.
The festival will also be celebrated in 11 other locations within the city. This year's line up includes 10 exhibitions, 12 talks and 16 workshops and tours. Read our handy preview to get some ideas for your Archifest itinerary.
This year, the festival takes the theme of 'Design for Life', which is articulated further into three sub-themes 'Design for People', 'Design for Time' and 'Design for Environment'.
We caught up with Festival Director Yann Follain ahead of the opening to find out more.
How did the theme 'Design for Life' come about?
The guidelines came from [SIA President] Seah Chee Huang's vision on where to take the SIA. It positions the architecture industry as one of the key drivers for promoting well-being and life satisfaction in Singapore. These directions prompted a fresh, more inclusive theme.
The 'Design for Life' theme came the closest to expressing my belief that architects are like doctors – it is our duty to help people have a better life. And we are doing it through built environments, by providing innovative solutions that can change people's lives in simple ways. Khai's [Khairudin Saharom, Kite Studio founder and designer of the Archifest 2018 Pavilion] design, which was inspired by the HDB void deck, is the perfect embodiment of this theme.
'Design for Life' sends a message that it's a celebration of life – something that people can easily relate to. It is also a broad theme that can encompass many other more specific sub-themes. Hence the three sub-themes: 'Design for People', 'Design for Time' and 'Design for Environment'. That was really the synthesis of many different things that are happening in Singapore, Southeast Asia and the rest of the world.
You said that the Archifest 2018 experience is being crafted according to the sub-themes. Tell me more.
'Design for People' will talk about initiatives that touch people's lives, like Khoo Teck Puat Hospital in the heartlands that provides seniors with space to garden, and the shared kitchen projects by the National Council of Social Service. These programs are really designing a better life for people.
About 'Design for Time'; everywhere in the world we're faced with the questions of what should we do with these buildings from the '60s, '70s, and '80s. And this is a topic that is especially relevant here. Do we demolish them? Do we build the new icons of tomorrow? Do we give way to the next generation? It's a very complex subject.
Archifest is not a decision maker. It's a platform where we want to welcome different stakeholders, different backgrounds, to share ideas. Archifest provides a platform to talk about it, to see there are different outcomes that can be used. We don't know the answer. So it is really about opening the floor for discussion. Since its inception 12 years ago, Archifest has always been a platform for discussion. In that aspect, it was important to talk about this very topic.
With the last sub-theme, 'Design for Environment', we wanted to talk about what it means to be sustainable. Do we talk about sustainable communities? Do we talk about sustainable action? When we talk about sustainable communities, is it creating an environment for them to have a more sustainable lifestyle, and for them to continue making their communities and moving on?
We want to welcome people with a sustainability mindset that is beyond the familiar. Sustainability is not only using efficient materials or efficient equipment. It is also how we can make communities more sustainable. That is beyond what we typically think architecture is today.
So those three sub-themes are very strong themes, and we crafted the entire Archifest experience according to these sub-themes to make sure there's something for everyone. You might be more interested in heritage, so you can go for the 'Design for Time' theme. You may be more interested in materials that are not harmful, then you can go for the 'Design for Environment' theme. You might be interested in partying because you're a hipster, or you just want to dance and have activities with your kids, then you can go 'Design for People' theme.
Can you elaborate on the current state of our architecture industry that prompted the transformation map?
Starting in the late '90s, and especially with the Guggenheim in Bilbao, architecture became the celebration of the starchitect and the big gesture – it's all about creating big icons. This has been happening around the world and Singapore is no stranger to that. We have our own collection of icons built by international starchitects.
But for the past few years, we've seen changes. We've seen architects and people in general who are looking for more sincere experiences and deeper stories. We want true stories, and our architecture, I believe, is at a turning point.
Of course, the large-scale developments are still happening but we also have smaller projects and buildings that are more deeply integrated into communities being designed by smaller firms. That's what I believe is the future of architecture.
Most of the people we're inviting to the SIA Conference are below 45 years old – six of them are from Singapore and six from the region. These people are doing initiatives with communities at a smaller scale even though some of them come from mega-countries populated by gigantic elements.
It is important for Archifest to talk about architecture that is not only for the elite but architecture that is for everyone. That's the facet of architecture that is less known, but it is the one that is changing people's lives.
We want to talk about small actions that have an impact; about architecture in everyday life. Like the small projects by H&P Architects in the villages around Hanoi, or how a big firm also does smaller projects focusing on experience like [Manuel Der] Hagopian's work with Group 8 Asia.
I've actually been asked by a journalist whether we're taking an anti-capitalistic position here. I wouldn't say anti-capitalistic, but I would say that it is promoting a different way of developing architecture.
Can you share your observations on how Archifest has evolved over the years?
I first experienced working with Archifest eight years ago. It has grown significantly, and what I respect a lot from the SIA is that every year they are trying something different, they are taking a risk. When they started the pavilion competition, everyone was skeptical, but it turned out to be a big success.
So after 12 years, from a small exhibition in the first edition, we now have an Archifest with a large pavilion located in one of the most prime locations in Singapore. We have major partners such as AkzoNobel as a diamond sponsor, and Pontiac Land, who is sponsoring all of the different activities for the kids.
We have other sponsors and partners developing more than 50 events – even doing some collaborations with unusual partners, like The Projector for film screenings and Darker Than Wax for a party. The festival keeps growing, diversifying and making new connections. That shows that there is momentum regarding the built environment.
People, most of the time, think that this kind of event is not meant for them. Actually, it is built around them to provide a picture of what's happening in their built environment.
Do you think that the general public is still spooked by the word 'architecture' in the term 'architecture festival'?
I think so. For most people, an architect is a person who designs houses, or the much bigger stuff.
If I may give an example in other cultures: in France, people look at an architect more like an artist, and they expect you to look and act the part. In Anglo-Saxon culture, being an architect is often regarded as more like being an engineer – you know how to build, you know the structure. Of course, you should be both an artist and an engineer at the same time, and much more. You should, at some point, [take on the role of] sociologist, economist, plumber, masonry specialist, maybe also a psychologist.
Whatever we do will have an impact on the society. Whether it is good or bad, once you put something somewhere, it will have an impact. That's why we should know what we are doing, and for whom we are designing.
So when you say 'architecture festival', most people will say, "Oh, it's not for me." Actually, we will be having many different kinds of people. This event also means to deconstruct what architecture and being an architect are really about.
What do you hope will be people's takeaway after they experience this Archifest?
I want this festival to be a happy festival. It may be cheesy, but I want people to feel happy. I want them to have fun. I want them to experience moments of discovery that make you go, "Ah." That's when you experience this moment of innocence. And when they leave, I'd like them to think that they can understand architecture and that there is so much more beyond iconic buildings that they can be a part of.
And for the architecture community, I hope after the experience they can look at everyday examples of architecture and understand that there are people behind them – that whatever we do, we have to ensure that the built environment will be able to receive them and grow with them. And then at some point, it might change and be reborn again.
Architecture is a long process. We place something in an area that will impact others. I would like the audience to understand that there are many forms of architecture and that it can be done by very different people and adapted and readapted to a new lifestyle that anybody can take part in and take ownership of; to feel, "I belong in that space and that space belongs to me."
By doing that we are creating communities and promoting well-being and satisfaction – "I feel good in my neighbourhood. I feel good where I'm working." We are living in a century when we all are searching for satisfaction by living a meaningful life. And architecture can be a way to contribute to something greater than yourself.
What's your hope for future editions of Archifest?
I hope that I will set the bar higher than the one that was set for me. I don't know what the themes will be, but if there's something that should be discussed that we haven't had the chance to yet, it's gender representation.
Women are under-represented in the architecture industry, which is a very strange phenomenon considering there are more women graduating from architectural schools. Where do they go? Is it because at some point they have to make a choice that men don't? Is this still true in the twenty-first century? I think that would be a great topic to talk about in a future edition of Archifest.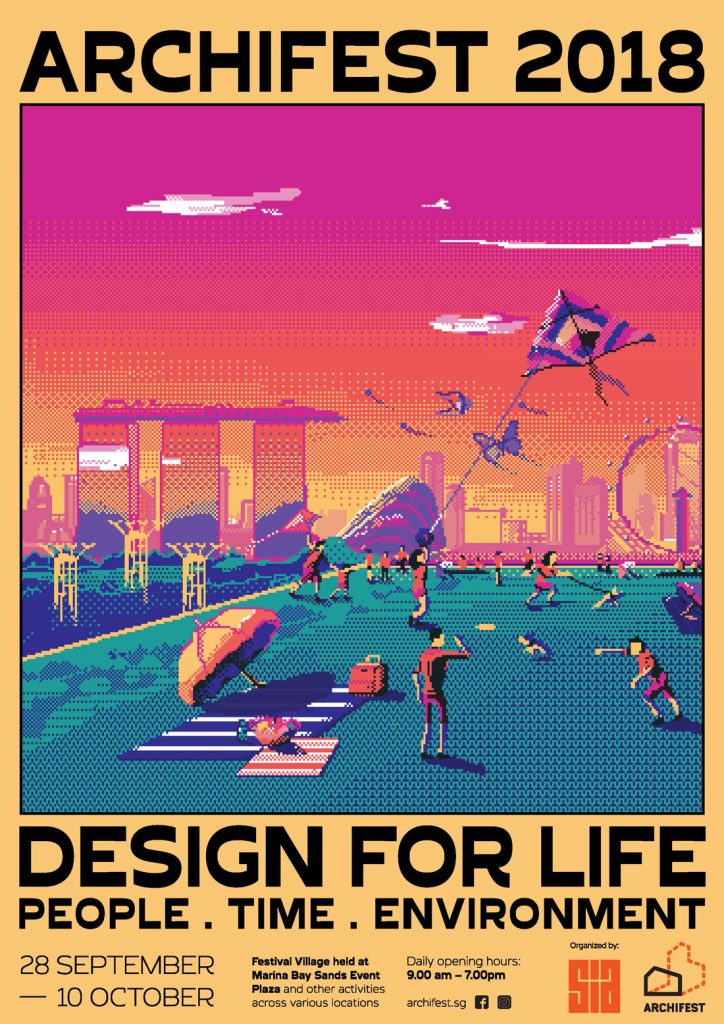 Lookout for more coverage from the festival!
---