There is an age-old saying in Indonesia that goes nama adalah doa – 'name is a prayer' – which implies that one's name is a message or hope for one's life. These words came to my mind during Realrich Sjarief's presentation at the Singapore Institute of Architects Conference during the Archifest last October.
He was one of the region's rising stars invited to present at the event. Sjarief's 'riches' are three generations' worth of built-environment know-how. His father is a builder, and so was his grandfather. They instilled the love of architecture in him from an early age.
Sjarief's name began popping up in Indonesia's architecture scene during his university days in the early noughties, often as a finalist or winner of various competitions (we attended rival architecture schools). After graduating from Bandung Institute of Technology (ITB) in 2005, Sjarief gained work experience in Bandung's prestigious architecture firm Urbane, then DP Architects in Singapore, and Foster + Partners in London.
He returned to Jakarta in 2010 after earning his Master in Urban Design from the University of New South Wales in Sydney to teach and establish his own practice, Realrich Architecture Workshop (RAW).
The naming of his practice implies his approach to architecture (workshop) and material (raw). "I see myself as an experimental architect and builder," Sjarief says. "I also believe that if you want to change the world, you need to change yourself first… To me, the best way to experiment is through my own projects."
RAW's first office, located inside his parents' home in West Jakarta, was the result of many experiments. The 150-square-metre office grew from one bedroom to include the garage and the strip of garden on the opposite side of the house.
The former was converted into an office space with a mezzanine while the latter hosted the Omah Library, a multifunctional pavilion serving as a meeting space, entertaining space and library. This pavilion was a knockdown system consisting of 120 prefabricated plywood modules arranged to form a 2.4-metre-tall arch. The prefabrication and installation were done in two weeks, and the structure can be dismantled and moved.
.
"I see myself as an experimental architect and builder."
Rearich Sjarief
.
RAW operates using the Javanese concept of suwung. The word itself literally translates to 'emptiness', but on the conceptual level, it means freedom from preconception and ego – a state that one needs to achieve, paradoxically, in totality. "Perhaps it's closer to the Japanese concept of Zen," Sjarief shares.
There are three principles to this concept, which he shared during his session at the SIA Conference: memayu hawaning bawana (bringing beauty and peace to one's world), mangganing kawula gusti (believing in something greater than oneself) and sangkan paraning purba (having consciousness of one's role in the universe).
This philosophy is expressed in RAW's current studio, which exists in harmony with Sjarief's home, his dentist wife's clinic and a semi-public library within a compound named The Guild. "I envisioned the space to be one where I can share knowledge with everyone," he comments on the name.
Despite its hybrid typology, The Guild received the IAI (Indonesian Institute of Architects) Jakarta Award for the 'Residential' category in 2017. It features many novel solutions that address the climate and the problematic west-facing site.
Among these are a pyramid-like skylight inspired by the tumpang sari construction found in the traditional Javanese Joglo houses, a rain-water harvesting system, and a circular opening spanning the two levels of RAW's office.
Being a test bed of various architectural solutions, The Guild is in a state of perpetual reinvention. Recently, Sjarief added another section dubbed The Bamboo Castle, which explores the use of locally grown bamboo as a structural material.
The Bamboo Castle is the continuation of Sjarief's previous explorations for the Alfa Omega School in the outskirts of Jakarta. The 3,000-square-metre school sits on an 11,700-square-metre former swamp and rice paddy.
It was built mainly using a bamboo and steel structure in just four months. Initially, Sjarief planned to use an all-steel structure to meet the seemingly impossible deadline, but upon scouting the area, he found local bamboo craftspeople. The rest is history.
These bamboo craftspeople have been inducted to RAW's 'guild'. They are currently working on the studio's next project – a cylindrical bamboo house in Bandung.
"We want to open it up more. We want to create a positive impact in more people's lives," says Sjarief when asked about his hopes for his practice. RAW's prefab library has been moved several times and currently serves as a library for the neighbourhood children on an adjacent plot.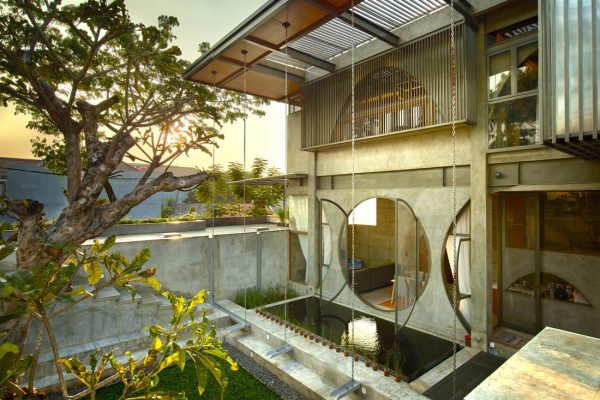 Meanwhile, The Guild's amphitheatre regularly hosts events for both industry peers and the general public. RAW is on the right track.
This article was originally published in Cubes 94: We Dwell.
Project images courtesy of RAW.
---