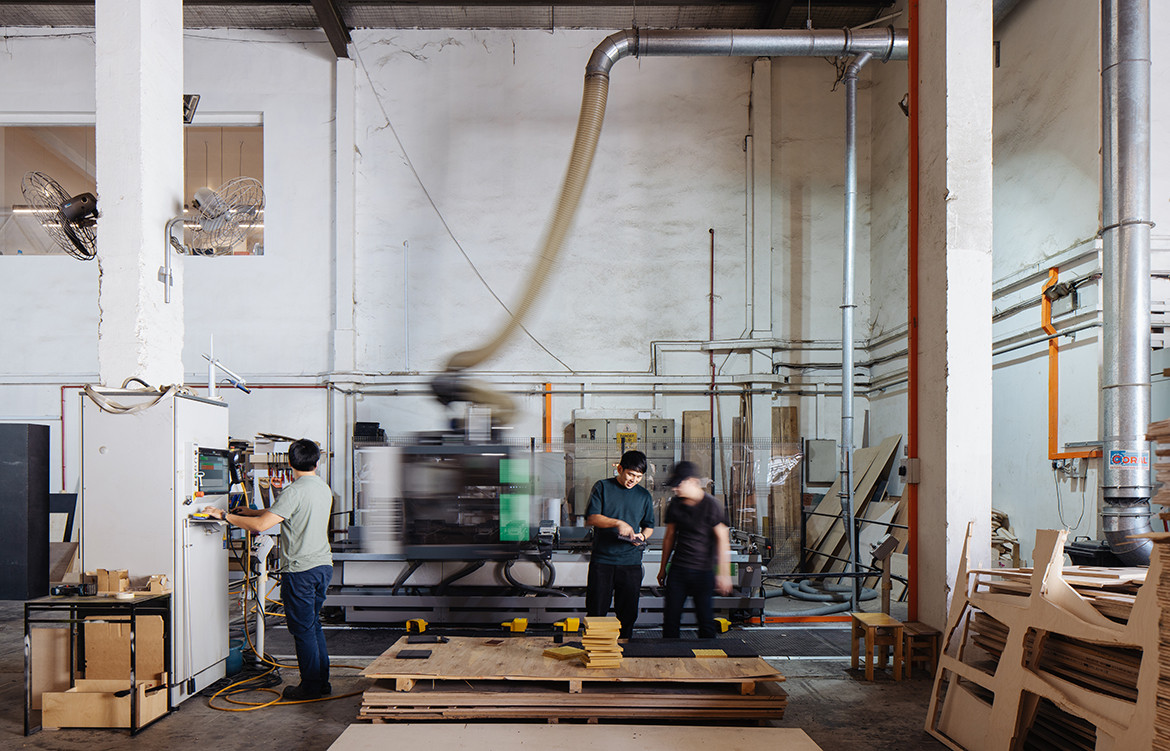 Graduating top of his class at The Architectural Association's School of Architecture (AA), Pan Yi Cheng is very much a product of his generation. His career has taken on many guided, as he's worked around the world, collecting essential experiences and skills, to prepare him for his ultimate endeavour: building his own design business – Produce.
Time spent with tutors Chris Lee and TP Bennett early on was followed by a stint at UNStudio in Amsterdam.
In 2010, four years after finishing his studies, he moved back to Singapore to start his own consultancy company with a school friend from AA, naming it PAC to service masterplans for one developer in China. "They were the scale of townships, had long lead times and were, often-times, speculative works. After three years I felt it wasn't going to evolve into anything physical so I decided to come out of that partnership and start Produce," says Yi Cheng.
"At the end of my time at PAC we had just one project in Singapore, a Herman Miller showroom in Xtra, the premium furniture retailer at Park Mall." With a "shop-in-shop" concept, the project won the Best Retail Building award at the World Architectural Festival of 2012, and represented a breakthrough for Yi Cheng in many ways.
"It was during this project that I realised that as an industry in Singapore, we are unable to do customised fittings or customised product easily and there's not enough competition."
Installed as a continuous skin of undulating lattice made up of triangular plywood panels, the design involved complex geometries hooked together with "interlocking lapping joints". Its design process was hampered by the lack of facilities to test out 1:1 scale mock-ups using the actual material so designs were initially tested on scaled-down versions made of cardboard.
"It was slow and dogged by inaccuracies. The design was eventually tested at 1:3 scale with birch ply but out-sourced to London for its cheaper pricing. Only when we started to assemble it did we find areas we could have trimmed off, so we learnt from accumulated mistakes," Yi Cheng recalls.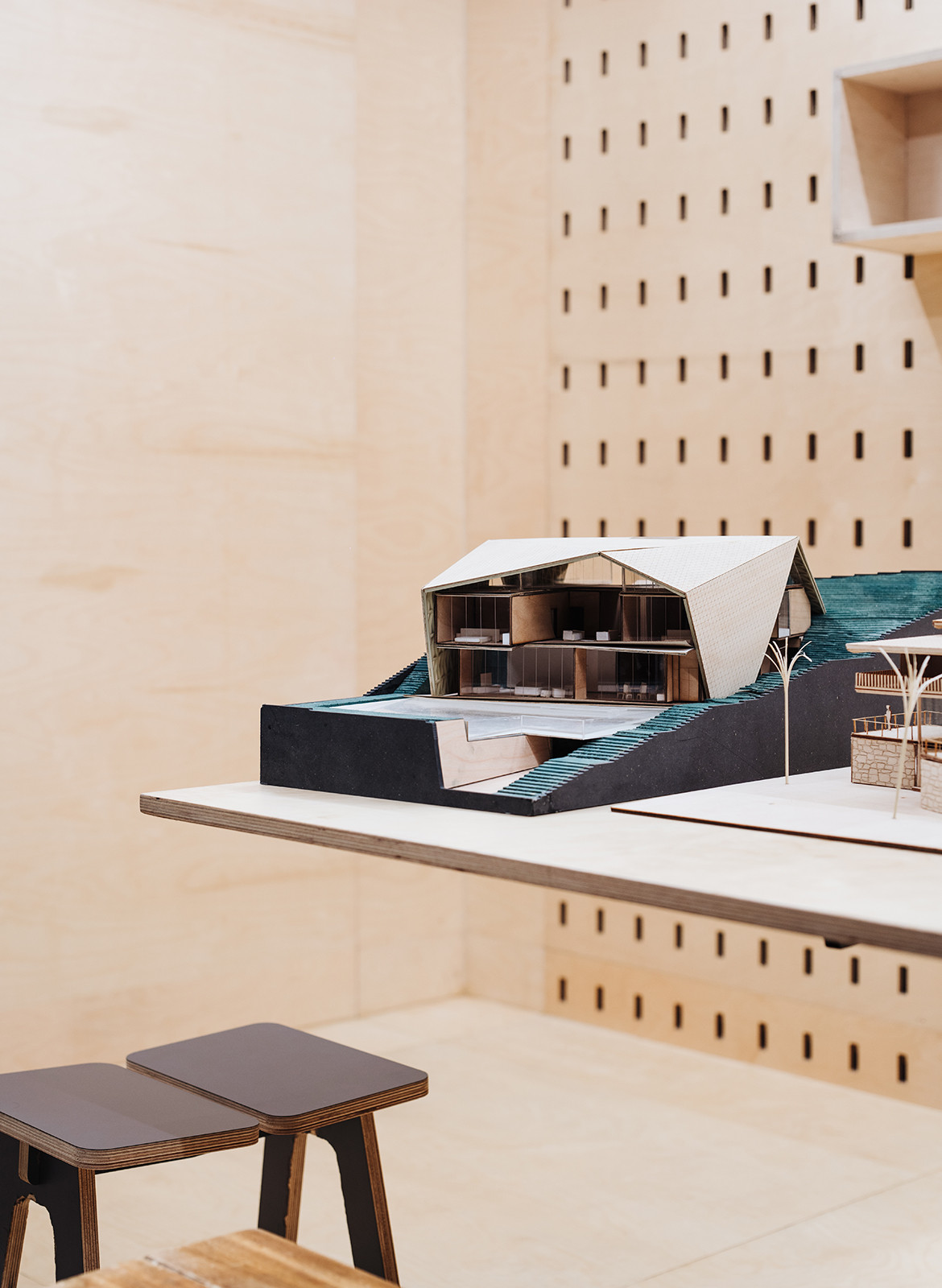 The final fabrication as carried out by a firm in China presented other challenges – materials not done to specifications and batches with upside-down cuttings – but its eventual success encouraged Yi Cheng and another AA alumni friend to pioneer an equipped facility where they could do their own experimentation and to demonstrate the potential of doing bespoke works. "So we started Produce with the idea of 'design and make'," Yi Cheng continues.
He says: "This is in opposition to the convention of having designs out-sourced to different groups of contractors or fabricators who then have to figure out how to make your design intention come to life because in my experience, they tend to overprice complex designs and these then get value-engineered out. Our idea was to incorporate the fabrication and construction stage into the design stage. We decided to have our own prototyping facility."
.
"[C]ontractors or fabricators … have to figure out how to make your design intention come to life … [and] in my experience, they tend to overprice complex designs and these then get value-engineered out."
– Pan Yi Cheng
.
He continues, "Together with two other partners, the four of us pooled our resources, took out a factory space and bought two machines: a laser cutting- and a three-axis CNC (Computer Numerical Control) milling machine. We started with small objects like furniture and products and sought to build our portfolio upwards from there."
The efficacy of this investment is best appreciated in the second version of the showroom Produce designed and manufactured for Xtra in 2016, at their new premises in Marina Square, Singapore. Once again inspired by how the Eames chair had innovated the use of plywood ergonomically, Yi Cheng challenged himself to manipulate the material with new geometries.
"We started to see the space as a body we could wrap a new skin around," he explains. "The only requirement from the owner was to have less number of parts. The first store had 4000 over parts which were arduous to assemble."
.
"We started to see the space as a body we could wrap a new skin around."
– Pan Yi Cheng
.
For the second iteration, Yi Cheng used larger panels of plywood and found ways to distort them to the required geometries without breaking them down into triangles. This was achieved by puncturing wedge slits over thin slices of ply and closing them up with stitches of plastic loops, much like how darts are used in sewing to shape the contours of a garment. The resultant conglomeration of double-curved parts resembled the rippling folds of loosely draped fabric, a design Yi Cheng calls "Fabricwood".
This time, only 400 parts were used to encapsulate a larger area. The work garnered multiple awards, including the Gold Medal for Retail in 2016 from the Singapore Interior Design Award.
Other interior works moulded by the Produce prototyping capabilities include the inventive structure for Wild Rocket restaurant which simulates a cascade of disintegrating timber pieces, and the cheerful Kki Sweets and The Little Dröm Store, Winner of Best Retail Interior 2015 INSIDE Festival.
Today, Yi Cheng is 38 and has achieved licensed architect status earlier in the year. He is seeking to start a new sole proprietorship practice, as none of the other three partners of Produce are qualified professionals. He has applied for his firm to be named 'Type 0', an allusion to going back to the origin, a resetting of all typologies to tabula rasa.
Concurrently, he has also initiated the formation of another entity called Superstructure to capitalise on the use of his facilities for digital fabrication to other companies. While very much a deep-thinking man who knows the world and his place in it, he still retains a hurried hunger to remake both.