In the short time since they established Linehouse in 2013, Briar Hickling (from New Zealand) and Alex Mok (Chinese-Swedish) have built up an impressive project portfolio that includes not one but two coworking offices for WeWork, as well as distinctive retail and F&B spaces, product design and graphic design. Architectural work is also part of their repertoire.
In every project, poetry and pragmatism find a balance, and a strong narrative is developed to create a unique spatial experience. Projects are approached in a holistic manner, combining various disciplines to investigate the rituals of habitation and how daily moments can be transformed by design from the mundane into performative acts. The two founders credit their rigorous approach to their formative years at Neri&Hu.
Herschel Supply Office
The first China office for Canadian backpack manufacturer Herschel Supply echoes the rapidly transforming urban fabric of its neighbourhood. The entrance reflects the way that in this part of Shanghai, many of the old residential structures are being demolished or stripped back, revealing the architectural details of the past.
Inside, a pitched metal framework extends the sense of the streetscape into the interior and accommodates meeting rooms and a pantry. Materials such as corrugated metal, concrete, raw steel and black cork reflect the urban and utilitarian nature of the brand. Photography by Jonathan Leijonhufvud.
Herschel Supply Pop Up
Designed for Shanghai's YO'HOOD retail trade event, this pop-up structure deconstructed the Alpine cabin typology with colour and light. It was akin to a fragmented dwelling – a horizontally stacked timber structure that pushed and pulled visitors toward, into and through it with voids, colour and reflected light.
A stack of timber lengths were arranged around a central void. Layered over and intertwined was a series of mirrored columns, translucent panels in wedge shapes, and black metal frames with acrylic. A colour gradient was applied up, down and across the stack spanning from blue and green to yellow and orange. Photography by Dirk Weiblen.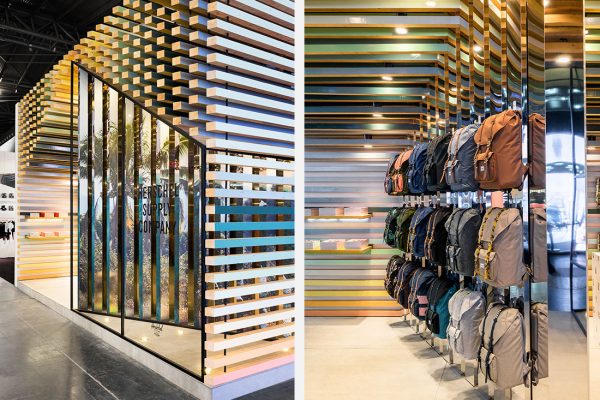 NIO Brand Creative Studio Shanghai
This studio for Chinese electric car company NextEV was designed to enable collaboration and creative development by a range of design disciplines. A curving and folding oak wall in the centre of the space creates pockets of inhabitable space that are used as the primary working areas.
The oak apparatus (with a light-filtering gradient glass skin) functions as desks, shelving and a screen. The surrounding space are used for meetings and social exchange. Photography by Dirk Weiblen.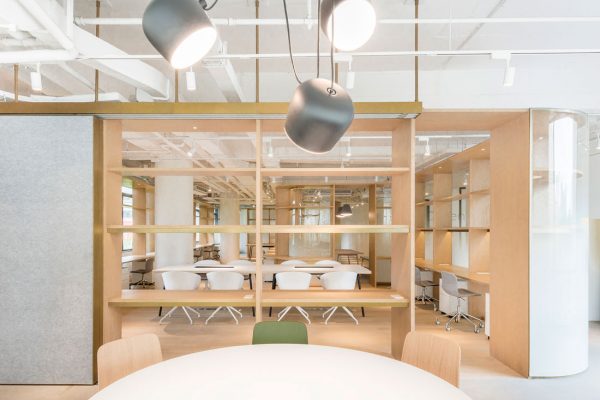 WeWork Weihai Lu
This flagship Shanghai location for WeWork is nestled into a former opium den and surrounded by an old residential district. Linehouse, working collaboratively with WeWork, opted to celebrate the grandeur of the buiding and create the feeling of a grand hotel. A mixture of heritage-style elements (such as spherical pendant lights on pink cabling), neon and popping colours create a whimsical atmosphere.
Opened in 2016, the space remains one of Shanghai's hottest coworking venues with a reported occupancy of 90 per cent. Photography by Jonathan Leijonhufvud and Dirk Weiblen.
Is Linehouse your Prodigy of the year? It's the people's choice. Have your say at indeawards.com and Linehouse could be taking home the INDE.Awards Prodigy trophy for 2018. Voting closes on 6 April.
Join us at the INDE.Awards 2018 Gala as we celebrate The Prodigy of the year, presented by Cosentino.
Read more about Linehouse in our profile feature in Cubes issue 90, on sale now.
---