For Japanese architect and designer Koichi Futatsumata, his approach to design is based on inherent intuition. "I design based on my own senses rather than some clear planning method or series of academic research," he notes. "I place the greatest importance on the experience I have when I place myself on the site or in the existing space."
As founder of Fukuoka and Tokyo-based architecture and design firm CASE-REAL, Futatsumata leads a range of projects that include residential builds, restaurants, hotels and retail interiors. He also works on product and furniture design assigned under his eponymous studio, KOICHI FUTATSUMATA STUDIO. His diversity of projects include retail interiors for Australian skincare brand Aesop, reflecting site context and materiality to a hybrid restaurant-experimental kitchen interior in Tokyo, painted completely in a gradation of black to provide a heightened focus on human senses.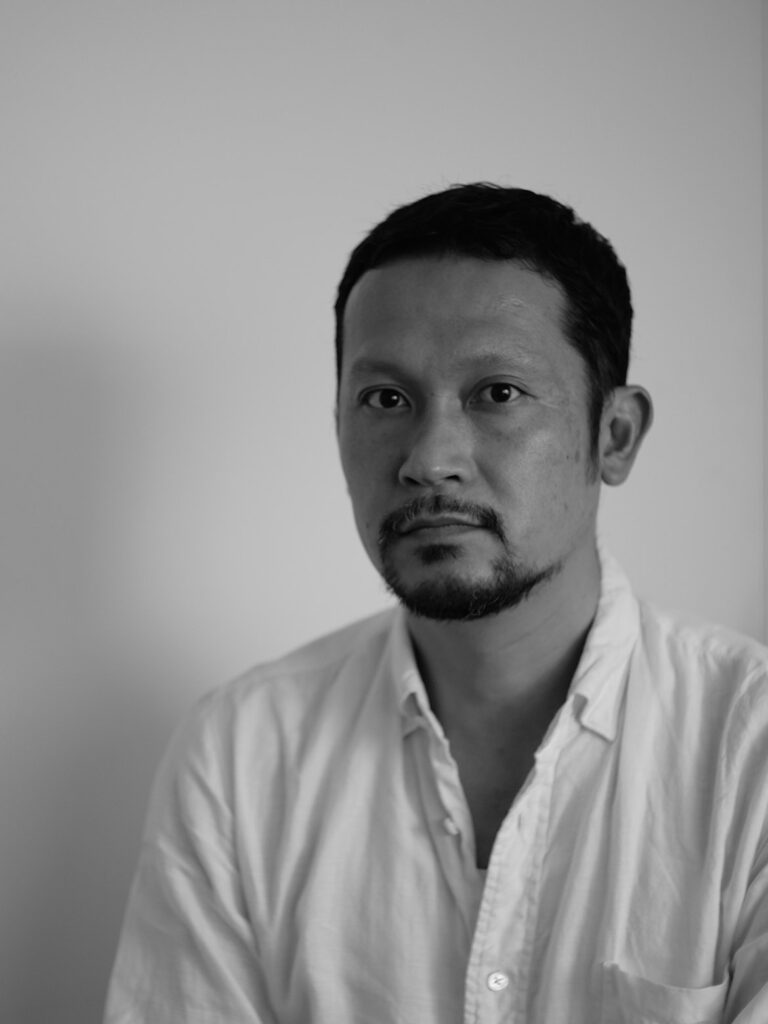 Growing up in Kagoshima, a nature-abundant city with a population of 600,000 located at the southwestern tip of the Japanese island of Kyushu, Futatsumata's initial interest in soccer during his high school years soon turned to design from a chance visit to a bookstore. 
"I found a special issue of "a+u" magazine on Mario Botta," he explains. "At the time, the word "design" was not yet very widespread in Japan, and I myself thought of architects only as people who drew drawings. Therefore, I was strongly impressed by Mario Botta's wide range of designs in the book, from architecture to interior design and furniture, and was attracted to the profession of architects and designers."
From extensive research and site analysis on context and function, Futatsumata's "spatial design" is driven by a holistic approach. He explains, "I believe that an entire space cannot be realised if any of the functions, forms, materials, or details that make up the space are not considered. Rather than each being an element of the space, I consider them to be like pillars of the space that support each other."
This process includes first visualising the client's experience within the intended design. He adds, "It is more about how the people who use the space feel than about any kind of surprise. It is important that the owner or user feels no dissonance when he or she is in the space, that the whole space is harmonious without being distracting, and that the space is familiar to the user."
Materiality also plays a key role in Futatsumata's designs, heightening emotion through textural tactility. His most recent design of Aesop Nagoya Sakae presents an interior incorporating the key material of soil, sourced from a neighbouring region, utilising it within plaster on walls and as powder form to stain timber for shelving and storage.
"Design is something that brings stability or equilibrium to a space." He adds, "[I believe], the real value of design is to create a situation where the space is stable for the long term afterwards. Not to seek temporary novelty, but to bring such timeless strength, even though it is difficult to see at first glance."
Projects this year to look out for include the renovation of a traditional ryokan in one of Kyushu's hot spring regions. "This year, our studio has many projects that are just getting started. We have another renovation project for a historic private residence, and plans for new buildings in Fukuoka and Tokyo, including several other product projects."
---