British designer Ilse Crawford needs little in the way of introduction. In 1989, at the age of 27, she was the launch editor of Elle Decoration. She then went on to found the Man and Well-Being department at the Design Academy Eindhoven in the Netherlands in 2000, before setting up her own design and interiors studio, Studioilse, the following year.
Since then, Crawford and her team have been behind a rich portfolio of celebrated spaces such as Soho House New York, Babington House in the UK, Ett Hem in Stockholm, and the Cathay Pacific lounges. Alongside a seemingly effortless understanding of human comfort, Crawford has the rare ability to create spaces that evoke the sense of stepping into another world.
When asked about her childhood, Crawford recalls growing up as part of a large, creative family in Shepherd's Bush, West London – and she credits her innate understanding of space-making to the way her family created their own world. "We didn't have a lot of money, but plenty of dreams," she says. "We also didn't have much furniture – a kitchen table, a bench, some armchairs, and a table tennis table – everything else was improvised. That gave us this really strong sense of making our own atmospheres."
She was also afforded creative freedom by her mother, an artist, and her father, the economics editor of The Sunday Times. If the young Crawford wanted to paint her walls purple or plaster them in posters and trailing plants, there was no issue – and the idea that she was able to shape her own world as she pleased stayed with her into adulthood. As we chat, she quotes anthropologist and activist David Graeber: "The ultimate, hidden truth of the world is that it is something that we make, and could just as easily make differently." And, according to Crawford, design is one of the tools that allows us to do that.
There's something magical about the way Crawford sees the world, and much of that has to do with her egalitarian views. "Design and the insides of buildings play a huge part in making people feel safe, happy, respected, and productive," she says. "That is something very fundamental to us as humans, and in our spreadsheet-oriented world, that can sometimes fall off the bottom, especially in back-of-house spaces."
As a result of this thinking, Crawford has become known for celebrating utilitarian spaces as much as those conventionally in public view. Take, for example, airport lounges, which are typically characterised by a buffet and staff kept out of sight in a back-of-house area. When Studioilse was asked to create a new concept for the Cathay Pacific lounges, Crawford shifted the food and beverage offering to a noodle bar. Not only is it fresh and healthy, it creates an open dialogue between staff and guests and offers a working environment that is just as considered as the rest of the space.
Or, it might be about creating a space that is just as welcoming for the local community as it is for the client. A hotel project the studio is currently working on is in a location where residents have successfully resisted planning permission several times, so the proposed design is about creating a space that is generous in what it offers the community – from pop-up workshops and community meeting spaces, to a bathhouse that will host evenings for locals. "Human design is about being ingenious, respectful, and fun – not only functional," says Crawford. "It's about using the possibilities of design to create a win-win that is good for everyone."
Crawford's ideas around our agency over shaping our world in ways that challenge preconceived notions are, during the pandemic, more relevant than ever before. As an unprecedented number of people adopt work-from-home and flexible working practices, we are having to re-imagine not only the role of the physical workplace, but also our homes.
As Studioilse's team members have moved to flexible working, the studio has become somewhat of a hyper-functional creative space – what Crawford describes as "an extreme version" of a design studio – with a dedicated Zoom room, expansive materials library, and collaborative spaces with a focus on acoustics and lighting. "Work from home is not going away and we've all become far more aware of what we need and where," says Crawford. "At home, I think it's about having less empty space, spaces that can flex, and flexible furniture."
This focus on flexible spaces that can be adapted to our changing needs aligns with Crawford's views on sustainability. Not only do we need to be conscious of using materials in a responsible way, but – perhaps even more so – of creating spaces and products with longevity, that aren't part of the constant churn of trends and fashion. "Design as disposable culture concerns me," she says. "We've got to change our mindset and value things more. To do that, we need to design them in a way that means people love them and they last. It's about less – that's true – but it's also about better."
Studioilse
studioilse.com
Great Dane
greatdanefurniture.com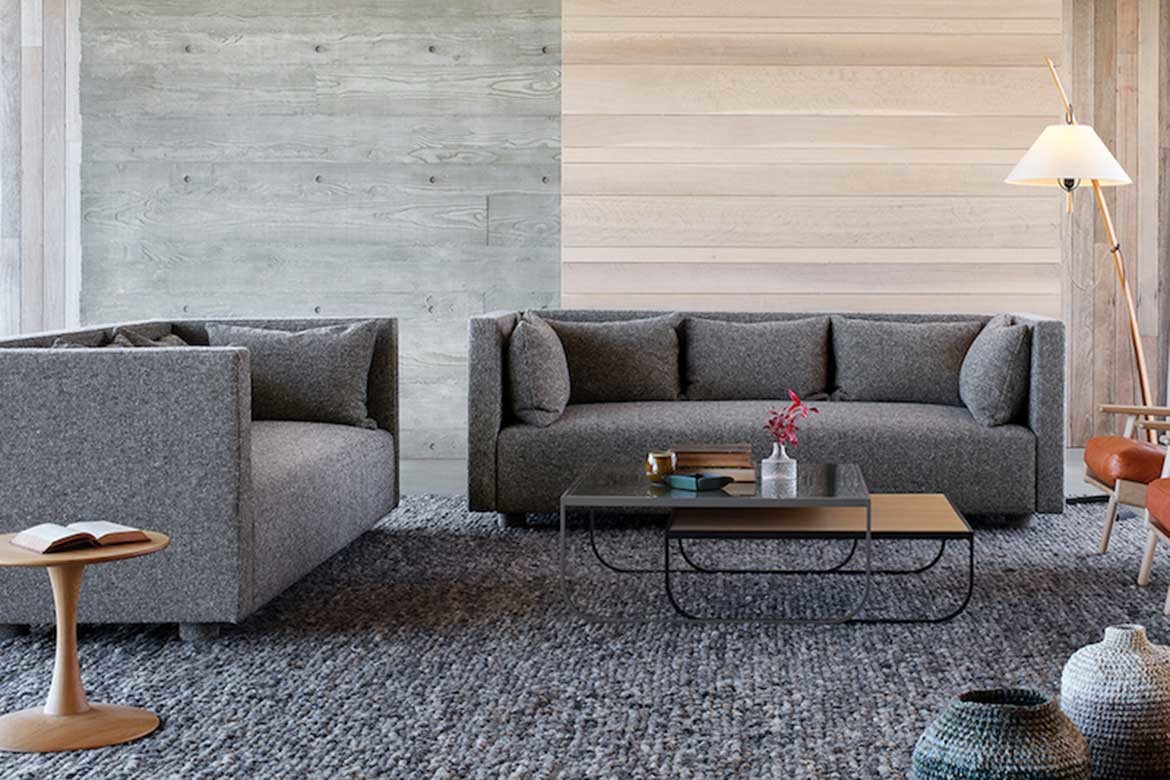 This story originally appeared in Indesign's Workplace issue. For more relevant stories, subscribe now.
---