Extremis is one of those brands whose products, on first inspection, seems incredibly simple and sleek. What you see is what you get… or is it? Step in a little closer and start to interact with the furniture and you'll soon discover numerous hidden features. Small intelligences that expand what may seem to be a one-dimensional piece, into an impressively versatile flexible furniture item, ready to serve any number of purposes.
The brand, founded by Belgian designer Dirk Wynants, started with a focus on outdoor furniture, in 1994. But as we know – and as any Australian will quickly tell you – the blurred lines between indoor and outdoor living and working mean that what might be game-fit for outdoors, can just as comfortably sit indoors. And vice versa. Extremis is hard proof of this.
At the Orgatec fair in Cologne, Extremis had on show many of its furniture items – tables, chairs and more ­– all very liveable – and very workable, too. Knowing what we do today: that work can take place from the office, at home, and in third spaces, Extremis' furniture has that ability to step from one context into the another, and settle comfortably into what you might imagine to be a third space – from common outdoor areas in built-up environments to wide-open spaces. You name it, it's ready to serve.
Wynants points to the AMAi system. On the surface it looks like a luxe picnic table, but it's actually an adjustable sit-to-stand solution complete with lights and electricity. Wynants demonstrates, tucking the bench stool beneath the table, before smoothly pulling the tabletop up towards himself and hooking it firmly onto an upper catch. Circling around to the other side, he repeats the action, and within seconds we've moved from sitting to standing.
The clever shade structure, too, is easily adjustable, pulling outwards to create a subtle canopy that offers a sense of intimacy and added acoustic comfort. AMAi, Flemish for 'wow', does not disappoint.
As Extremis notes, the all-purpose nature of AMAi, with its indoor/outdoor ability, breaks down the boundaries of our imagination and joins together the good aspects of life. Being outdoors, feeling productive, feeling comfortable and in the moment with all our needs met.
Wynants is a skilled carpenter, welder, and designer with a bent for teaching, and an entrepreneurial edge. "To be a good designer, you have to know a lot of stuff," he says. In founding Extremis, he set his eye firmly on the outdoor market. "Nobody needed another brand with sofas or chairs, or tables for indoors. They already had that. But there was absolutely no contemporary outdoor furniture on the market."
His first piece was the extremely Extremis Gargantua. Central to the design is its four bench seats; these can be shifted upward to provide high-set seating for younger users, and ultimately encircle the tabletop to expand the table's diameter for larger gatherings. Gargantua really set the tone for Extremis' signature approach to pieces with multiple purposes.
"The thing is that nobody sees this when they see the furniture," comments Wynants. But, you need only come at it with curiosity and you'll discover the multiple functionalities and immense serviceability of each Extremis product.
"Everything starts with a very strong 'why'," says Wynants. "We will never start thinking, 'This year we are going to make a new chair or a new table.' It doesn't make any sense. I mean, who's waiting for the next chair?
"No, we first think of the reason for existence. We watch the evolution of society. We see that the way of working is changing and going more outdoors. [We consider the situation]: 'If we go more outdoors, then we need electricity for our computers.'
"These are the things that we need, instead of another variation of something that already has been answered."
With AMAi, Extremis has also contemplated our very human needs: a sense of wellbeing, a connection to nature, the ability to disconnect from the digital regularly. "I think we do underestimate our human flexibility, that we don't need these things anymore," says Wynants. "But we do need them."
And given the mass shift in our work-life behaviours and ideals, AMAi taps in to undercurrents of human needs from that essential user perspective, while also considering the future of workplace design and the environments in which we will work.
Extremis is available in Singapore through XTRA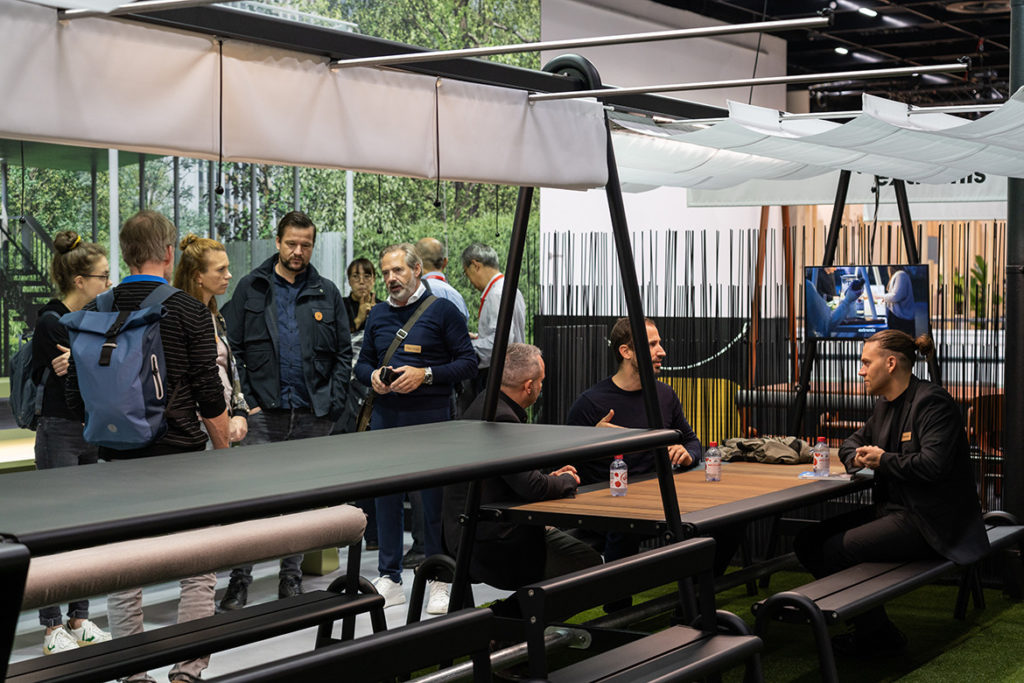 ---