Founded by architect Pip Cheshire and his son Nat more than 15 years ago, the objective was to create a strong studio environment. It was also to look at the broader aspects of design: landscape architecture, graphic design and signage through to even what staff will be wearing at one of their latest projects, the Hotel Britomart.
"The foundation of the practice is like a family, one where there's collaboration. And if we need to, we source a number of creatives external to the studio," says architect Dajiang Tai, a principal of the practice, who sees it as not dissimilar to composing an orchestra of creatives rather than, say, musicians.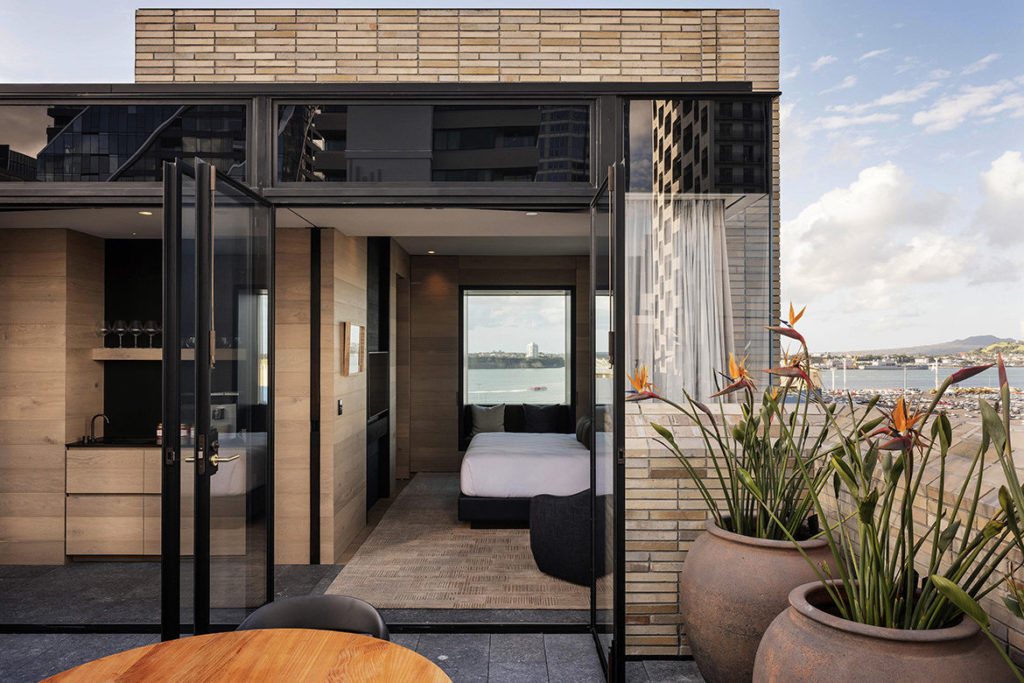 "There has to be a cohesive vision from the outset, one that feels right for all parties," says designer George Gregory, also a principal in the practice.
Although Cheshire is identified with the 10-level hotel in downtown Auckland, it has designed numerous award-winning homes, along with master planning entire city blocks and retail offerings.
"We don't think of projects in terms of a specific type, whether its domestic or commercial. It's more about the type of clients we work with," says Gregory.
Those keen on discovering the Peninsula, north of Auckland, may see half a dozen bespoke homes designed by Cheshire Architects.
Others who venture onto Waiheke Island, a 35-minute ferry ride from Auckland's CBD, will be delighted to see the studio's Cowes Bay house sitting on a ridge line and appearing to have been carved out of this spectacular site overlooking the water.
The home's sinuous stone wall that leads to the front door, and also wraps around a swimming pool, is loosely inspired by the work of Spanish sculptor, Eduardo Chillida. "I love the way Chillida's sculptures are imbued with light and shadow," says Gregory.
Cheshire Architects' Awaaworaoa Bay house, also on Waiheke Island, also clearly demonstrates the type of client attracted to its work.
Comprising three detached pavilions in a combination of timber and canvas, one pavilion is designated as the main bedroom for the owners.
A second pavilion is given over to social aspects, including the dining and living areas, while a third is daubed the 'bunk room', for family and guests. "Our clients wanted to experience the elements, not just hear the sound of rain on the roof, but feel it against their skin as they move between pavilions," says Gregory.
The home's simple interiors, with carefully orchestrated apertures, beautifully frame the idyllic site.
For Cheshire Architects, which has made an indelible mark on some of New Zealand's most picturesque sites, it's the variety of work, as much as being challenged by inner-city locations, that spurs it on.
The Hotel Britomart, for example, is framed by many heritage-listed buildings. And within these highly controlled confines, it not only master planned the precinct but also created one of Auckland's new landmark buildings – the hotel, along with seven hospitality venues – celebrating this unique city and creating a sense of place.
---