GROHE coming under the umbrella of Japanese conglomerate LIXIL was the biggest news in the global bathroom industry a few years ago. And the brand has plenty to show today. From launching the GROHE SPA line and the opening of the three-storey GROHE SPA@Scotts at Shaw Centre to participating in Miland Design Week.
GROHE's most recent happening in Singapore was the launch of its Atrio line. A redesign of an existing line launched a decade ago, Atrio series is an elegant collection comprising more than 35 products with distinct shaped derived from the circle.
We caught up with GROHE's VP of design Michael Seum to find out more about both product and brand.
What made GROHE decide to reboot the Atrio range?
I personally really like the bones and the DNA of Atrio. It was one of those products in the back of my mind, and I kept thinking that this would be a fun one to work with. We also looked at the market and felt that it was needing some luxury.
What are the key similarities and differences between the old and new Atrio?
It's still derived from circular geometry. However, the previous line was not as well balanced. The proportions of the two are incredibly different. We've really reduced the volume of the line, and we've been more obsessive with the details. We've also gotten rid of the unnecessary and reduce the amount of the material.
And reducing the amount of material made it harder for the engineers to fit everything in [laughs]. So the technical challenges are incredible; I put a lot of pressure on the engineering team to reduce the amount of space internally.
From the side view, you'll see that that the spout diameter intersects with the valve bottom. Below the valve body, there's a stem that's the same diameter as the spout. You have the water lines, the mounting device, and there's a lot of traffic. That's where a lot of the technical challenges lay – to get the engineering details reduced to fit that. It's quite an industry first I think.
It may have been technically challenging, but it's also a really good story because of the fact that it uses less material resource.
What does the Atrio redesign mean for GROHE?
We are setting a new direction. I think the design world is full of noises and here we a not shouting to merely be heard, we are doing something simple to make a beautiful design. It's about editing and taking away what we can and still have something that's unique.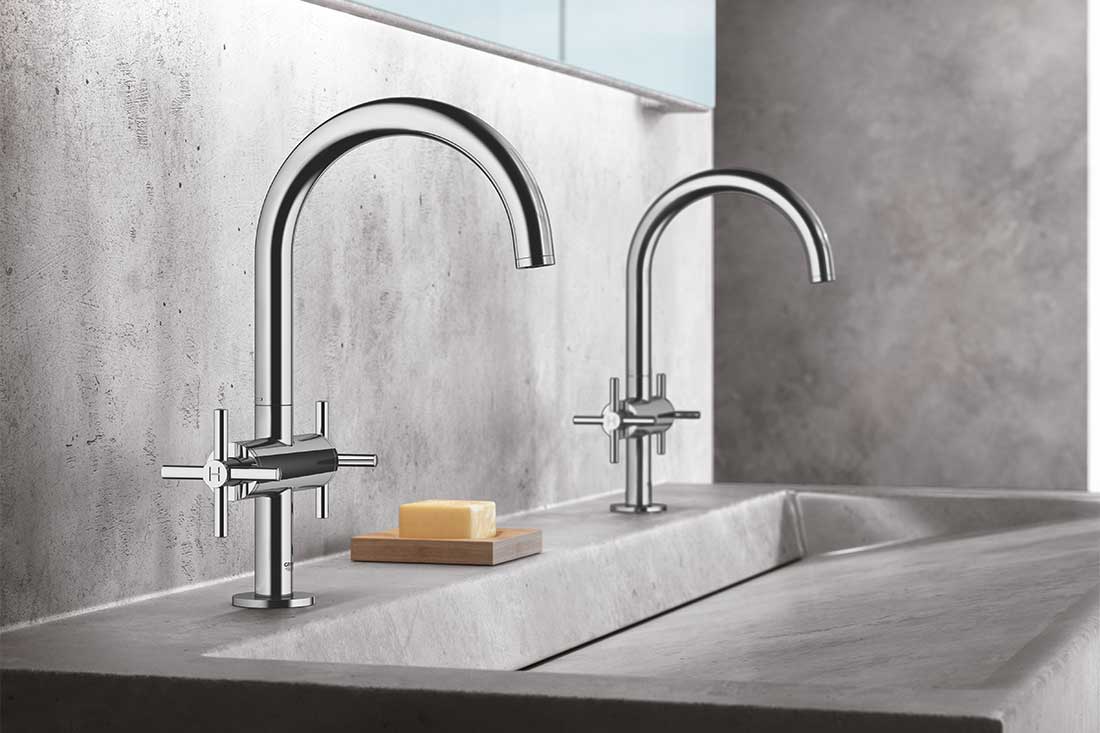 It was a test of reduction and simplification and doing a full turn to set a new direction. And it's also about being honest with the product. Borrowing a term from Jasper Morrison's book [Supernormal, Jasper Morrison and Naoto Fukasawa, 2007, Lars Müller Publishers], enduring objects tend to be super normal objects. And I like this term- super normal.
We asked Paul Flowers [GROHE's former VP of Design and now LIXIL's Chief Design Officer] a few years ago what's going to be the next big thing in the bathroom and he said "digital". What's the update?
Digital is here and it's on like the third generation of products. When you look at our portfolio, we are using algorithms to detect micro leaks in a plumbing pipe – that's about as digital as you can get.
I personally believe that for every trend there's a counter-trend. So when I say what's next, what may happen is that you might have a consumer that wants a fully digital smart bathroom and on the other hand you might have a consumer that is like, "You know what, I have technology all over my life, and I want to escape and I want a purely analogue bathroom." So I think what's going to happen is there is going to be a balance – the technology will be smarter, but it doesn't necessarily mean it's going to be digital.
From our side, there will be more focus on how we incorporate new technologies into the product lines and how we deliver more sustainable solutions that respect water. So it's a balance of manufacturing improvements and focuses on sustainability. Design will still be a key driver in this industry. It's what makes people purchase the product, and what makes an enduring brand.
GROHE joining LIXIL's portfolio was the biggest news in the global bathroom industry a few years ago and nobody can say for sure what was going to happen then. How is it for you now?
The Japanese and the Germans resources working together has been creating an interesting dynamic. And I'm really stimulated by the different approaches that we have. We get this fusion of culture and LIXIL has helped us a lot to grow as a brand. And vice versa. It's about placing a lot of importance on the DNA of the brand. yet injecting new ideas into it. It's a very healthy dynamic.
What's the biggest challenge in leading the GROHE design team?
We are faced with so many interesting ideas every day – that's probably the hardest part. As the leader, I have to curate and filter those down. We are so good at shooting concepts out and our designers can visualise like crazy.
My job is to sort through that and say "Okay, is it connected to business needs? Is it connected to the cultural needs and how people will live?" I love having options, but it's sometimes an all-consuming endeavour to get to that state of mental clarity.
Tell us about your design team.
We have over 20 people. New talents who joined us in the last three years make up half of the picture. We've brought more international designers into the team and they're younger.
We've also expanded outside of Germany so we have designers in New York, Shanghai and Brazil now – it's a global footprint that was unheard of three years ago. And what's great is that we have a bit more regional input into the design.
---