The entire point of architecture, you might assume, is to make human beings comfortable and happy. Living in a built environment is typically stressful enough as it is without feeling judged by every bustop and public toilet.
Yet all that goes out of the window when you start to recognise the prevalence of what's called Hostile Architecture, aka This Bench Reckons You Should Bugger Off.
The point of hostile architecture – also known as Crime Prevention Through Environmental Design (CPTED), in case you're wondering whether urban planners see conditions like being poor, homeless and/or young as being a deliberate criminal act these days – is to change people's behaviour in public.
And yes, some of it seems pretty benign – like those metal spikes inside awnings to deter birds from perching and pooing all over the place. Other seem very hostile indeed, like metal spikes on the ground under enclosed areas to deter homeless people from sleeping there.
You might have experienced it yourself with modern bus shelters where that tired old "seat" technology has been replaced with perches, just in case you were in any danger of wanting to rest for a bit while waiting, or had to lay an egg.
In 2018 Camden London Borough Council was hailed for creating the ultimate "anti-object": a large concrete public bench in Camden specifically designed to be uncomfortable to sit upon. Just dwell on that for a second: instead of providing a seat, the council went to considerable effort and expense to replace it with something that discouraged its own sole purpose.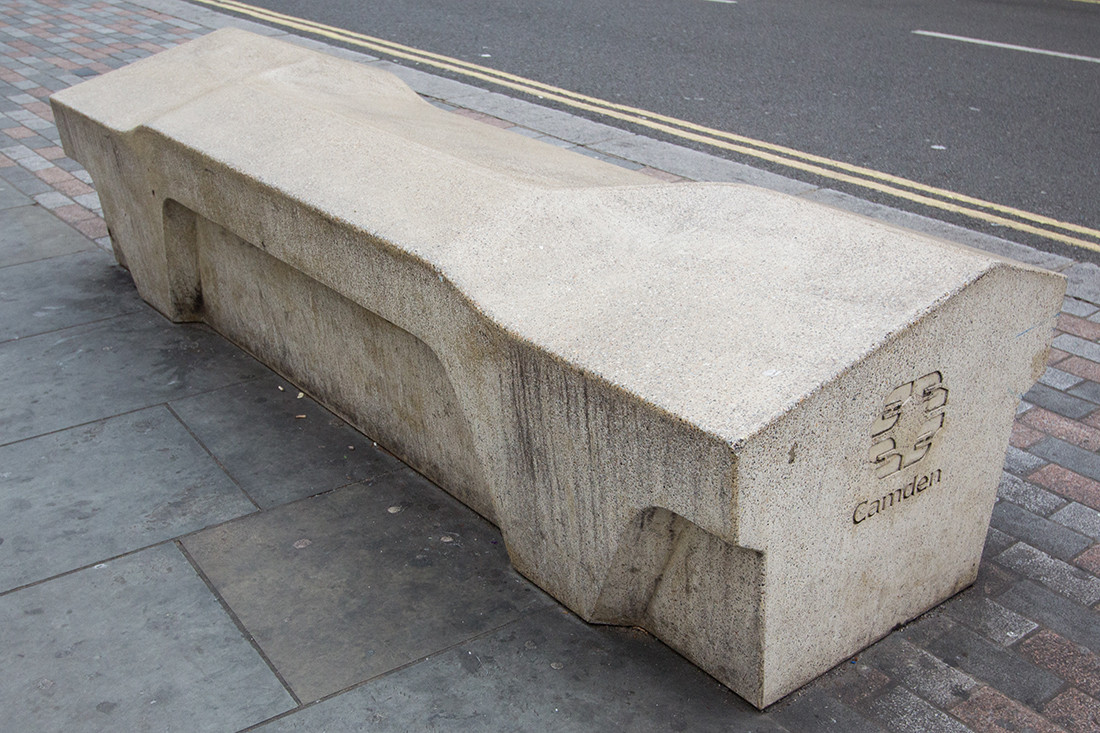 The benches are a little higher than anyone would like, have a peak in the middle and then slope uncomfortably downwards in case anyone might fancy a lie down, and have uneven edges to ensure that dangling legs feel weird and that any ambitious skateboarder will do themselves a significant injury should they try doing a sweet grind. It's like an insult, but in concrete.
And there's something genuinely genius about providing a public amenity whose use makes one's day that small but noticeable bit worse, saying to the citizenry "oh, you want to sit down for a second? OK, then you deserve to be punished."
It's particularly insidious as common space for the public has been squeezed into ever-smaller parcels, but it also raises the question: who has the right to be in their own city? When the high street is filled with subtle but unmistakable messages telling people to move the hell on while privately-owned, corporately-held shopping centres and casinos are created to be as seductively alluring as possible, the message is pretty clear: you can stay, if you can pay.
And there's a lot to be said for architecture which subtly affects behaviour. We've done a lot to make cities more navigable for the sight impaired, for example, with audible crossings and tactile footpaths.
But if we're simultaneously creating an urban environment filled with annoying flickering lights to discourage drug users, high-pitched noises to ward off teenagers, and literal lumps of concrete sitting in the middle of the footpath, then maybe it's time for a design overhaul – either of our cities, or of the level of compassion exercised by human beings generally.
---