Any form of high-density housing comes with the inevitable ongoing negotiation of shared spaces. In Singapore's public housing, that negotiation has been more pronounced with the presence (to larger and lesser degrees over the years) of common outdoor corridors that provide access to units in the so-called 'slab block' typology and also serve as communal spaces. But the changing behaviour of residents over time has seen the interface between residential units and the corridors they face take new definitions.
The corridors serving Housing and Development Board (HDB) flats, explains Singaporean architect William Ng, "were originally envisioned as social interaction spaces." The so-called 'corridor units' of lengthy slab blocks were common from the 1960s through to the 1980s. "However, over time," says Ng, "many units have been observed to have their curtains permanently drawn as a result of changing behavioural patterns and the increased desire for privacy."
"Corridor units form a substantial portion of the existing housing stock and it is thus necessary to explore ways to repurpose them, so they remain relevant to the needs of people today and in the future," he says. Certainly, there is room for innovation, as exemplified by Ng and his firm STUDIO WILLS + Architects with Project #13 – winner of the Living Space category in the INDE.Awards 2019.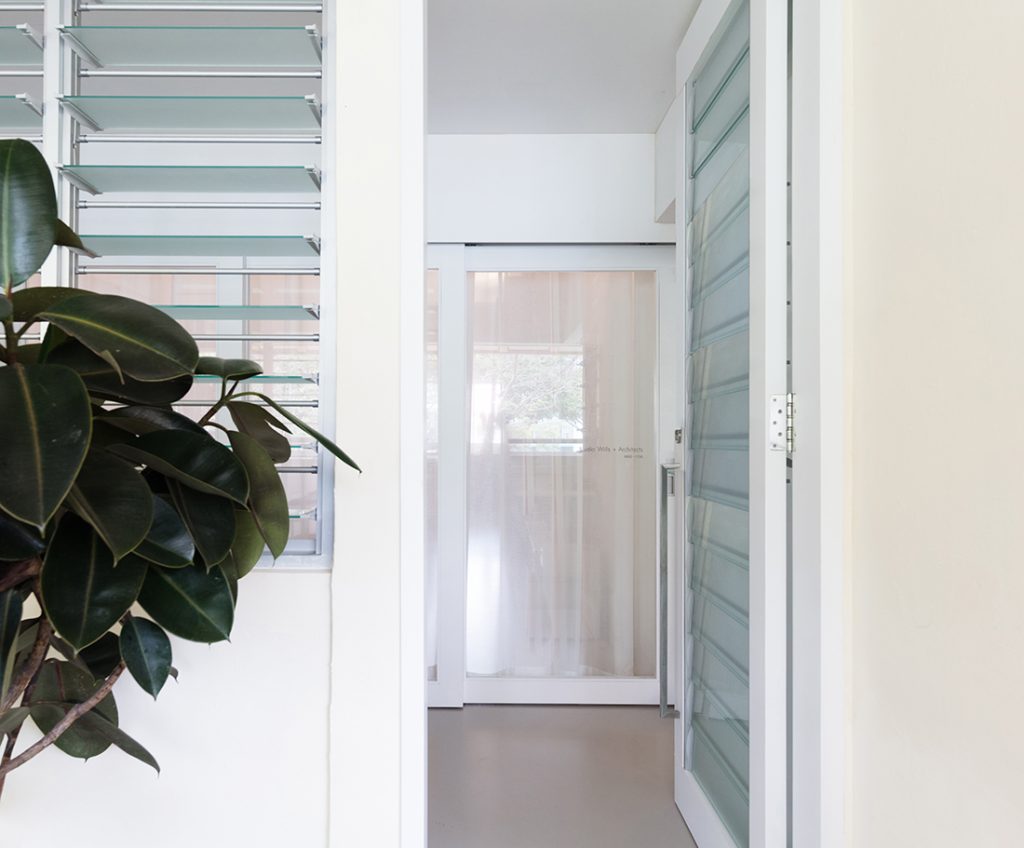 Project #13 is the renovation of a 1988 HDB corridor unit that seeks to re-examine the interface between the flat and the corridor and to create a sense of space within. But beyond these goals, it also has a future-proofing agenda in mind. It was designed as a way of bringing two programs into one flat – a home and an office – and creating a framework to enable the long-term adaptability of the apartment.
The agenda was aided by the good fortune of a raised roofline above the flat (which sits on the top floor of a low-rise block). This allowed for high ceilings and an enhanced perception of space within small floor areas, as well as the placement of raised sleeping platforms – conveniently positioned above eye level and therefore appropriately private. Ng and his colleague Kho Keguang divided the flat down the middle to create two units, one of which (with an open-plan approach) serves as a workspace, and the other (with a cellular plan) provides living quarters.
The two units share a single point of entry from the corridor, thanks to a new semi-private foyer space that acts as a buffer between the more public and private zones within. Dual-key access is enabled by the foyer, with each unit able to operate independently – serviced by its own door. Each unit measures 30 square metres, while the lobby occupies just 4 square metres. It's a compact footprint, and space-saving design strategies (such as hidden storage and grouped functions) were adopted throughout.
In future, the flat could operate as two homes given that each side incorporates a kitchen, bathroom and sleeping platform. At present, the living room of the 'home' unit serves as the reception area of the office, the dining room hosts meetings, and the bedroom doubles as a tea sanctuary.
The occupants are able to adjust their relationship with the corridor by varying the degree of openness or enclosure with vernacular aluminium louvres and curtains. Materials such as epoxy flooring (common in such flats) encourage a sense of assimilation with the context, while white finishes reflect daylight and oak plywood creates a warm appearance.
Says Kho, "We hope this exploration of typology will encourage people to think about buying a resale HDB unit instead of going straight for BTO [Built To Order, or new units]. I hope they'll discover the potential." Adds Ng, "And the older flats have a lot more potential. Back then [in past decades], lifestyle was not so defined and things were a lot looser. But these days, everything is very defined; for example, a closet will be 1.5 metres or 1.8 metres by 600."
Ng continues, "Clients tell us they want to have 90-per-cent efficiency and that's it. You can't have a hallway; you just have to branch off straight to the rooms [from the living area]. That's the reality."
Project #13 demonstrates a viable alternative with older HDB housing stock. Though small in size, the project demonstrates the potential for the meaningful evolution of an aged HDB typology. Congratulations to STUDIO WILLS.
.
"Space, privacy and communal living – a smart reinvention."
– INDE.Awards 2019 Jury
.

Thank you to Gaggenau – The Living Space partner of the INDE.Awards 2019.
Photography: Finbarr Fallon and Khoo Guo Jie.
---