Nestled on an open field along Edgefield Plains — a young housing estate home to new families — the new Sparkletots Preschool possesses an unimposing circular build that maximises the square plot to convey scale. "As opposed to traditional childcare models where a child's access is highly restricted to specific areas, the circular geometry of the centre promotes safety, security, inclusiveness and "never-ending" exploration along its corridors," says LAUD Architects. The curved form also addresses a pivotal issue, naturally facilitating peak drop-offs and pick-ups, catering up to 300 cars at any time.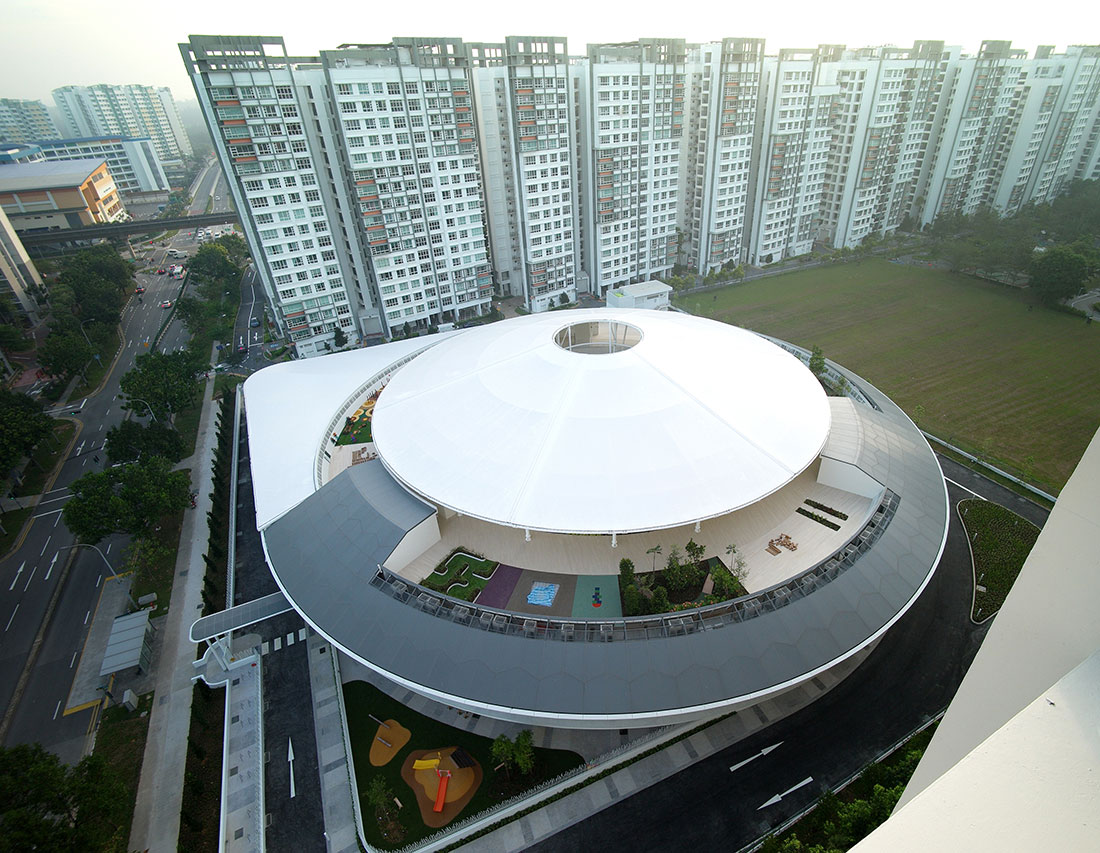 A massive ETFE (Ethylene Tetrafluoroethylene) canopy shields the low-rise structure like a giant umbrella, conveying comfort and protection for the tiny inhabitants. Combined with the translucent canopy, an oculus enables light into the centre, spotlighting a lush garden on the three-point bridge while inviting natural ventilation within, reducing the need for central coolers or artificial lighting. A series of rain simulations were conducted by LAUD, who introduced a secondary cone below the oculus to funnel rainwater towards the catchment below, preventing the centre from getting wet during the monsoon.
Walls were minimised to emphasise expanse but where required, they feature a light shade of timber that emulates the natural environment. Composed of angled ventilation louvres to minimise western sun exposure, the vertical fins were incorporated with an operable function that can be fully retracted to open up the space for special occasions. "This allows the educators maximum freedom and flexibility to plan suitable and varied activities for the children," say the architects.
Within the centre, the classrooms are tucked along the circumference, opening up the central areas for play across all three floors. Accessible by a continuous ramp, each play zone is unique in scale and texture to support experiential and sensorial learning. In the event of contingencies, such as disease outbreaks, the affected zone can be shut down, allowing the rest of the centre to function.
Drawn from the Sparkletots logo, rainbow colours are used sparingly on children's furniture to stand out against the light timberbase and generous landscaping by Salad Dressing – these elements further the agenda of an inviting environment. The colours, consistent inside and outside each classroom, serve as wayfinding for the children who may not yet recognise words on signs.
Sparkletots Preschool marks the Singapore Government's initiative to create new models for early childhood learning and care while increasing support for young working parents. There are plans to roll out more mega childcare centres in the near future and LAUD's take is exemplary as a modern-day childcare facility that not only adheres to complex requirements but ensures comfort, joy and security for young children parting with their parents for long hours.
Photography courtesy LAUD Architects.
---