On 26 September, P5 Studio unveiled eight creations from behind painted plywood hoarding – reinterpretations of Italian furniture brand Frag's classic Ele side chair. The spray paint artwork on the hoarding was a surprise in the context of Frag – a brand more closely associated with the well-established traditions of leather craftsmanship. But it was a solid hint at the surprising deconstructions and reconstructions of Ele hidden beneath.
Designed by Michele di Fonzo, Ele features a sinuous silhouette and is upholstered completely with saddle leather. The AR_T project by P5 Studio and Frag was conceived as a way of exploring the Frag ethos of heritage and craftsmanship in new ways. The eight reinvented chairs were created by eight invited Singaporean design and architecture practices, and each took its own intriguing direction by embodying what heritage, craftsmanship and leather mean to the studio behind it.
"At P5 Studio, we are always finding alternative means to showcase and highlight the DNA of our brands. This campaign AR_T illustrates our commitment to our principles and to promote our local designers and talent," says Calvin Ngo, Vice President of P5 Studio.
Franco di Fonzo, the Italian CEO of Frag, was present at the unveiling of the reinvented chairs at an event at P5 Studio on 26 September. "I feel great emotion seeing these representations of our chairs in different ways," he said after the unveiling. "Your interpretations of the chair are really important to us. We will think about them in the future," he said to the creatives involved.
Presenting the eight creations
Umbra by Architology
A leather vine appears to grow over the chair, but a spotlight reveals a surprising shadow – the silhouette of a craftsperson working on the chair.
The Jacket Chair by Produce X Superstructure
A tailor-made 'jacket' for the chair, which creates a private space for the sitter. The darts and stitching are left exposed in homage to the detailing on the original chair.
Frag-ments by Studio IF of Formwerkz
A small interlocking module of scrap leather is woven into a 'dress' for the chair. It offers endless possible permutations.
#17 by Studio Wills + Architects
A protective cover was crocheted for the 'naked' chair to prevent stains and to create a softer surface. A skirt, shirt, jacket and legwarmer can be worn together or separately.
The Impossible Chair by Super Fat Designs
When Michele di Fonzo designed the Ele chair, he drew inspiration from the shape of the female body. Super Fat Designs reflected on how the ideal female form has changed over time.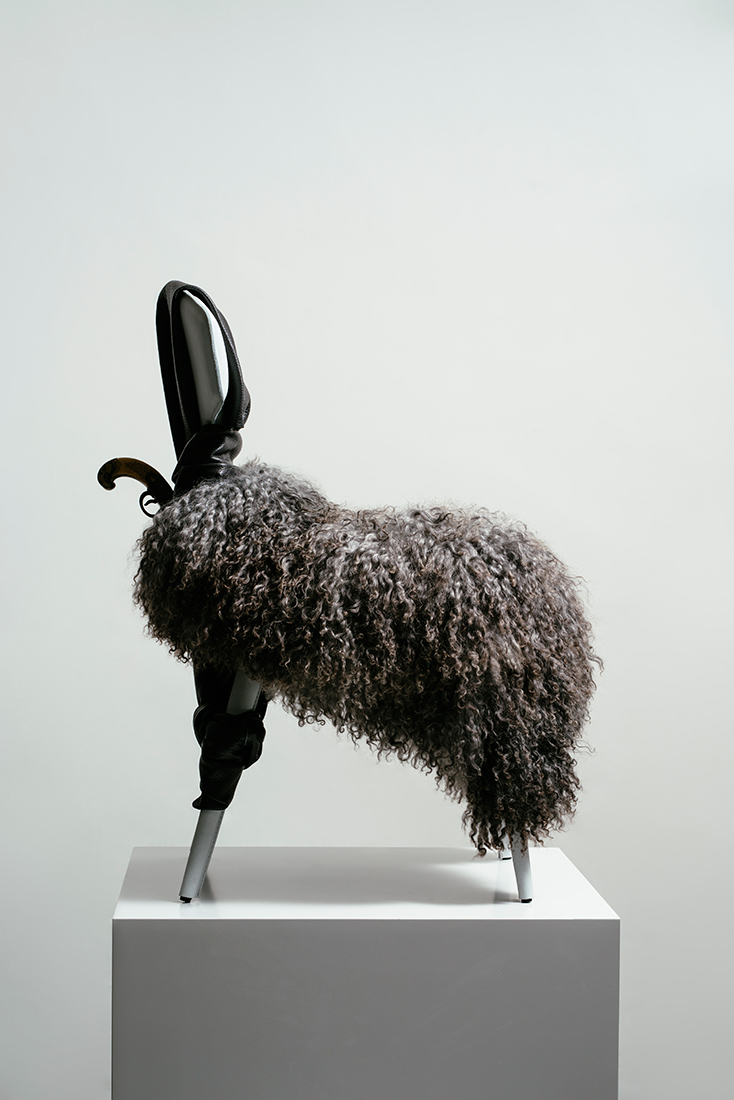 Barbaro by Atelier Ikebuchi
Barbaro wears a wild fur, broken leather, and has a gun tucked into his belt. He was imagined as a friend of Ele – an expression of attachment to objects, which is an important aspect of modern consumer society.
Chop Chop Chair by Parebthesis Studio
Customised stamps ('chops'), applied to the removed leather skin of the chair, are a tribute to the details and workmanship of Frag.
Elemental by Right Angle Studio
The material of the chair was conceived as a liquid form in respect to the craft behind it. Inspiration was drawn from John Brauer's Illusion table.
.
The eight chairs will be exhibited at Saturday Indesign this Saturday 12 October. See them for yourself at Theatreworks, 72-13 Mohamed Sultan Road, and hear from some of the designers and architects in person.
Some of the chairs will be given away!
.
Frag's history of craft
Franco di Fonzo founded Frag in 1989, but the company was built on a much longer history of working with leather. "My family started working with leather in 1921," he says. "My grandfather started to buy and sell leather to companies in our region, north-east Italy, and eventually he opened a shop with his wife and started to produce belts and wallets. My parents joined the business, and eventually my wife and I arrived. We opened another area of business in leather – the production of chairs and armchairs for other Italian companies."
It was only in 1989 that Franco began to produce products for Frag's catalogue. "We were ten people – a small company. I started to travel around with my leaflet – it wasn't a catalogue – showing what we were able to do."
The name Frag was developed from the first names of Franco and his wife Giovanna. It's still very much a family operation, with their son now involved as well.
"From the beginning, every chair was created by a designer." Why? It comes down to the value of leather and the need for knowhow in terms of how to work it.
"Our products are made by designers with the soul of the producer," says Franco. "The invention of the designer – the dream – is mixed with possibility." The Frag catalogue contains well-known names such as Nigel Coates and Calvi Brambilla.
A sofa named Wilton, designed by Christope Pillet, was one of the brand's biggest attractions at the Salone del Mobile this year.
The market for leather furniture is growing, says Franco, who believes the future will be in natural materials such as leather, metal and wood – not synthetics and plastics. Despite the difficulty involved, Frag is focusing much more attention nowadays on design that allows for recycling – even for its sofas – and is using only water-based glues.
Even heritage must evolve with the times.
.
---