As different functions continue to blend and blur in the spaces of today's digitally enabled cities, the idea of working in a shopping mall is becoming less of an anomaly for designers. Interior design firm Wilson Associates has moved to JustCo at Marina Square, prompted by the desire to better serve clients and to reconnect with the cultural pulse of the city after years in Singapore's suburbs.
"It wasn't specifically a coworking environment we were seeking," explains Leonard Lee, Wilson Associates' Regional Creative Officer and Regional Managing Director AsiaPac. "We wanted to take the opportunity to transform our image," he says, adding that JustCo provided a great deal of flexibility for the planning and design of the studio space.
"Our objective was to remind our team that both work and play can co-exist within a space that provides an equally fun, productive and cohesive work environment," says Design Director and Principal, Aldwin Ong.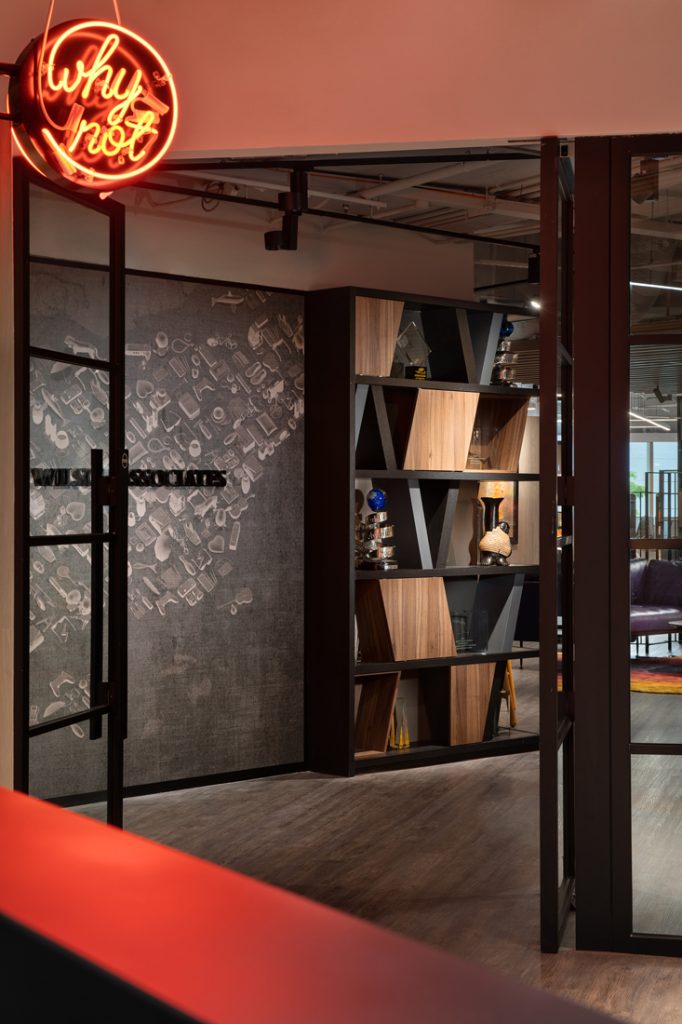 Beth Campbell, the hospitality-design firm's US-based Chief Executive Officer, was in town for the Singapore studio's office-warming event in April. She noted the importance of inherent flexibility in the hotels of today. "In newer hotels, the ground floor morphs and flexes. We need to have inherently flexible design around lighting and atmosphere," she said. This imperative was also at the core of the design of the new studio space.
"The new location serves as an opportunity for our design teams to become more engaged and explore collaborative industry crossover within the co-sharing environment," said Campbell. "Moving the studio to a coworking community in a great location has allowed the team to embrace global workplace strategies in a flexible space that reflects their creative energy."
The studio's front-of-house area embraces a hospitality atmosphere with a reception counter that doubles as a hidden bar (complete with a concealed induction cooktop); smart lighting that can be adjusted to alter the mood or for the studying of material samples in a variety of light conditions; an eclectic furniture collection in various types of settings; and comforting rugs underfoot.
Beyond shelving and concealed sliding display racks, designers are seated in team zones, with Wilson's F&B studio Blueplate enjoying an area that takes the form of an open kitchen. Sensor-controlled blinds adjust automatically in response to the day's natural lighting conditions. Artworks will be rotated every six months.
"We wanted to promote openness," says Ong. "Design firms have always worked in silos. We have a different outlook. Why can't we work together? We're starting to do this, talking to other firms to see if we can work together on projects. This is our message to the industry: Come and see us."
.
Lighting: Philips Hue smart lighting controls; Vibia decorative lighting; Lucifer Lighting and Artemide supplied by Million Lighting.
Wall coverings: Writable magnetic walls are Oberflex, supplied by Xtra. Other wall coverings by Wall & Deco.
Customised work table: Pegboard (Singapore).
Workstations: Herman Miller (from previous studio).
Loose dining and armchairs: Stellar Works.
In front-of-house kitchen: Instant hot-cold Hydrotap by Billi; countertops supplied by Cosentino.
Flooring: Customised carpet and vinyl supplied by Shaw.
TV: 5K TV supplied by Eureka.
.
---