Waterbom Bali has proceeded with its expansion, which had been delayed due to the COVID-19 pandemic. Voted Asia's top waterpark by TripAdvisor's Travellers Choice Awards 2022, the attraction is set to remain a crowd favourite thanks to its new features.
Currently featuring 22 slides slicing through 3.8 hectares of tropical parks, the waterpark will add 1.3 hectares to the park. Among the additions are a new tropical garden, a lagoon pool and a sunken pool bar. Other features are sun lounges submerged in the water, poolside bamboo gazebos, new restaurants, a winding slide tower centrepiece with cantilevered viewing platform, and new slides.
Sustainability in mind
Waterbom Bali is no stranger to an eco-conscious approach. The directive by the park's founder, Santo Gulino, when it opened 30 years ago was to avoid cutting down any trees in its construction. The expansion continues with this ethos by adapting the design around the existing trees. Waterbom Bali has collaborated with Bali-based Australian landscape designer Anton Clarke of Bali Landscape Company for its latest development. The waterpark will unveil a new dense forest area featuring a mix of native species and tropical plants hand-picked by Waterbom's CEO, Sayan Guliono.
Waterbom Bali also consults sustainability experts to ensure that details support its sustainability goals. For example, the new tower's underground pumps and water pipes, as well as the slides, will be strategically positioned and designed to minimise water loss and conserve water. Solar panels on the tower roof and a rainwater harvesting system are aimed at reducing the park's carbon footprint and achieving its net-zero goals.
More to see and do at Waterbom Bali
The highlight of the expansion is the sustainably designed slide tower that stands at 20 metres. It will feature a cantilevered viewing platform for guests to enjoy a treetop view over the park and the new lagoon pool area.
Architect Conchita Blanco from Blanco Studio, who helmed the project, says: "I designed a tower which is intertwined between the slides and through the trees as one unified piece. I wanted to create a sense of continuity by designing an experience of moving in a circular direction as you would when you are inside the waterslides. We want the guests' journey to the top of the tower to be a sensory climb through nature, while winding around the slides."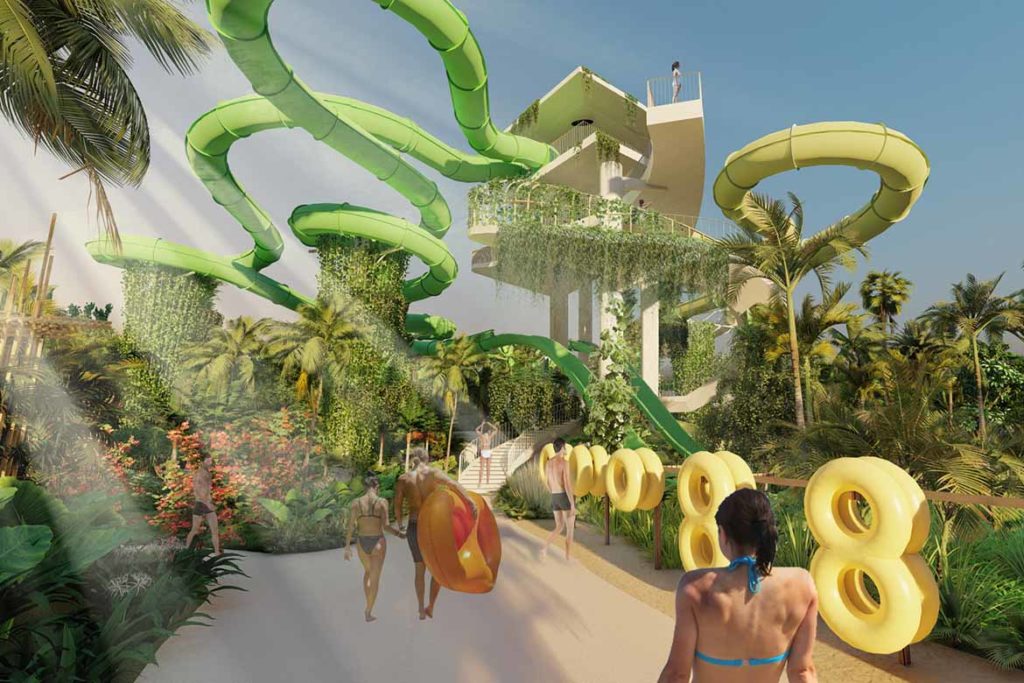 The fun and eco-friendly water play areas will occupy more than five hectares upon completion. Visitors can enjoy Pan-Asian, Indonesian, and Western fare at a new open-air 80-seater restaurant. Coffee lovers can look forward to a new treehouse-style coffee haunt where they can savour beans from Pupuan and other regions in Bali and Flores. Another highlight is a unique temple that adapts elements from temple designs from different areas of Bali.
The first stage is slated to open in April 2023, and the second stage, featuring larger family and dedicated children's slide areas, is targeted to open by the end of 2023.
Renders courtesy of Waterbom
---