"Your plans and elevations are derived from very strong geometric shapes. In the world that celebrates the freeform and the parametric, what do you think is the relationship between architecture and geometry?"
"I read once you hate supermarket and shopping malls. Not you're against consumerism but rather that you hate the banality of consumerism. In Singapore, we have a supermarket, a shopping mall and a church existing in the same place – isn't this your worst nightmare?"
"How do you feel about the architectural landscape of Singapore?"
These were some of the questions Swiss architect Mario Botta fielded from the audience after the screening of his documentary Mario Botta: The Space Beyond at SUTD in April.
Prof. Botta, 76-year-young and now in his sixtieth year as an architect, was in town for Swiss Week 2019, a weeklong festival promoting Swiss excellence and all things Swiss (goods, innovation, expertise) organised by the Embassy of Switzerland.
Students of SUTD's Architecture and Sustainable Design (ASD) programme were given the opportunity to introduce their projects to Prof. Botta in a closed session prior to the screening.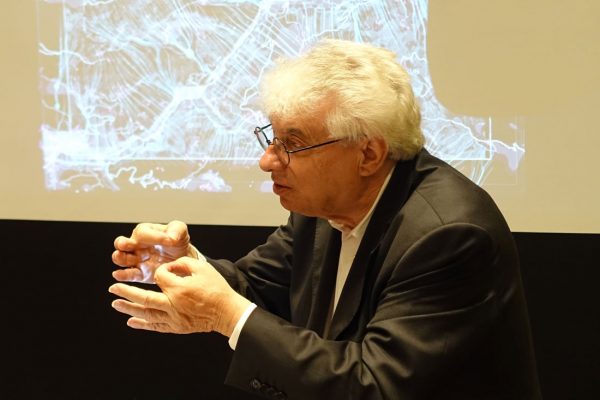 The projects focused on two themes: interventions at the Uffizi Gallery in Florence (a site that Prof Botta had worked on many years ago as part of a competition) and a landscape urbanism project on the South China Sea.
The session saw Prof. Botta offering his critique and ideas about the projects, and sharing anecdotes and drawing of parallels with his own work.
First screened in Singapore at The Projector last year as part of Archifest 2018's programme, Mario Botta: The Space Beyond documents Prof. Botta's activities as he flies around the world, designing and building places of worship.
Among the ongoing projects are The Church of Our Lady of the Rosary in Namyang, South Korea, and a mosque in Yinchuan, China, which when completed in 2021, will be the architect's first built mosque. Mario Botta: The Space Beyond also examines Prof. Botta's seminal works, as well as giving the audience a glimpse of his studio life.
The 77-minute-long documentary was directed and written by Loretta Dalpozzo and Michèle Volontè. Both women were experienced broadcast jounalists who conceived the idea for the documentary after learning that there wasn't one made yet for Botta, despite being one of the world's longest practising and most decorated architects. Dalpozzo, who is now based in Singapore, was present during the screening.
"I was doubtful," said Prof. Botta when asked about his reaction to Dalpozzo and Volontè's proposal for a documentary during the Q&A session. "But this is my fifth viewing of the film and I have been more and more taken by it. It captured some of the aspects of my work that I didn't know before," he elaborated in Italian. The session was translated to English by Federico Ruberto, visiting studio instructor at SUTD ASD.
Drawing comparisons between the making of the film and the making of architecture, he said: "Both creative processes start from an idea on paper, but may take you to other directions because these processes involve talking to people, forging relationships and forces beyond our control."
Answering some of the aforementioned questions from the audience, Prof Botta shared that he considered geometry as an instrument to give a structure for the interior space and that architecture, "Carries within it the idea of the sacred. Why? Because it transforms nature and thoughts."
"Singapore is a fascinating city," he said, but he wondered if what it needs was not more "series of objects" (man-made structure) but more "series of voids, communal spaces and empty spaces that hold these objects together."
Indesign Media Asia had the pleasure of interviewing Prof Botta during the Swiss Week. Look out for a profile feature in Cubes in October!
Images courtesy SUTD and the Embassy of Switzerland.
---