How would you interpret the theme 'Urban Living the Asian Way' with a bean bag chair? W. Atelier and Zanotta, with the support of DesignSingapore Council, shortlisted 10 designers with the best concepts from the design competition commemorating the 50th anniversary of Zanotta's iconic bean bag chair Sacco a few weeks ago.
These finalists were each given a plain white Sacco bean bag chair to execute their concept and the results were unveiled last night at W. Atelier's Henderson showroom.
The 10 designs will be displayed at the showroom until the end of the year. After which, the top three designs will be transported to Zanotta's Milan showroom at Pizza XXV Aprile for the whole month of February 2019.
"We're proud that our local talents have added a fresh perspective with their designs through an Asian lens and context of culture, heritage and everyday life," says Mark Wee, Executive Director of Dsg.
Designers Kiat Ng and Karen Chiam of DAZINGFEELSGOOD took the ubiquitous material commonly used as a protective canopy in Asian construction sites, the woven polyethylene tarpaulin, and created Tarp. The exploration aims to express two recurring themes in an Asian context: nostalgia and modesty.
Gabriel Tan's Pleat took inspiration from the paper lantern, an object synonymous with Asian festivities, and expressed it by introducing a pleating effect between the stitch lines of the original Sacco to accentuate each of its panels.
The Design team at Super Fat Designs helmed by designer Weizhang Lin took inspiration from the constantly transforming skylines of modern Asian cities. The resulting design, titled City Lights – Sa-Sacco, represents the tension between tradition and the relentless pace of change, with the layering of laser-cut velvet interwoven with ribbons in a traditional weaving pattern commonly seen in rattan furniture.
With Retreat, Rockett Studio has created a figurative island to retreat with Sacco at the centre. "We immediately knew that we didn't want to touch the original beanbag," says Rockett Studio founder Geila Daughtrey. The studio created a high-gloss, gently curving platform shaped after a teacup lid and placed Sacco at its centre. A nook in the platform is reserved for a teacup, completing the retreat experience.
Designer Imran Othman took a similar approach with his Design in Singapore bean bag, which places Sacco as the central element of sculptural wood and metal structure that serves as a table and a backrest.
Designers Ivan Ho and Abigail Chang of Tizumuka celebrate the region's indigenous craft of weaving with their design, titled W/Sacco, which sees the Sacco being wrapped by straps that serve as holders for small items. W/Sacco also includes a light holder and side table totem made with rattan.
"We want to reimagine the rational and utilitarian approach of Sacco's construction by introducing handles arranged with reference to its geometry," said designers Timo Wong and Priscilla Lui of Studio Juju of their creation, simply titled Handles for Sacco. The handles allow greater ease to carry and transport the Sacco, enhancing its mouldable and informal seating experience.
Last night's launch also saw the announcement of the top three designs that will be exhibited in Milan.
We're confident that the three winning designs will impress the global audience with their unique creations," said W. Atelier Managing Director Gani Atmadiredja. "These three designs were chosen because of their outstanding ability to integrate an Asian essence into their creative yet functional pieces."
And the three are:
Inspired by the notion of filial piety in Asian cultures, Karyn Lim's Gen Sacco features oversize zippers stitched in perfect circles. These zippers serve as links that can join one Gen Sacco to another – a representation of expanding, multi-generational family and connecting circles of people together.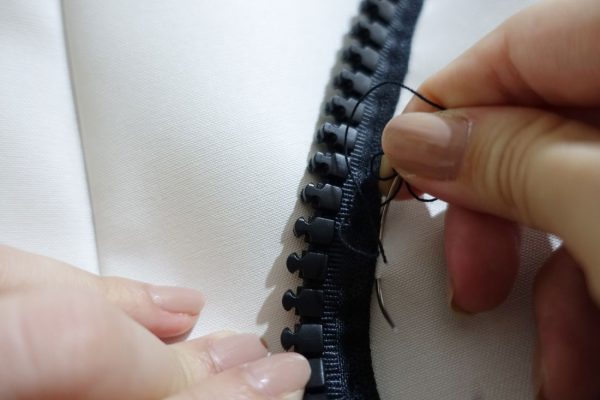 Growing up in a constantly transforming environment like Singapore, Loy is inclined to investigate traditional methods and recreate them from a contemporary perspective. Pastiche features a new hand-painted and woven skin created with Ikat technique that she wove in her studio in Jalan Besar.
Lim took inspiration from one of the most iconic every-day Asian artefacts: the beaded seat cover, which these days can be spotted on the seat of taxi drivers. It's one of the visually most recognisable reference that immediately communicates its Asian origin.
Shifu De Sacco employs the same weaving technique and wooden beads of the traditional wooden beads to create a cover that provides ventilation and possibly even acupressure massage.
After their February showcase in Milan, these three top designs will be reunited with the other seven for an exhibition at the National Design Centre.
---