Since 2013, the Singapore Good Design Mark (SG Mark) has been promoting outstanding user-centred design and high quality.
Entries come from local and international enterprises, designers and communities, and may include projects or products that are already in the market or in the pre-launch stage. Entries are judged on their adherence to the following criteria: empathy, value, inspiration, ethics and responsibility, sustainability, and progress.
Conceived and organised by the Design Business Chamber Singapore (DBCS) in partnership with the Japan Good Design Awards (G Mark), the SG Mark is supported by the DesignSingapore Council. SG Mark winners gain direct entry into the final round of the acclaimed G Mark.
.
This year's Platinum award winner:
Genie Pressure Booster Hand Shower, by American Standard
Genie Pressure Booster Hand Shower uses pressure-boosting and water-saving technology to ensure a stable, soft spray. A transparent spray face with an openable back allows users to see when maintenance and cleaning is required. It was awarded for its ability to bring the benefits of a soothing shower to everyone in spite of issues such as water scarcity, low water pressure and flow.
.
Gold awards went to:
Diageo Singapore, by M Moser Associates
Cubes readers will know the merits of this office interior from our coverage in the current issue (#95) of the magazine. M Moser blurred the lines between retail, hospitality, workplace and home. The space allows Diageo to bring its many brands together to build meaningful connections between its customers, brands and its own people. Photo by Owen Raggett.
Disruption Management Programme, by Cathay Pacific Airways
This app provides more timely information, faster flight rearrangement, and gives passengers affected by disruptions the ability to accept or rebook their new flights. Passengers gain more certainty and control. Airline staff also benefit by having to do less manual work, and being able to focus more on customer service.
HP Jet Fusion 3D Printers, by HP Inc.
This product democratises 3D printing by allowing printers to be operated directly by designers, engineers or architects. Anyone can walk up to and operate these printers without requiring prior training.
Moss Stonehouse and Garden, by Moss Deisgn Studio
This is one of Beijing's first non-commercial modern farmhouses where urbanites can escape city stress through farm stays. It was inspired by local stone architecture dating back to the Ming and Qing dynasties. It has transformed once-abandoned fruit orchards and inaccessible gardens into a rejuvenating getaway destination.
.
Other winners that caught our eye:
AirTable, by Airlab @ SUTD
A milestone in 3D metal printing, with three slender legs each touching the ground on a point the size of a five-cent coin.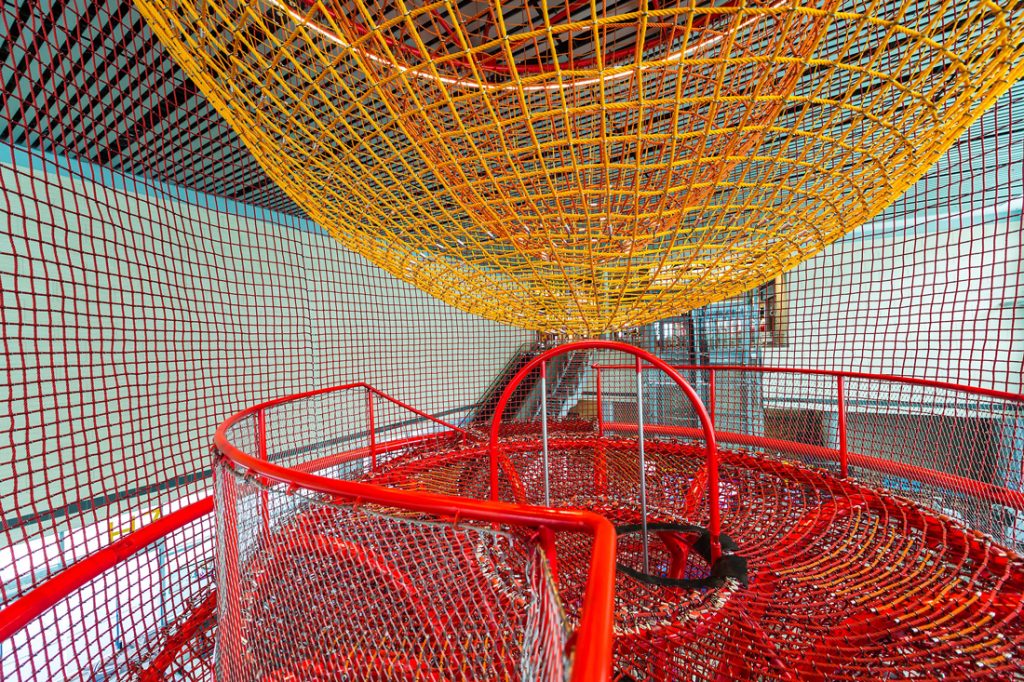 Chandelier, by Snohetta and Playpoint Singapore
Singapore's tallest customised vertical net playground, located at Changi Terminal 4's transit area. The five-storey structure can support up to 50 people.
Design Orchard, by WOHA Architects
SG Mark Special Mention. The retail, events and incubation space epitomises the spirit of design innovation and collaboration aimed at growing consumer exposure to authentic Singapore design.
Electrolux Multidoor Refrigerator, by Electrolux SEA
Has split doors and microclimate zones that reduce temperature fluctuations and energy waste. Prevents food waste with app-based alerts about food expiry.
Generic Dwelling Templates For Future Urban Habitation, by SUTD-MIT International Design Centre
A set of templates that allows developers to build homes that can easily adapt to changing societal needs. The deliberately generic and open-ended dwelling models can accommodate diverse user needs. Developers gain the ability to make numerous adaptations with minimal changes of the hardware.
Honk!, by SUTD
SG Mark Special Mention. A mobile app that connects households directly with karung guni (rag-and-bone) traders to deal in the sale and collection of second-hand goods or recyclable waste.
iRigel – Internet-of-Toilet Management System, by Rigel Technology
Uses sensors and the Internet of Things to manage sanitary wares and accessories commonly installed in public restrooms.
Mantis: A Modular Window Façade Cleaning Robot, by SUTD
A facade-cleaning robot that can autonomously navigate flat vertical facades, and move over obstacles and kerbs.
NAFA Arts Preschool, by Spirit Of Design Analogy
A sanctuary for children where a sense of inquisitiveness is fostered by elements such as porous boundaries and opportunities for interaction.

Natural Composite Pillar, by SUTD
One of the largest 3D-printed biological artefacts. It is a 5m-tall, 100kg bioplastic pillar. Aims to address the environmental damage wrought by the uncontrollable use of synthetic polymer plastics by empowering a bio-inspired approach to design and manufacturing.
One Park Taipei, by Rogers Stirk Harbour + Partners
A twin-tower residential development that has become a landmark in Taipei with stairwells accentuated by columns of orange-laminated glass
Shenzhen Cine Sky Cinema, by One Plus Partnership
Horizontal and vertical lines suspended from the cinema's lobby create an illusion of buildings hanging overhead.
Y's House Zensyoji – 12, by Landsat-inc
Instead of maximising the building-to-land ratio, the designer of this house in Kobe opted to create a large external space incorporating a shared terrace and alley space.
.
Read more about these and all the other winners at sgmark.org.
The winners are being showcased to the public via a month-long exhibition at Changi Airport Terminal 3 (walkway to Jewel). The exhibition will end on 23 June 2019.
Images courtesy of SG Mark.
---