The Peranakan Museum finally reopens to the public on 17 February after nearly four years of renovations. The revamped museum features new permanent galleries across three floors and shifts its focus to wider Peranakan communities found in Singapore and Southeast Asia – including the Arab Peranakans, Chinese Peranakans, Chitty Melakans (or Peranakan Indians), and Jawi Peranakans.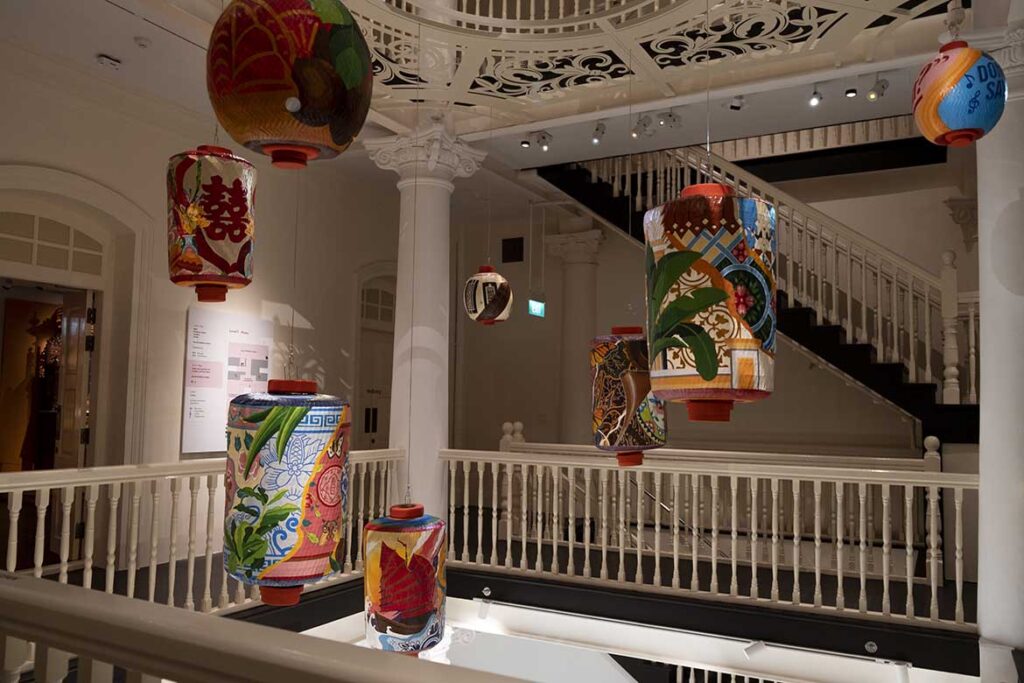 In its continuous bid to also champion the local creative industry and heritage, the Peranakan Museum has a dedicated retail space on the first floor. Visitors can purchase exquisite porcelain and jewellery inspired by the museum's collection from SUNS Singapore.
To celebrate the museum's reopening, a special edition of Armenian Street Party: Peranakan Museum Reopens takes place from 17 to 19 February. This weekend party invites visitors of all ages to outdoor performances of fashion and dance, sample food at the makan market, participate in gallery tours and craft – including free admission to the museum during this period. View the full programme here.
Kennie Ting, Director of Asian Civilisations Museum and Peranakan Museum welcomes all to join in the festivities, as he shares more about the new direction for the museum.
Why did the Peranakan Museum undergo renovation? What needed to be changed?
The building is over a century old. Naturally, it is necessary for us to upkeep our built heritage, beyond the regular maintenance works to safeguard them against physical deterioration, and to ensure the safety of our visitors. These were done in accordance with guidelines set by the Preservation of Sites and Monuments division in the National Heritage Board. The displays, while fitting for the time the museum first opened in 2008, also had to be updated to cater to more contemporary audiences, and in line with contemporary museological practice.
It has been nearly four years since the museum officially closed on 1 April 2019. We are proud to present a refreshed Peranakan Museum with a completely refurbished building, brand-new permanent galleries presenting exceptional objects from Peranakan material culture, as well as a fresh new exhibition design – one that is very contemporary – and an enhanced museum visitor experience. In particular, one key shift in the curatorial approach was to also include contemporary expressions of Peranakan culture, by way of works of contemporary art, fashion, design and craft, created by local and regional artists, artisans and designers, and inserted into every gallery.
What were the changes made to the architecture and interior?
The former Tao Nan Chinese School, which houses the Peranakan Museum, is a National Monument. As such, very little of the building's structure, inside or outside, can be changed. The building underwent major restoration works to return it to its former glory and beauty. – this was undertaken by S. A. Chua Architects. We also updated the building to enhance access. For instance, we added a ramp entrance for wheelchair access, as well as handrails up the many staircases outside and inside the building.
We worked very closely with Kingsmen for the interiors and for exhibition design in all of the galleries, including the lighting design. In terms of design concept, the 'old' Peranakan Museum was frequently described as a 'jewel'. We have taken this further, conceptualising the new Peranakan Museum as a 'jewel box' with every gallery having its own look and feel. We've attempted to evoke the essence of the 'Peranakan aesthetic' in a generally contemporary display. Some of our galleries are designed in a very, very contemporary manner indeed. 
For instance, visitors who walk into our Fashion Gallery will feel like they have entered an intimate boutique, where Peranakan dress, shoes, and accessories are presented in glass window displays that show how fashion of the Peranakans is diverse, reflects hybrid influences and has evolved over centuries.
The Ceramics Gallery, which is my favourite gallery, brings a startlingly minimalist twist to the display of the best and rarest examples of Peranakan 'nyonyaware' ranging from traditional pieces to contemporary takes on nyonyaware.
There are also small touches around the permanent galleries that encourage accessibility and interactivity. This includes artefacts that are strategically placed at children-friendly eye level, an interpretive space with family-friendly activities, and immersive videos and interviews featuring Peranakans and their way of life.
Why is inclusivity so integral to the revamped Peranakan Museum and in what ways is this reflected apart from the exhibits?
When most people think of Peranakan culture, they think of the Chinese Peranakans. This was a natural phenomenon, as the Chinese Peranakans were popularised in the past decade through drama series like The Little Nyonya (2008), or through iconic 'nyonyaware' such as the kamcheng.
With the refresh, we want to show the world that Peranakan culture is so much more than that. In Malay, the word 'Peranakan' was a welcoming word used by Malay-Indonesian communities in Southeast Asia to refer to other communities who had made a home in this region, and blended the rich local culture with their own proud heritage.
Peranakan communities are cross-cultural in nature, and speak to the sort of cultural diversity and mixing inherent in Southeast Asian port cities such as Singapore. The country's exhilarating, cross-cultural, port city heritage thus informs and grounds the curatorial approach for the refreshed Peranakan Museum.
In the refreshed museum, we celebrate our diverse Peranakan cultures by featuring beloved objects and heirlooms from various communities, generously loaned and gifted by patrons and lenders here in Singapore and the region. We also honour their intangible cultural heritage across all communities by way of videos and interactives around the museum, and through programming like this weekend's Armenian Street Party: Peranakan Museum Reopens! in partnership with Peranakan Association Singapore, the Arab Network @ Singapore, and the Peranakan Indian (Chitty Melaka) Association Singapore.
Photography courtesy of Peranakan Museum
---