This year, Singapore Indesign Intimate brought together people from the architecture and design community and beyond for two days packed full of immersive design experiences that included talks, prizes, launches and special activations. This targeted event was hosted in three of Singapore's leading design showrooms, giving some 325 attendees an authentic experience of entering a brand's home and a platform to build relationships and seed collaborations.
Ten of Singapore's thought leaders and industry experts who participated in the event's flagship programme, Design Conversations, offered unique insights on hard-hitting topics. The talk kicked off at XTRA Office on the evening of 15 March, where the panel spoke on digital transformation in the workplace.
Hosted by XTRA and Herman Miller, the full house session resulted in animated exchange between audience and panellists. Apart from learning how digital tools can be effectively adopted to future-proof the office of tomorrow, the audience were treated to scrumptious food and limitless drinks prepared by XTRA.
Two more sessions of this thought-provoking Design Conversations took place the following day. One was hosted by Louis Poulsen at its wonderfully lit showroom space located along Purvis Street, where the panel shared innovative solutions and strategies towards achieving a low-carbon built environment.
Alex Huang, Head of Professional Sales at Louis Poulsen Asia even shared the lighting brand's initiatives for sustainability in architectural lighting. Hospitality was not spared by Louis Poulsen as guests were treated to delectable breakfast and lunch spreads as well as freshly made coffee.
The third and final session of the Design Conversations was hosted by Stylecraft and Tappeti later in the evening. Given that material waste is a prevalent problem in the manufacturing industry, this talk spotlighted creators who tirelessly reimagine waste for a circular economy through their sustainable projects and initiatives. It also highlighted the challenges of closing the loop and the grave impact of consumerism and the throwaway culture.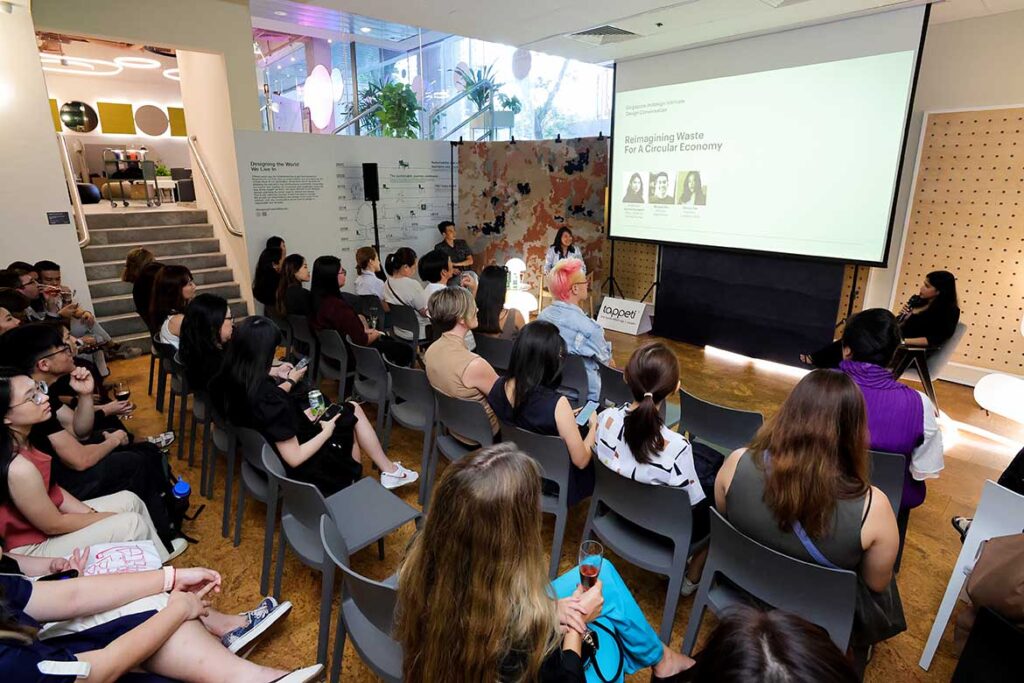 Earlier in the afternoon at Stylecraft showroom, the purveyor of luxury furniture, lighting and accessories also hosted a fun and interactive sketching session with Australian industrial designer and director of Skeehan Studio, Tom Skeehan. Lots of laughter and chatter filled the showroom as participants engaged in speed sketching and completed one another's artwork.
They were served canapes and bubbly to aid in the creative process. They even got a first look of Skeehan Studio's latest collection, HIVE, which is a range of mobile and flexible furniture suited to the post-pandemic workspace.
Similarly, Tappeti gave attendees a special preview of its artistic and whimsical Real Majik rug collection in collaboration with YSG. Eager attendees even participated in Tappeti's guess and win contest, but only one won a Tappeti rug of her choosing from the Ora Collezione.
This electric vibe continued throughout the evening with a knock-out closing party hosted by Stylecraft and Tappeti. To refuel the guests' energy after a whole day of exciting activities, our gracious hosts prepared a grazing table, live pizza station in collaboration with Keenway Pizzas and natural wines by Cogito Wines.
Stylecraft and Tappeti sure know how to throw a knock-out closing party. The entire showroom was buzzing with upbeat music and lively chatter as guests wined and dined with one another and took plenty of party pictures. With that, Singapore Indesign Intimate 2023 came to a close with a bang.
Singapore Indesign Intimate 2023 was made possible thanks to our exhibitors: Herman Miller, XTRA, Louis Poulsen, Stylecraft and Tappeti. We look forward to continuing to inspire, inform and activate architects and designers in Singapore.
---