From 13 November 2021 to 2 January 2022, all 73 national monuments located across Singapore can be 'encountered' at the National Museum of Singapore through a special exhibition featuring iterations of them in various forms.
The PSM50: Celebrating the Golden Jubilee of Singapore's Preservation Journey (PSM50) exhibition marks 50 years since the Preservation of Monuments Act came into force in 1971, which started the country's preservation journey through the formation of the Preservation of Monuments Board. Today, it is known as Preservation of Sites and Monuments (PSM) division under National Heritage Board (NHB).
From images to commemorative objects, from 3D printed models to digital experiences, here are some of the PSM50 exhibition highlights not to be missed.
Tanjong Pagar Railway Station VR experience
By translating images and drawings into realistic 3D modelling, visitors can now explore the former Tanjong Pagar Railway station's interior spaces virtually. The virtual experience is sponsored by European company Dassault Systèmes, in collaboration with the Singapore University of Technology and Design (SUTD), Singapore Land Authority and NHB.
Miniature model of Central Fire Station
In an attempt to showcase the different architectural styles and unique features of monuments in an appealing and accessible manner, PSM worked with three artists from My Little Brick Shop to create miniature models of eight monuments using more than 110,000 toy bricks for a travelling exhibition launched in 2018. On display at the exhibition is a miniature model of Central Fire Station.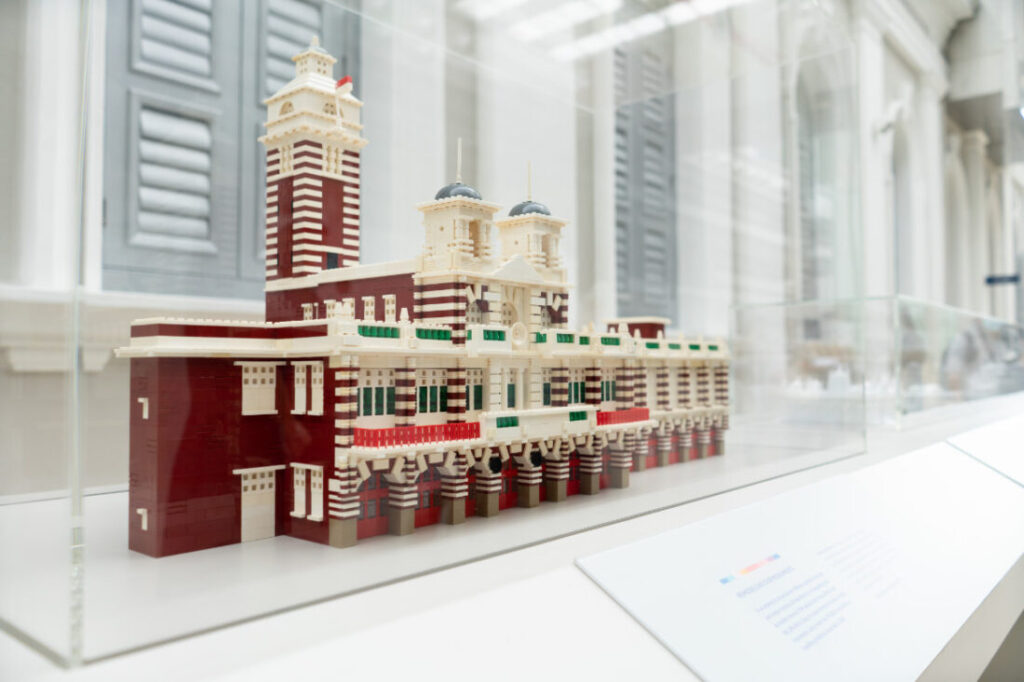 3D printed models
Matt Chiu, a graduate from the Singapore University of Technology and Design (SUTD) created miniature replicas of 11 monuments using 3D printing technology to highlight the architectural diversity and features of our monuments in close-to-scale form. They offer a bird's eye viewing experience for the public to learn more about these historic buildings.
3D stereographic photographs
Several stereographic photographs of the 27 national monuments produced by Italian photographer Alberto Fanelli in collaboration with PSM in 2016 are reimagined in this exhibition. Visitors will be able to see the images 'blend' together, creating a 3D effect when the anaglyphic lenses are worn.
Paper cutting
Local artist Ashley Yeo created an installation featuring delicate papercuts of nine monuments housed in glass domes to convey the vulnerability of our monuments and the importance of protecting and preserving them.
Photos courtesy of National Heritage Board.
---