Today, the boundary between our work life and our personal life has become increasingly permeable and our built environments have been evolving to accommodate the crossover between work and life. Designers and brands have been infusing the domestic warmth into workplaces and making furniture that makes it easier to work at home. Denfair, one of Australia's largest design trade fair, took the theme of 'Work Life' this year to showcase a comprehensive picture of the design industry in Australia.
Leading furniture purveyor Cult presented a fresh take on the integration of our work life and personal life with a slew of new launches and collaboration from its original Australian design label NAU. The happenings unfolded in three locations at the Melbourne Convention and Exhibition Centre.
NAU's presentation at stand #602 showcased novelties and recent products in a dark green setting that comprised living and dining areas that, at first glance, might look like they belong in a private residence, but upon closer inspection, could as easily be at home in a workplace.
Presiding in the plush living room set was Sofala, a curving modular sofa by Adam Goodrum. First launched in Denfair 2018, Sofala returned this year with a new 150-degree corner module, which allows for a broader range of formations.
On one corner stood Goodrum's Bower chair, a breakout space staple thanks to its acoustic property and distinct backrest that lends a soft touch to any commercial setting. The 2019 version features a previously unseen timber plywood weave paired with velvet upholstery.
Stack, the winner of the 2018 Mercedes-Benz Design Award by Zachary Hannah, stood on another corner. Stack is a lamp, a bookshelf and a side table rolled into one functional, aesthetically pleasing object crafted from solid timber and plywood.
Suspended above them was Kate Stokes' Jolly pendant light, now available in a single-rod version. Meanwhile, the wall-mounted and double-rod versions of Jolly illuminated the dining area.
The centrepiece of this area was Goodrum's Chameleon table. Debuted at Orgatec 2018, Chameleon is named after its ability to adapt to its environments.
Sturdy yet lightweight, Chameleon features an aluminium structure with an axis-joint that enables 15-degree frame and leg articulations.
Surrounding the Chameleon table were NAU's three latest dining chairs: Goodrum's Molloy Chair with Arms, Adam Cornish's Strand Upholstered chair, and Tom Fereday's Sia Upholstered. The three chairs were the new versions of NAU's best-selling chairs. On the other side of the room, an elevated version of Chameleon was paired with the new Molloy Barstool.
An augmented reality zone rounded off the presentation. Here, visitors were invited to design their own interior with NAU collections, including the newly launched novelties, using the NAU AR App – a 3D Augmented Reality app available from the Apple Store that the brand launched last year. And should they fell in love with the products, a revamped, easy-to-navigate NAU webstore was ready to take their orders.
A result of two years of research and development, Chameleon's structural mechanism was the hero of Chameleon by NAU, an installation at stand #1208 which showcased an oversized, conceptual version of the table.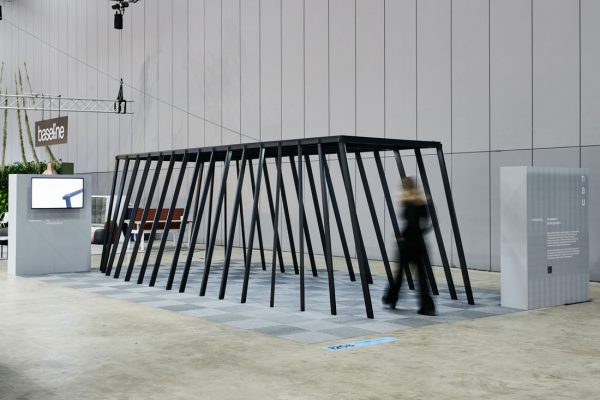 Visitors were invited to explore and get a closeup view of Chameleon's structure.
Ever a champion of good design in Australia and beyond, NAU's presence at Denfair was a collaborative effort. Sponsors and partners for the event included Bolon (flooring), Mokum (upholstery), Mud Australia (ceramicware), Bang & Olufsen (sound system) and Nespresso.
Chameleon and the Kubric Stool by Jack Flanagan were also included in #Futurework by FUTURESPACE, a new workspace precinct comprising three immersive spaces showcasing a curated selection of commercial design.
In Singapore, NAU products are available from Cult Design Asia.
Images courtesy of Cult.
---