The Museum of Modern Art and Contemporary Art in Nusantara (Museum MACAN) shines a spotlight on architecture, materiality and identity with Matter and Place, a collective exhibition featuring artworks by local and international names from diverse creative fields.
Among the exhibits are artworks by Indonesian architect Andra Matin, Malaysian artist Shooshie Sulaiman, Vietnamese artist Danh Vo, and more. Each artwork investigates how materials and our sensory observation of them help us to construct and deepen our understanding of identity.
"The exhibition imagines a view of Anthropocene – the term which refers to the current geological age we live in – and explores how human identities are manifested through materials, and how through art, these could disclose future worldly relationships," shares Museum MACAN Director Aaron Seeto.
The materials and approaches employed by the artists are diverse and connected to specific locations and geographical regions.
The main attraction of the exhibition is arguably Matin's installation, titled Elevation. The installation was debuted at Venice Architecture Biennale last year as part of the Freespace exhibition at the Corderie and took home an Honourable Mention. Matter and Place marks Elevation's homecoming and it drew a considerable crowd during the exhibition's opening night.
Elevation showcases the elevational diversity in Indonesia's vernacular architecture. The installation comprises a spiral staircase cocooned by an intricately woven rattan shroud. A total of nine models of the vernacular houses – ranging from Java's Joglo house to Papua's Honai hut, are displayed on the staircase's many landings.
If the models are a showcase of the products of the country's fading traditions, the setting in which they are displayed is an exploration of how they can be transformed and translated into contemporary use.
The spiral staircase is made the wood of Jabon trees, one of the world's fastest growing hardwood that makes it suitable to be cultivated for the woodworking industry, as opposed to the more slow-growing teakwood popular in the country.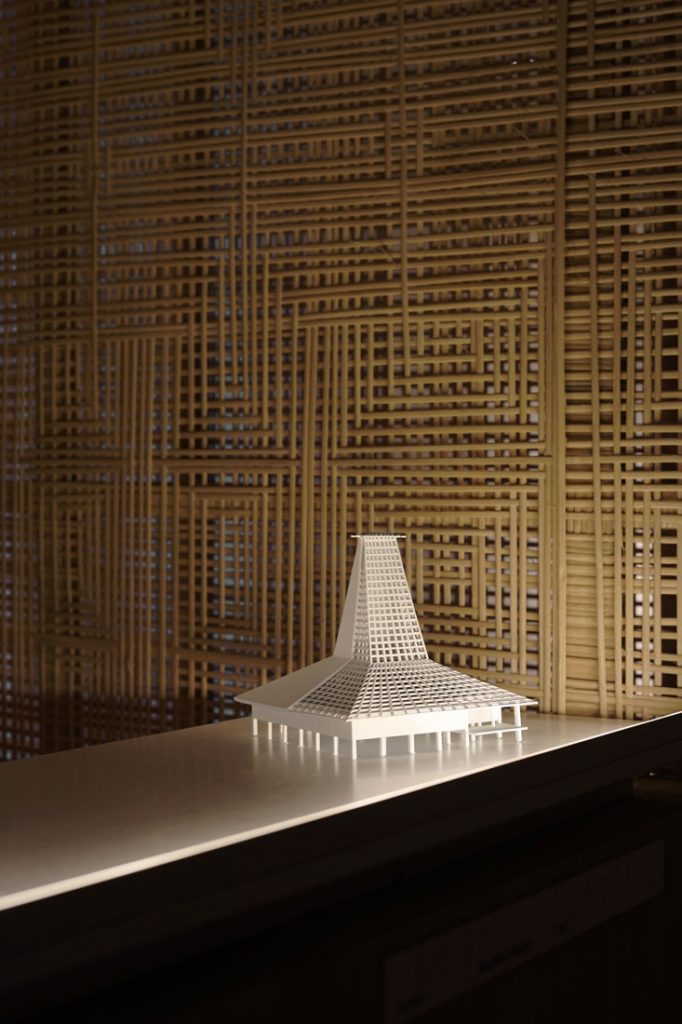 Elevation's woven rattan skin is designed and produced by architecture-trained designer Lim Masulin, founder of contemporary architectural craft atelier BYO Living, using updated manufacturing technologies. The weaving's distinct pattern is an amalgamation of several traditional Indonesian textiles.
Tadika Getah (translated as Rubber Kindergarten), Sulaiman's site-specific installation is the latest in her opus of rubber-related artworks. Tadika Getah portrays Sulaiman's childhood in Malaysia, where she grew up in her father's rubber plantation. It is also a commentary on the material's influence in the Southeast Asian region.
Elsewhere in the museum is Vo's artwork 165° W, which is a commentary on colonisation, migration, displacement and identity realised in cardboard (found in Vietnam) and precious gold leaf.
American artist Theaster Gates' bronze sculpture A Transgressive Wyoming is painted with tar, referring to Wyoming's suburban architecture, the social conditions of local black communities, as well as the labour required to create the said housing.
Matter and Place will run until 21 July 2019. Museum MACAN opens daily from 10am to 6pm and is closed on Mondays. Last admission is at 5pm.
Images courtesy of Museum MACAN.
---