While the DesignSingapore Council continues its work promoting design as a strategic tool for business, its exhibition space at the National Design Centre is currently host to an exhibition that promotes the personal and emotional side of design practice.
The Proportion & Emotion show, on display till 5 January 2020, brings together 20 years of work by architecture-trained Singaporean designer Kelley Cheng – the creator of the country's first independent design magazine ish.
Through projects undertaken before and after the 2009 establishment of her design and publishing consultancy The Press Room, as well as special collaborative works, Proportion & Emotion captures some key moments and initiatives in the design journey of both Cheng and Singapore at large.
Among the work exhibited is, of course, ish magazine (published from 1999 to 2009), Singapore Architect magazine (helmed by Cheng from 2009 to 2016), wayfinding for the National Gallery Singapore (completed in 2015), exhibition design for the President's Design Award (2013 and 2016), magazine design for Space Furniture, book design for the Singapore Institute of Architects (SIA) as well as the Heritage Society of Singapore and SIA, and branding and graphic design for Art Stage Singapore (2015 to 2016).
Alongside these works for the creative industries are many others for clients such as NParks (City Green magazine), Singapore Writers' Festival, Bulan Bahasa (Malay Language Month), the Youth Olympic Games, the LIEN Foundation, the Prime Minister's Office and others.
The 20 collaborative works (each a newly produced poster) were completed by designer friends (using a 'starter' image from Cheng) from Singapore and further afield, including Theseus Chan (Work), Chris Lee (Asylum), Yu Yah Leng (Foreign Policy), Jackson Tan (PHUNK), Freeman Lau (KL&K Design), Stanley Wong (anohermountainman), He Jian Ping (Hesign), Holgur Wingfuhr (Frankfurter Allgemeine), Yiannis Charalambopoulos (Beetroot Design), Hjalti Karlsson (Karlssonwilker) and others.
Says Cheng, "I feel that during these 20 years I have not just experienced my own growth as a designer; I have also grown together with the Singapore design community and industry. When I first started ish, there was no DesignSingapore Council, and there were not a lot of independent designers… But after 20 years, now I see we have built up an ecosystem."
.
"[A]fter 20 years, now I see we have built up an ecosystem."
– Kelley Cheng
.
She continues, "I'm really proud that I've contributed to this growth of the community and been a part of it. That's why I don't want to just celebrate my [own work] but also [that of] my peers, who've put Singapore on the global map of the design community."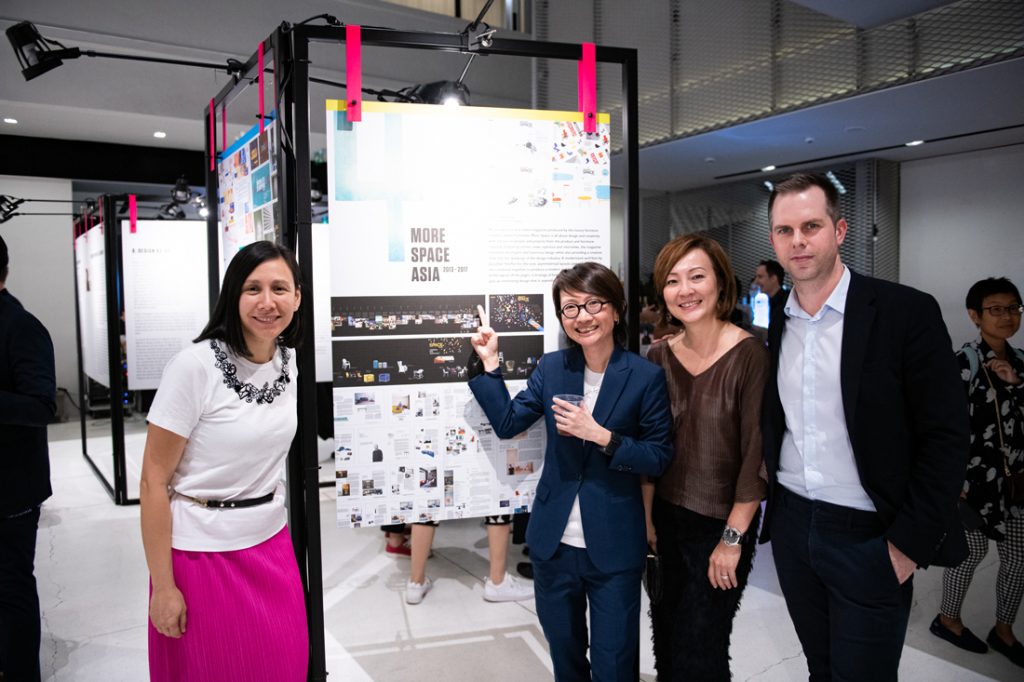 Cheng's goal with the show is twofold. As she explained to Indesignlive.sg, "On the personal front, I really hope that people understand me not just as a designer, but also as a person." She hopes viewers will find the show emotionally intimate as well as visually stunning.
The professional and the personal are intertwined in Proportion & Emotion, and the works presented throughout the exhibition were chosen by Cheng specifically because they "raise the question of whether design can be art, while also meeting a brief and serving a purpose."
For non-design-industry viewers, she hopes the show will enhance design awareness and design literacy, and open up minds.
The DesignSingapore Council (co-presenter of the exhibition with The Press Room) supported Proportion & Emotion through its SG Designer Milestone Series, which previously saw Nathan Yong's retrospective at the same venue. Says Mark Wee, Executive Director of the DesignSingapore Council, "We hope that these showcases provide a point of aspiration as visitors navigate the journeys of our trailblazers."
---