The Building at the INDE.Awards is the epitome of great design, significant presence and an exemplary contribution to the built environment. It is a category that recognises the essential form and function of architecture and design, be it large or small, and celebrates those who conceive structures that make a difference to people, place and culture.
However, outstanding buildings all begin with an idea that manifests exponentially, built from materials and with labour and a large portion of ingenuity and imagination. So, it is fitting that The Building category at the INDE.Awards is partnered by Kaolin Tiles, a business that was conceived to provide a product that has been created with care and attention to detail and one that also includes the very best of materials.
Kaolin Tiles (the business) takes its name from kaolin, the finest clay in the world, used in the making of porcelain. For centuries, Chinese porcelain has been the essential ingredient in the making of vessels, such as cups for tea or chi, that is an intrinsic element of the Kung Fu Cha or the tea making ceremony. Tea is a connection to the sacredness of nature, to the self and to ancestral wisdom and a tool for establishing relationships and bridging cultures. Translating and reflecting these ideas, Kaolin Tiles taps into the traditions of Chinese porcelain but infuses it with technological innovation. The same quality material used in the vessel that holds tea is used to make Kaolin tiles.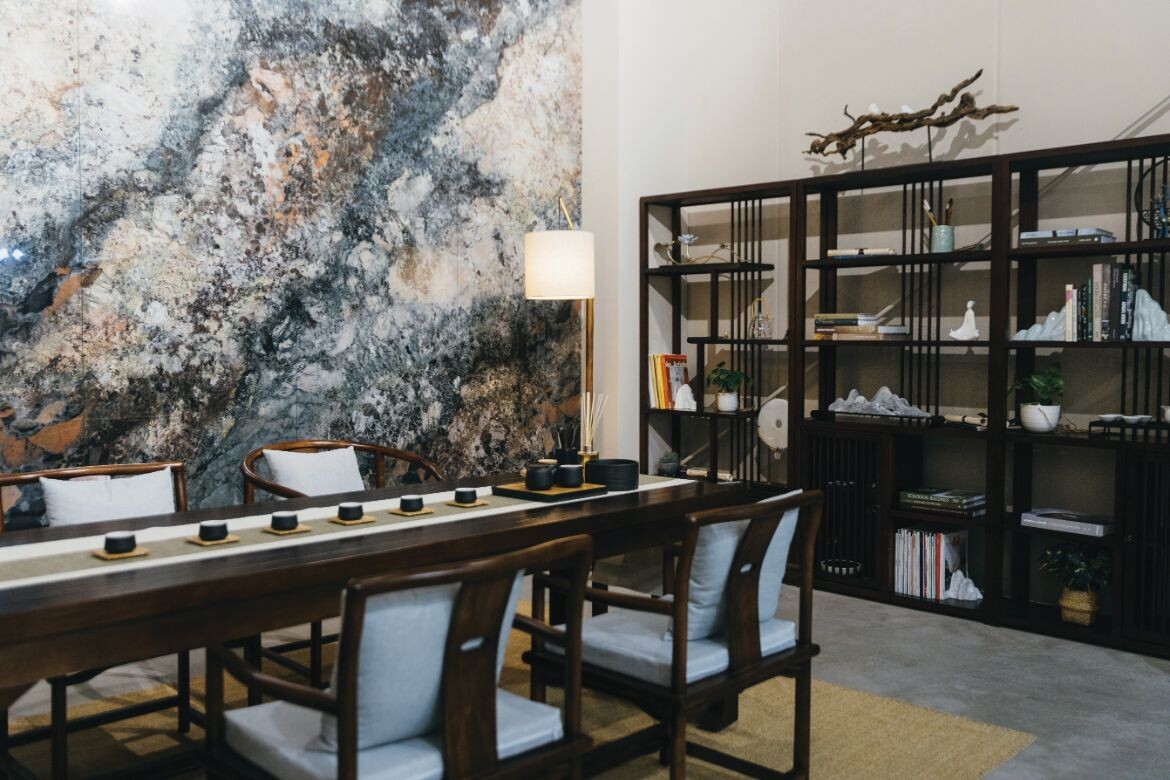 Kaolin Tiles supplies certified sustainable porcelain tiles to the architecture and design community. The company was founded in 2020 by Rita and Anton Bourtsev and together they bring to the business a passion for their product and, as a family-run operation, an understanding of service and deep connection to their clients. While tiles are the focus of all that they do, through Rita's family in China, there is on the ground support to ensure that quality and supply is optimised.
The tiles are manufactured in a state-of-the-art facility with smart warehousing by Guanxing Ceramics, recognised as one of China's top 10 ceramics companies for eight consecutive years.
This is also a family-owned and run business with 3.500 employees and an output of more than 38 million square metres of product. However, at the heart of operations there are environmentally sustainable and ethical production practices, that are recognised with certification by China Environmental Labelling (CEC) and China Environmentally Friendly Certification (CQC) which are both part of the Global Ecolabelling Network (GEN) and a Level A Certificate from Global Green Tag, which is recognised by the Green Building Council of Australia (GBCA).
Add to this, sustainability initiatives such as Offsetting CO2 with 11,000 hectares of forests preserved by Guanxing around its factory; 100 percent recycled water and reuse of manufacturing waste in production; land use minimisation through Artificial Intelligence warehousing to reduce the storage footprint; and respect for human rights and fair labour practices. It's plain to see that there is much happening to help the planet in Guanxing.
To design and construct buildings that last through time, quality materials are key. Here Kaolin Tiles' relentless attention to detail to manufacture only the best products can be assessed through several aspects. Kaolin prides itself on producing some of the flattest tiles available with only + or – 0.02 percent height deviation. All tiles are pressed and never cut and therefore true to size and the average water absorption rate is only 0.04 percent, more than 10 times less than the international standard. Printing on tiles is of the highest quality, the product is so exact that grout joints as small as 0.5 millimetres can be used and Endless Vein® achieves infinity with a grid of six or eight unique pieces that connect vertically and horizontally in a continuous pattern. Last but by no means least, a Lifetime warranty on all tiles is the icing on the cake.
While sustainability, quality, ethical work practices and technological advancement are one thing, it is the finished product that speaks for itself. Myriad colours, designs and patterns are available and the ranges are more akin to art installations than simply tiles that cover floors or walls. Morandi, Marble, Stone, Future Range offer abundant choices and collections such as Precious Stone, Art Tile Showpiece and Endless Vein® certainly increase the visual wow factor. Within the Kaolin Tiles offering there is a spectrum of choice and application for every project whether residential or commercial.
In understanding that quality begets quality, and workmanship, talent, creativity and best practice ensures outstanding buildings are constructed, so too does this translate to the design and manufacture of products from Kaolin Tiles.The 2023 INDE.Awards is open and accepting submissions. We invite all architects and designers to enter The Building category and showcase your exceptional projects. Entry to The Building is here and now is the time to give voice to your extraordinary achievements.
Photography: Courtesy of Kaolin Tiles
---