Launch Pad was the first of its kind when it launched in Australia over 15 years ago, followed by Asia four years ago.
It has always been about uncovering emerging design talent and helping to showcase their brilliant work – matters that are also close to the heart of our Launch Pad Principal Sponsor Schiavello and Founding Partner Living Edge.
The program has been adapted over the years and in 2018 we announced a phenomenal $10,000 manufacturing grant for the Ultimate winner from Asia Pac. It provides the opportunity for the lucky winner to take important steps toward bringing their product from concept to reality.
After a huge amount of entries this year, the jury has selected 11 finalists, five from Asia and six from Australia.
Your 2018 Launch Pad Asia finalists:
Jupiter by Jon Chan Hao and Kevin Chiam Yong Sheng
The Jupiter lighting fixtures were designed by Jon Chan Hao and Kevin Chiam Yong Sheng to repurpose used industrial cling wrap, which is rarely recycled. The design preserves the crinkled texture of the material that is created during the packaging process. Sheets of cling wrap are thermoformed, then laser-cut and shaped. The reapplication of heat and pressure bonds the layers to create the light-diffusing shade. The versatility of the design means that Jupiter vessels can be adopted as a wall, pendant or even floor lighting.
–
Empathy by Yeo Yiliang
Empathy is a coin bank that was designed to encourage the user to empathise with those in need. An internal separator splits the coins into personal savings (the opaque area of ABS and brass) and a charitable amount (glass base). Once the personal savings area is filled, additional coins will fall into the charitable area suggesting that once you have enough, you can afford to provide to others. The design was inspired by Zakat – the Islamic practice of almsgiving. The designer's hope is that Empathy will encourage mutual understanding between religions.
–
AD Chair by Huw McConachy
Part of the larger Aard range by Huw McConachy, the AD Chair began rather fancifully with a caricature drawing of aardvarks relaxing in a chalet in Mt Hotham, Australia. Research into the period Windsor chair and a desire to minimise the number of components used in the construction influenced the design. The American oak AD Chair is composed of two side components (replicated) and one diameter of dowel. For the designer, the repetition of the dowel calls to mind images of a winter landscape – log walls on cabins and pine forests.
–
Solace by Charlotte Ho Ying
Solace is a standalone swing for the home. With its deep, low seat, Solace encourages relaxed swinging and an escape from reality within the comfort of home. The idea was to bring out the child in all of us. The weaving in the seat was developed from experiments with hemp string. The stand frame has been designed in anodised stainless steel for simple assembly with bolts and nuts. Durable Manila hemp creates the rope and the seat is anodised aluminum for optimal strength and weight. Woven rattan creates an intricate seat.
–
MoMo by Anthony Yu
MoMo is a multifunctional object for the home. It can serve as a coffee table when one is required, but if disassembled, it can be hung on the wall to create a storage area. The geometric pattern gives MoMo an artistic quality. The design responds to the prevalence of small living spaces today, creating a flexible space when the coffee table function is not required. It also addresses the possible merging of furniture and art pieces. MoMo has been designed for production in powder coated stainless steel with a target weight of five kilograms.
–
Your 2018 Launch Pad Australia finalists:
Scintilla Collection by Max Leishman
Scintilla by Max Leishman is a modular lighting collection characterised by a geometric diamond form. The shape of each section of the light enables myriad configurations to be made – single, double or quad. The connection of each diamond is made possible through a 3D printed metal that allows for a flush join. Scintilla is inspired by space travel and the futuristic designs of Daniel Simone and Syd Mead.
–
Modular Object System by Isaac Francis
Extending the notion of flat packing and modular furniture, the Modular Object System by Isaac Francis is a complete kit of parts for endless arrangements. Constructed in four main components – dowel legs, plywood seats/tabletops, bent powder-coated steel frames and rubber joints. Modular Object System is both flat packable and able to be constructed with no tools, glues or fixings.
–
DLC-01 by Dan Layden
The DLC-01 by Dan Layden features striking tapered legs, which offer a slender and overall delicate profile to the chair. Combining solid timber with a cane seat option, or upholstery, one of the stand-out forms of the DLC-01 chair is its sweeping u-shaped rail. A big motivation behind the design was to create a simple and elegant chair that reduces waste and environmental impact, this is achieved by donating a percentage of the profits to Rainforest Rescue in order to offset the timber use, thus creating a carbon neutral product.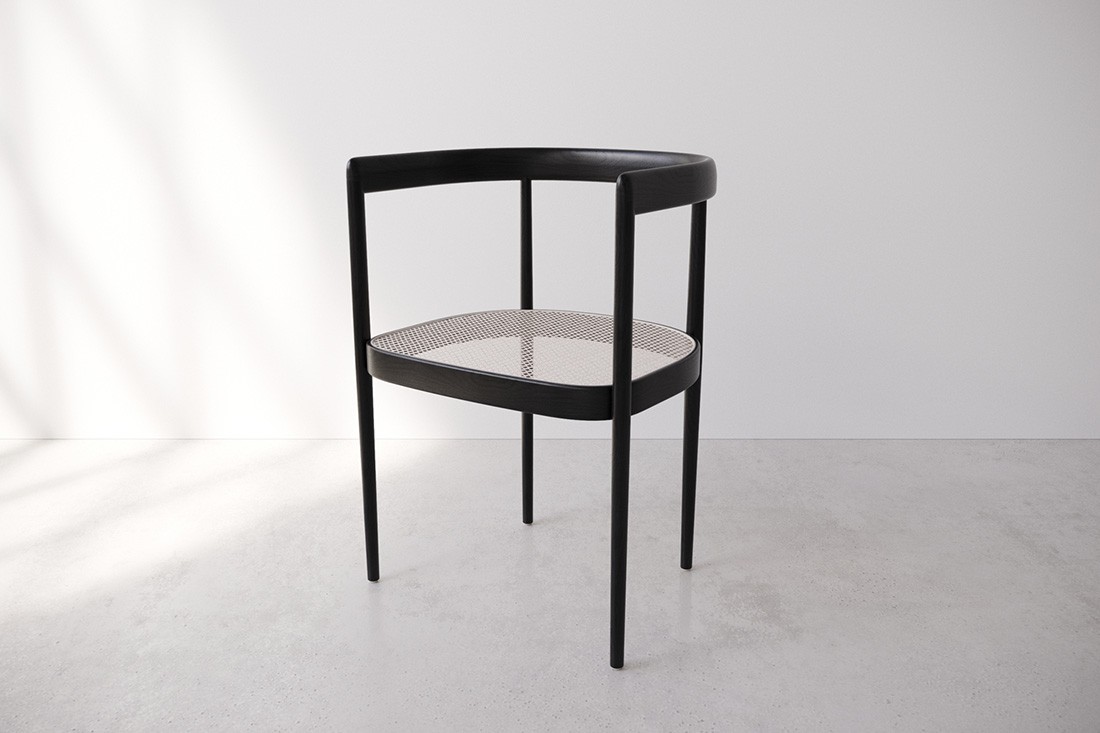 –
Duello Hallway Table by Roberto Vessella
The Duello Hallway Table by Roberto Vessella is about tapping into a popular human habit – organising yourself, with a quick glance in the mirror – before dashing out the door. The table features a spot to place common household objects, keys, sunnies and wallet, or something more decorative. It also has a mirror which tilts back to a convenient 30-degree angle for quick glimpses. The Duello is constructed in a combination of solid timber and polished brass.
–
Foal by Jeanie Mulligan
The Foal table by Jeanie Mulligan is an occasional and side table designed to suit the demands of a modern home. Designed to come as an individual piece, or in a set of three, it considers the parameters of small footprint living in Australia. Foal can be produced in a selection of material combinations and finishes – timber, glass, marble – to fit seamlessly into any space. A key feature of the design is the resolution of complex compound angles while still achieving something with high reproducibility and a flawless, symmetrical stacking outcome.
–
Narvis by Tom Hewitt
A lighting family that combines floor, task or pendant options, the Narvis by Tom Hewitt integrates complex technology with a slimline and refined design. The light achieves a high output quality of light through a touch dimming system, all via the subtle brass touch dimmer. A delicate and well-integrated feature, the dimmer elevates the overall look and aesthetic of the Narvis. The arcing shape of the light's form is created through traditional boat building techniques. The outcome is a finely shaped, steam bent walnut light, which is internally reinforced.
Live judging is taking place in both Singapore and Sydney in the coming weeks, with the ultimate winner being announced as part of the 2018 INDE.Awards.
---