With the proliferation of visual culture and the digital realm, the definition of 'design' has loosely expanded into different disciplines and products. In response to that, an exhibition at the National Design Centre titled Design Superposition seeks to question the value of design – if it means something or is simply just a buzzword. "At its core, Design Superposition is about the production of design culture and industry, and a reflection of whether design is valuable or not," says Yeo Ker Siang, curator of Design Superposition, and member of the DesignSingapore Associates Network.
What does design mean and how does it benefit modern society? At Design Superposition, 10 multi-disciplinary local and international designers have presented their responses through exhibits ranging from fields of illustration to architecture with Feng Shui principles, industrial design, science and technology, fashion, digital media, visual art, and nature. Here are four noteworthy pieces:
100 Marble Tiles by Offcut Factory
Through the medium of design, Offcut Factory gives new life to material waste. Through conversations with local marble suppliers, the team discovered that it is typical for marble pieces that do not appear to be 'clean' to be rejected by customers. These unwanted pieces, although as perfect as natural stone can be, inevitably become waste, causing more harm to the natural world. Is society's standard of beauty somewhat ignorant and selfish? Out of 100 marble tiles presented at this exhibition, Offcut Factory challenges visitors to identify the 10 rejected tiles.
Juror of Everyday Designs by Sim Hao Jie
Industrial designer Sim Hao Jie proposes that design is "neither valuable nor useless until it is observed and measured." In this playful installation, Sim gives authority to viewers to act as design jurors to stamp their approvals on ordinary designs displayed on the provided cards. This 'awarding activity' empowers people to think and decide for themselves what is good design rather than relying on professional accolades. It aims to encourage a culture of design appreciation and provoke thoughts on everyday design.
Alam Sekita: Jiran (Neighbour) by thesupersystem
Bees are a crucial part of the natural ecosystem as they assist in the pollination of plants. However, the perceived danger and lack of understanding have led to the extermination and relocation of beehives, further harming the environment. Designed by thesupersystem, the brainchild of Heider Ismail who is passionate about the co-existence of humans and non-humans in human-centred spaces, Jiran (Neighbour) is a portable beehive that offers security for bees in urban environments. It alerts humans of the presence of bees by changing colour when the bees are inside. Design here is seen as a tool to find harmony between species.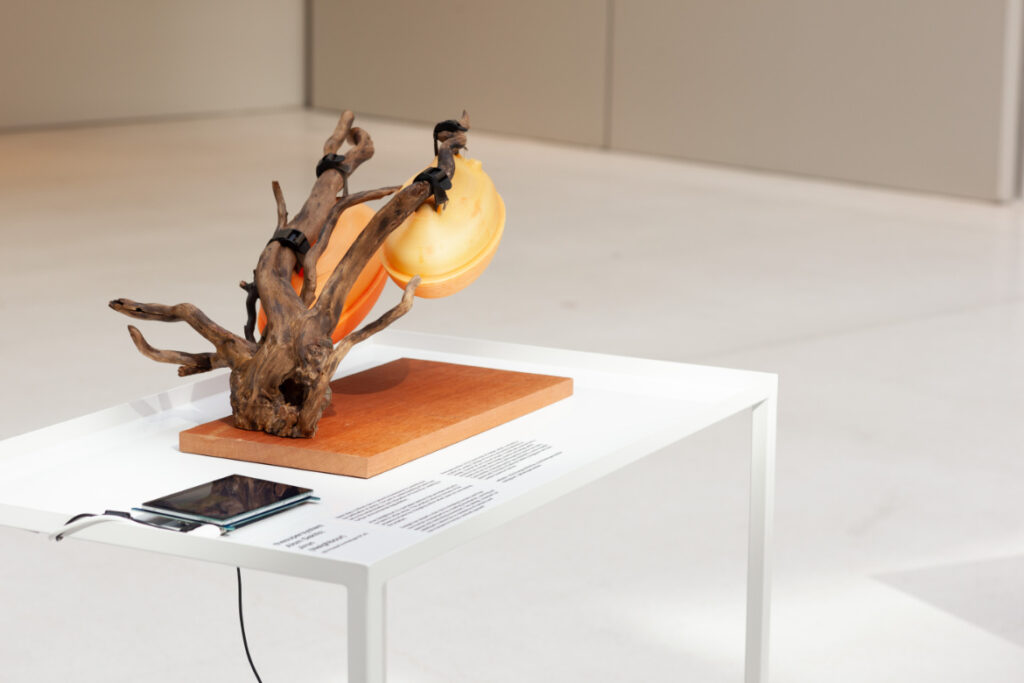 When Words Fail by YT Tommy Lee
This piece by illustrator YT Tommy Lee explores how illustration can promote quiet contemplation while sharing insights on end-of-life caregiving. Perhaps at the end of life, humans rely less on science but art to heal the sick and their loved ones. "Can illustration, in its distanced way, also serve to bear witness through visual communication and aid in the healing process?" she questions through her work.
Design Superposition runs daily until 10 April 2022 at National Design Centre. Admission is free. More details here.
---