ART SG, the new international art fair for Singapore and Southeast Asia, opened its doors on January 12, 2023, bringing together over 160 international galleries and connecting art collectors from Southeast Asia with the very best artists from around the world. The largest ever fair and event in Asia-Pacific in a decade marks Singapore's increasing importance and development as a major art market and cultural hub.
The fair brought together substantial showcases of Southeast Asian art, alongside the best of global contemporary art presented by leading international galleries. Among the four sectors of GALLERIES, FOCUS, FUTURES and REFRAME, presenting works by artists from Southeast Asia and Asia Pacific, visitors could discover emerging talent alongside significant artworks by established artists and attend other critical programming such as installations, talks and film screenings.
"Within this rapidly changing global landscape, ART SG will create an opportunity for cultural dialogue, conversations, and new ideas through showcasing the most vibrant and innovative art practices of our present time," says Shuyin Yang, fair Director of ART SG.
Here are our highlights of the galleries representing Southeast Asian artists from this year's ART SG.
1. Richard Koh Fine Art (Kuala Lumpur, Singapore, Bangkok)
Founded in 2005, with spaces in Kuala Lumpur, Bangkok and Singapore, Richard Koh Fine Art is known for its commitment to promoting Southeast Asian contemporary art on regional and international platforms. Presenting a curated Southeast Asian group show with a special focus on art practices emerging from the Indochina region at ART SG, Richard Koh Fine Art featured established and new names such as Natee Utarit, Svay Sareth, Wah Nu, UuDam Tran Nguyen, Ha Manh Thang, Fasang Navaaran.
2. The Drawing Room (Manila)
As part of the FOCUS sector, The Drawing Room presented a solo booth by the established painter from the Philippines, Pam Yan Santos. Titled Building Things We May Not Know, the artist's installation of mixed media paintings and objects explored connections between the gestures of building and themes like everyday intimacy, domesticity, and the multiplicity of female roles as a mother, wife and artist.
3. Yavuz Gallery (Singapore, Sydney)
Representing established and emerging contemporary artists from the Asia-Pacific region, with spaces in Singapore and Sydney, Yavuz Gallery presented a group show of Southeast Asian and Australian artists which included works by one of Southeast Asia's most respected female artists, Pinaree Santipak. Other featured artists included Alivn Ong with works reflecting the artist's continued interest in the physicality of the body and Patricia Piccinini, known for her enigmatic sculptures that depict hybrid humanoid creatures.
4. FOST Gallery (Singapore)
Founded in 2006, FOST Gallery showcases artists at different stages in their careers but all with a contemporary flare. At ART SG, FOST Gallery brought together a tightly curated selection of works featuring different aspects of life in Southeast Asia by Kray Chen, John Clang, Phi Phi Oanh, Yeo Tze Yang and Donna Ong, best known for her evocative and thought-provoking environments made from furniture, found objects and original artwork.
5. Tropical Futures Institute (Cebu)
In the FUTURES sector, dedicated to supporting young galleries under the age of six years, Tropical Futures Institute – a design strategy studio dedicated to supporting long term sustainable growth for artists through co-creation, early stage investment and strategy – exhibited a conceptually diverse collection featuring Visayas-based painter Kristoffer Ardeña, Simon Speiser, Adam de Boer and Filipina-Canadian artist and filmmaker Stephanie Comilang.
6. The Columns Gallery (Seoul, Singapore)
Originally established in 1994 in New York, with operations moved to Seoul in 2005, The Columns has expanded its presence to Singapore in 2019 with a mission to include the promotion of Southeast Asian artists to a broader public. At the REFRAME booth, The Columns unveiled art engaged with, made or presented using digital technology, including works by Tristan Lim, Shavonne Wong, Han Yajuan and Mooni Perry's 3D animations and videos.
7. STPI (Singapore)
A creative workshop and contemporary art gallery based in Singapore and specialising in artistic experimentation in the medium of print and paper, STPI presented works by Han Sai Por, Haegue Yang, Pinaree Sanpitak, Prabhavathi Meppayil and Geneveive Chua. A highlight of the gallery's works was Chua's mixed media works inspired by nature and wilderness explored through abstraction.
8. Yeo Workshop (Singapore)
Known for supporting innovative practices of contemporary artists, Yeo Workshop brought a tightly curated presentation entitled From the Land of Gold Below the Winds in South Seas to ART SG. The show juxtaposed the historically and culturally interrogative practices of multi-disciplinary artists from Singapore and Southeast Asia including Fyerool Darma, Filippo Sciascia, Santi Wangchuan, and Citra Sasmita.
9. artcommune (Singapore)
A social enterprise dedicated to the sustainable growth of Singapore's Art through the nurturing and supporting of local artists, artcommune unveiled an extensive collection by Wong Keen, ahead of the artist's preparation of a major show set to happen in July 2023. Presenting recent works, the special showcase provided insight into the artist's current practice as he continues to evolve new visual strategies to convey long-standing themes such as the lotus, the nude, the burger, and the flesh.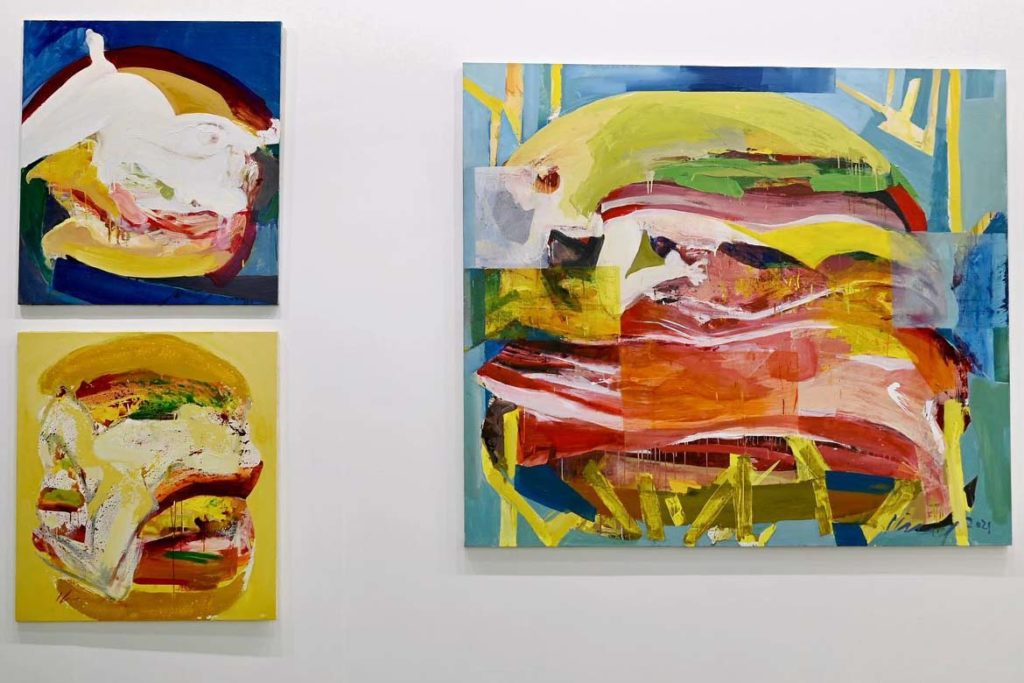 10. NEW/NOW
NEW/NOW – a salon-style presentation within the fair – introduced new collectors to emerging talents at more affordable price points (under USD $10,000). Featuring rising talents as well as smaller or alternative format artworks by established names across different mediums represented by various galleries, NEW/NOW unveiled works by a breadth of Southeast Asia artists, including Yeo Shih Yun, Hor Kwok Kin, Lim Jia Qi and Samuel Xun.
---