After walking through the exhibition Before It All Goes with Darren Soh, just hours before the opening night, I left Objectifs' Chapel Gallery with a heavier heart than when I arrived. It was to be expected. Soh's impeccable photographs of Pearl Bank Apartments, People's Park Complex, Golden Mile Complex and Tower, Bedok and Buona Vista Swimming Complexes, Queenstown Cinema, Tanglin Halt Estate and Rochor Centre are a tour de force of the post-independence development of Singapore. They also represent potential or actual fractures in historical narrative.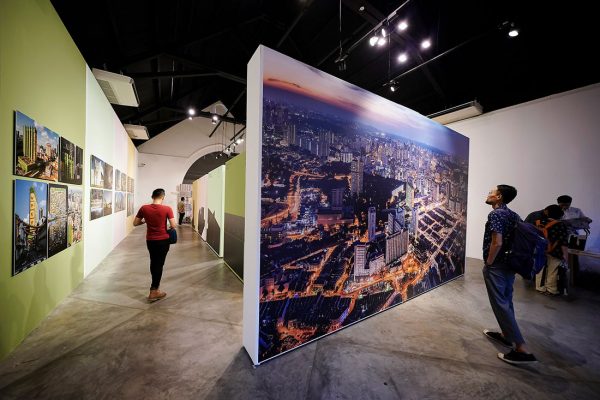 Although there's a weighty undertone to the show, the photographs are presented against backdrops of chirpy pastel shades drawn from the depicted sites by exhibition designer Obllique. The palette brings a sense of the optimism that fuelled the development of modern Singapore, and calls to mind the familiar rainbow of paint colours that now punctuate many of these buildings.
The exhibition space is divided by tower-like blocks into three aisles. Iconographic diagrams of the featured architecture illustrate the recognisable character of the buildings and their links to common memories.
As we walk through the aisles, Soh recounts his experiences of photographing the structures and discusses why he mourns their potential disappearance. On Pearl Bank Apartments, for example, Soh comments: "It's a really special building. There's nothing like it anywhere else. And some parts of it are special, not because they was intended to be, but because the architects had to solve problems – the fire escape stairs, for example."
Is Singapore's 'en-bloc redevelopment fever' something that the majority of Singaporeans may regret? "By doing this show, the documentary and the book, I have a very simple message," says Soh. He continues, "It's that we should all be having this conversation about what we want to keep from our past, and asking ourselves whether razing everything and starting from scratch every 30 or 40 years is the only way to go."
He adds, "I want people who don't really think about these things to come in here and suddenly realise, 'Oh yeah, I have my own place too, and maybe it's not forever. There's a chance that it will disappear.'"
Before It All Goes: Architecture From Singapore's Early Independence Years is on show at the Chapel Gallery, Objectifs until 29 September 2018. Darren Soh has also published a book and produced a documentary in conjunction with the exhibition.
Photographs of the exhibition by CY Kong. All other photographs by Darren Soh.
---