Design must serve a cause. That's a key driver in the work of Yann Follain, who has been named by the Singapore Institute of Architects (SIA) as the Festival Director for Archifest 2018. The festival will run from 28 September to 10 October, with an anchor pavilion at the open concourse at Marina Bay Sands.
When Follain presented WY-TO's INDE.Awards-shortlisted Mobile Lotus project (for a floating clinic in Cambodia) at Indesign Media's recent INDE.Awards 2018 seminar, he emphasised the need for Southeast Asia's architects and designers "to be very conscious of the way people are living and to be completely embedded in that in the local context. We need to build the best projects for the people and see how they can take ownership," he said.
For Follain, the relevance of the architect or designer in our age of economic, political and social uncertainties comes with the development of timeless, durable environments with a strong focus on context and content – far beyond pure aesthetics.
In his view, improving social and environmental conditions, and preserving financial health for communities, are constituents of a sustainable mode of practice today. There is a need for design to give back to the community and enrich human life for the 99 per cent, not just the one per cent.
That perspective is his driving agenda for the annual public architecture festival Archifest in 2018. He has established the theme 'Design For Life' for this edition of the festival. It addresses various concerns, such as livability, sustainability, wellbeing, maintenance and life satisfaction. The festival's main theme contains three sub-themes – Design For People, Design For Time, and Design For Environment – addressing this range of concerns.
Notable is the use of the word 'design' as opposed to 'architecture'; it's a means of promoting collaboration and capturing the evolving role of architects, suggests Follain.
The Archifest Pavilion design by Kite Studio Architecture was selected in an open competition for local architecture firms judged by Follain, Christina Thean (SIA Council Member and Archifest Organising Committee Co-Chair) from Park + Associates; Wong Ker How from ASOLIDPLAN; Randy Chan from Zarch Collaboratives; and Joyce Poh from Akzo Nobel.
Kite Studio's design works with the concept of the familiar void decks in HDB housing. Khairudin Saharom, the Principal and Director of Kite, explains that the design direction was inspired by the dynamic open space of Marina Bay and the art photography of Singaporean photographer Nguan, a who is known for his portrayal of everyday Singapore. "We based our design on the ubiquitous HDB void deck that is so iconic of Singapore and reimagined it as a fluid, multi-purpose open space for the festival," says Saharom.
The jury commented: "Taking its reference from Singapore's modern history, it successfully translates one of the unique typologies most of us experience on a daily basis into an innovative and festive temporary structure. The narrative and porosity of the famous void deck are reinterpreted through a refreshing expression of fundamental construction elements: brick, steel, dry partition and paint. Celebrating life, the result is playful, inviting, welcoming and inclusive while responding well to the site."
Multiple entrances will allow visitors to enter the pavilion from any direction. Three-hole bricks, painted with nostalgic pastel colours, will be skewered on rebar and anchored by steel plates in a dry construction method that will allow for the reuse of the materials. Bamboo charcoal flooring will be underfoot.
The first and second runners-up of the open call were Super Assembly and DP Architects / DP Design respectively.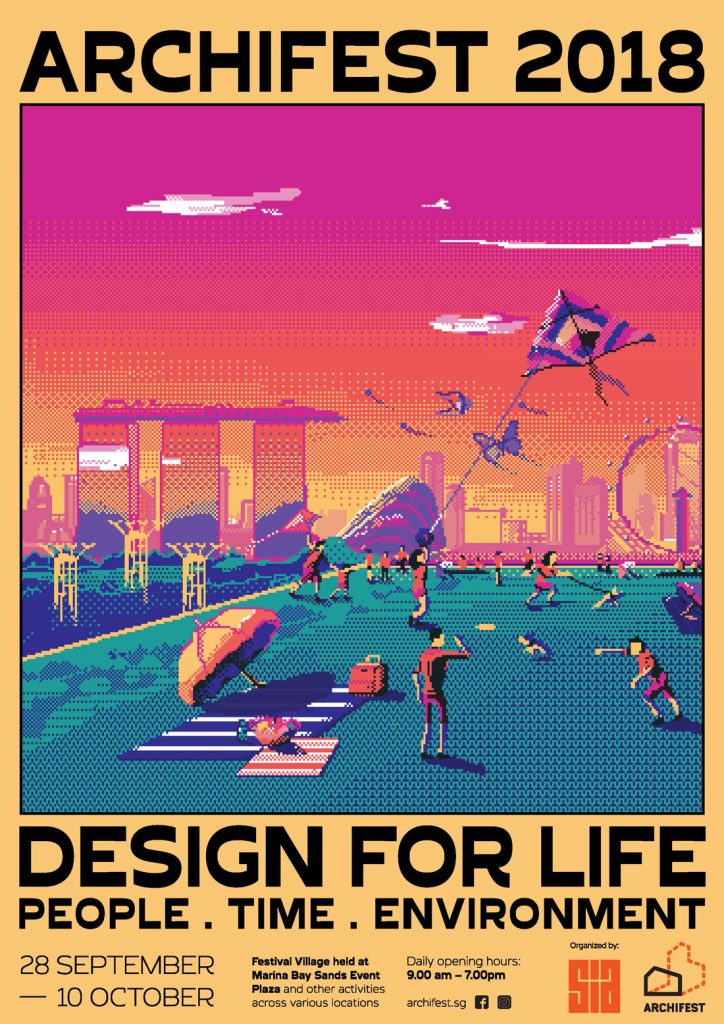 Organised by the SIA, Archifest 2018 will run from 28 September to 10 October. The program of events is yet to be announced.
Images of Archifest pavilion by Kite Studio Architecture. All images courtesy of Archifest.
---