"Singapore Night Festival is 12 years old and many of our festival-goers have grown along with us on our festival journey. Year on year, they have come to expect new experiences that transform the Bras Basah.Bugis district, challenging them to see these spaces in a new light," says Festival Director Angelita Teo.
The Singapore Night Festival returns this year with a plethora of experiences to light up Singapore's Bras Basah.Bugis district from 23 to 31 August 2019.
"This year will be no different with stunning light art installations, performances and programmes presented by local and international artists. And in a nod to the Singapore Bicentennial, some of these will feature a Southeast Asian twist," Teo adds.
The Southeast Asian flavours twist is apparent from the festival line ups, many of which cast a spotlight on folklore and traditions, as well as ideas and talents from around the region.
Without further ado, here are seven must-see installations at the festival:
Work-in-progress by Asylum
Where: National Design Centre
Design studio Asylum celebrates its 20th anniversary with an installation piece titled Work-in-Progress. The studio took inspiration from building scaffolding, seen as a medium with endless possibilities.
Displayed on NDC's atrium, Work-in-Progress is a 'scaffold-like' structure with animated light sequences that creates images and illusion of spaces.
Monomer 2.0 by A D Lab
Where: National Design Centre
Monomer 2.0 imagines A D Lab's Monomer House 1, a prefab house prototype that has occupied NDC's backyard since October last year, as a structure installed in a forest with the help of 3M DINOC finishes and 3M Graphic and Reflective films.
Despite being off-the-grid, the building still lights up brightly thanks to Philips Hue Lights installed in and outside the building dancing in synchrony as they are powered fully by solar panels.
Whispers by Light Society
Where: National Museum
Whispers by Canadian group Light Society is set to convert the Gallery Theatre into a hypnotic and captivating space. Encapsulating the sensation, power and sound of wind, the experiential installation draws visitors into the rise and fall of nature's power.
In Circles by Barrisol EURASIA, OSRAM and Aubergine Architects
Where: National Design Centre
With their light art installation In Circles, Barrisol EURASIA, OSRAM and Aubergine Architects invite visitors to trace the distance of infinity.

Aubergine Architects combines Barrisol's translucent and reflective membranes with OSRAM's lighting, resulting in a brilliant tunnel installation.
Project: Dome by Various Artists
Where: Singapore Management University's (SMU) Campus Green
Project:Dome, showcases works by various artists who enrolled in Singapore Night Festival's first Creators' Masterclass, which was held with the aim of teaching participants the basics of creating their own projection mapping artworks.
Organised in January 2019, participants learnt about the capabilities and tools of the TouchDesigner software – an open-source programme used in projection mapping – and brainstormed creative proposals for light artworks. These works were further fine-tuned and subsequently presented as part of SNF 2019.
S.C.U.L.P.T by Yann Nguema
Where: Armenian Church
Multi-disciplinary French artist Yann Nguema combines technology, human interaction and music to bring the architecture of the Armenian Church to life.
Festival-goers are invited to manipulate the form and appearance of the church's centuries-old chevet, through simple hand gesture and laser beams.
The Legend of Ramayana by Spectaculaires
Where: National Museum of Singapore's Banyan tree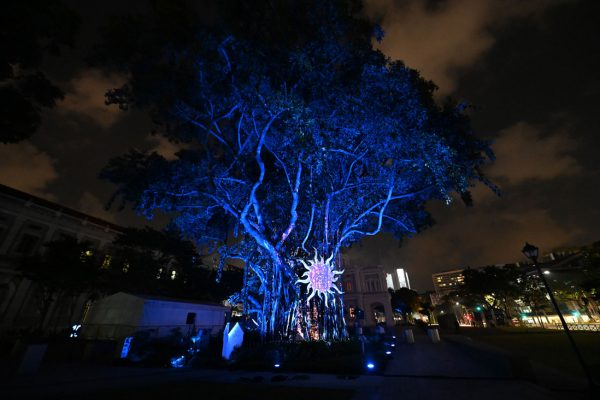 The Legend of Ramayana is a projection by internationally renowned French group Spectaculaires which is inspired by the Indian epic poem if the same name.
This marks the first time that the Banyan tree will see a projection work complemented by a stirring gamelan instrumental performance, which retells the story of the Ramayana in traditional Javanese tembang or poetry. The gamelan performance will be performed by local performing group Gamelan Asmaradana, from 29 to 31 August.
View more images of other installations in the gallery below. For more information, visit nightfestival.sg
Images courtesy of Singapore Night Festival and DesignSingapore Council.
---