IKEA Singapore's Young Designer Awards (IKEA YDA) is an annual program of IKEA Singapore for students and undergraduates who are currently enrolled full-time in tertiary institutions in Singapore.
Each year IKEA YDA calls for innovative design concepts to answer a unique design brief. This year the brief dubbed The Zero Waste Challenge, called for design concepts that can encourage individuals or communities to say yes to less waste and kickstart a movement towards a zero-waste lifestyle. The ideas should focus on four waste streams: food, paper (packaging), plastic, and electronic waste.
IKEA YDA received a total of 132 ideas this year. The top 20 finalists were invited to take part in an 18-hour Design Jam session mentored by relevant industry experts and get valuable feedback before presenting their solutions to the judges to the YDA judges, which included prominent figures at IKEA, its design lab Space10, NEA, and SPH.
"Over the last 40 years, the amount of waste disposed in Singapore has jumped seven-fold. We generated almost 8 million tonnes of waste in 2018," says Dr. Amy Khor, Senior Minister of State for the Environment and Water Resources at the award ceremony. "We need to take urgent action now to reduce, reuse and recycle our resources to turn waste into resource, trash into treasure."
And here are the top five ideas to turn waste into resource:
Merit Award
ECOroad
by Mohamad Asyraf bin Mohamad Zailani and Nicholas Ho Wei Bin (Ngee Ann Polytechnic)
Did you know that, during the hottest months, the roads in Singapore can reach 62-degree Celcius? Did you know that roads in Singapore according to data from 2012, cover an area equivalent to approximately 13,483 soccer fields?
The idea of the ECOroad concept by design students Mohamad Asyraf bin Mohamad Zailani and Nicholas Ho Wei Bin from Ngee Ann Polytechnic is to harness all that heat into electricity by equipping the existing roads. "We hope that our product will inspire more engineers to come out with ways of how to reduce waste while inventing something," say the designers.
Merit Award
Tapau Kit
by Vanessa Ang Jie Qing (LASALLE College of the Arts)
Tapau Kit is a set of reusable takeaway container and utensils fashioned after single-use items that are ubiquitous in Singapore's food takeaway culture. It addresses the impact of single-use 'takeaway-ware' softly by easing Singaporean into a more sustainable eating culture using familiar shape and form.
"While there is a pre-conceived notion shared by many Singaporeans that adopting environmental-conscious habits may cause lifestyle inconveniences as well as result in the need to eliminate customary practices, Tapau Kit hopes to subvert this mentality by honours our food heritage and our takeaway culture, all while reducing waste," describes designer Vanessa Ang Jie Qing of LASALLE College of the Arts.
Second Runner Up
Zero Food Waste App
by Jordan Lim Yong Sheng (Singapore Polytechnic)
With features like Inventory, Trade, Where To and Donate, the Zero Food Waste App by Singapore Poly student Jordan Lim Yong Sheng hopes to tackle the issue of food overbuying, and provides a handy way to optimise foods before they go to waste and create a community in the process.
"The features allow users to connect with others and give back to society in different methods while making an impact at home. Thus, when used by many, food waste could be exponentially reduced," shares Lim.
First Runner Up
Sluss
by Loh Yi Wen and Gan Shoau Huay (LASALLE College of the Arts)
Liquid soap and shower gel are handy. And some may argue that they are more hygienic than handheld soap bars. The downside of liquid soap and shower gel is, of course, their plastic PET bottles, which make up a huge part of global plastic waste.
Also, we tend to pimp more liquid soap that we need, share LASALLE College of the Arts students Loh Yi Wen and Gan Shoau Huay.
Sluss is a silicone scalp massager and body exfoliator designed to carry and store a soap bar. It features an ergonomic handle that provides a comfortable grip and a flexible core with a spring that allows users to apply pressure as needed and retain its shape as the soap bar's size changes.
The massage function is meant as a bonus factor to woo users to switch from using shower gel to using soap bars. "Sluss is a simple tool that aspires to transform community's behaviour in regard to plastic wastage," shares Loh and Gan.
Winner
Glodlampa
by Shin Heetae (Raffles College of Higher Education)
All products come with packaging. But what is the packaging itself is part of the product? Designed by Raffles College of Higher Education product design student Shin Heetae, Glodlampa is a lightbulb packaging that transforms into a lampshade that can be used with the bulb.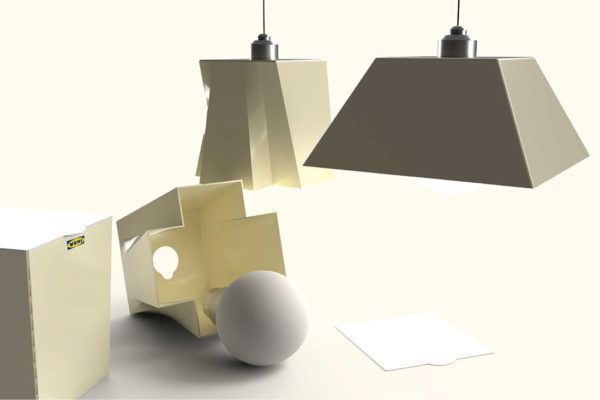 It aims to change the perception of packaging and reduce waste by extending its use, which has the potential to outlast the content. As the top winner, Shin receives 1,500 SGD cash prize and a trip to IKEA of Sweden and SPACE10 headquarters in Copenhagen.
View more images from the Grand Finale day in the gallery below:
Images courtesy of IKEA
---